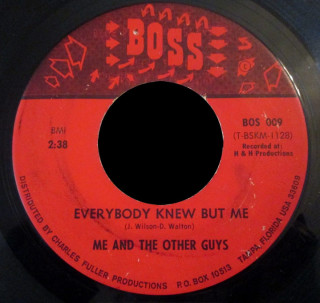 Charles Fuller owned Boss Records in Tampa, Florida, along with other labels like CFP, Fuller and Tigertown. John Brummage did much of the production work for all of these, at least some of the time at H&H Productions studio. Fuller Music BMI or Fulprod Music Publishing Co. ASCAP published the original songs.
Boss only lasted for a couple years, 1966 and 1967.
See separate posts on the Rovin' Flames, the Ravens, the Trojans, and the Souldiers for more info about those bands.
Me & the Other Guys included Frank "Dutch" Walton, Billy Aerts, Chuck Doughtery, Kent LaVoie, and Leon Massey, and had an earlier single on Hit Cat Records "Skinnie Minnie" / "Crazy" (J. Wilson, D. Walton, Redrah Music BMI).
I haven't identified 001 or 005 yet. Any help with this discography would be appreciated.
BOS-001 – ?
BOS-002 – Rovin' Flames – "I'm Afraid To Go Home" / "I Can't" (Feb. '66)
BOS-003 – Ravens – "Reaching For The Sun" / "Things We Said Today"
BOS-004 – Berkley Five – "You're Gonna Cry" (M. Newman, Yubash Music BMI) / "In the Midnight Hour"
BOS-005 – ?
BOS-006 – Trojans – "The Kids Are Allright" / "Leave Me Be" (Dec. '66)
BOS-007 – Souldiers – "Would You Kiss Me" / "Lemon Sun" (Jan. '67)
BOS-008 – Journey Men – "She's Sorry" / "Short And Sweet" (both by McMillan) FulProd Music ASCAP
BOS-009 – Me And The Other Guys – "Runaround Girl" (C. Dougherty, D. Walton) / "Everybody Knew But Me" (J. Wilson, D. Walton)
BOS-0095 – Purple Underground – "On Broadway" / "Rain Come Down"
BOS-010 – Purple Underground – "Count Back" / "Soon" (Aug. '67)