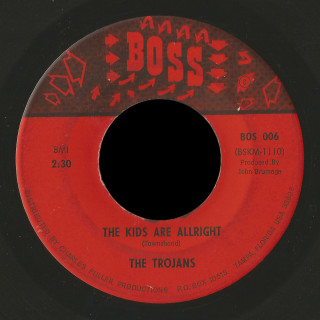 "The Kids Are Allright" / "Leave Me Be" by the Trojans is another of the lesser-known singles on Tampa's Boss label. High school kids from the Harry B. Plant and Jesuit high schools, members were:
Mike Regar – lead vocals & keyboard
David Lasswell – lead guitar & vocals
Tom Saussy – rhythm guitar & vocals
James Spoto – bass & vocals
John Trujillo – drums
Released on Boss 006 in December 1966, the band do an excellent job with their harmony singing on the Who's "The Kids Are Allright" (sic) and the Zombies' "Leave Me Be". I know bands in my high school never sounded this competent.
It was their only single. Mike Regar eventually joined a longer-lived Tampa band, Amanda Jones.
Info on the Trojans from Tedd Webb's Tampa Bay bands site.
Bands with singles on Boss that I haven't covered yet include the Berkley Five, the Journey Men, Me & the Other Guys, and the Purple Underground.