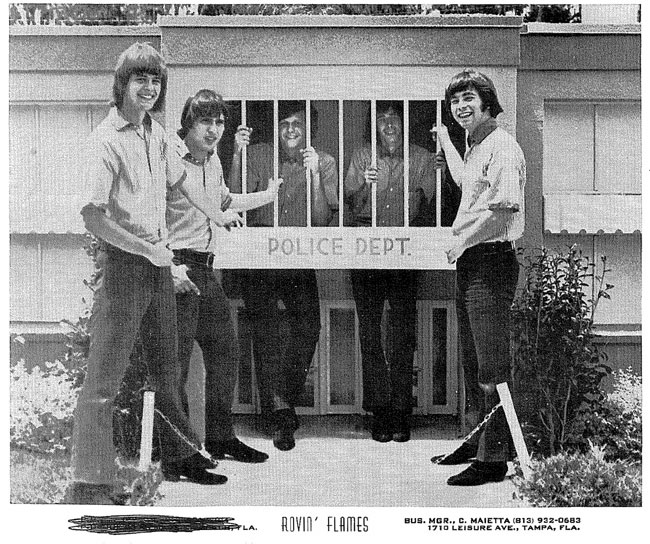 Revised November 2009
The Rovin' Flames were a major group out of Tampa, Florida. They went through many lineup changes, and it's only thanks to Dorothy Chapman, the former Secretary and later Vice President of the Rovin' Flames Fan Club that I can give a detailed listing of lineup changes.
Original lineup, 1965 – spring or summer of 1966:
Paul Battle – rhythm guitar, vocals
Jimmy "Mouse" Morris – lead guitar
J. R. Maietta – bass
Jerry Goff – drums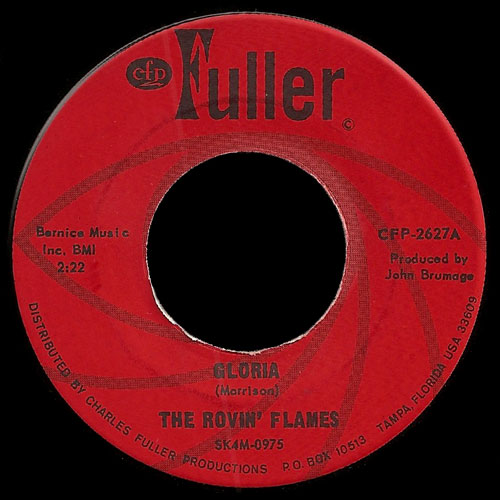 I don't know how the band started, but at least some of the Rovin' Flames were students at Chamberlain High. The Rovin' Flames first record was "Gloria" / "J.J.J.P." cut in September 1965 on the Fuller label owned by Charles Fuller who also ran the Boss and CFP (Charles Fuller Productions) labels. This 45 was produced by John Brumage, whose name crops up repeatedly on Rovin' Flames records, usually as producer.
The group uses the guitar line to "Shakin' All Over" to open "Gloria". The singer's voice on "all I have to do is call her on the phone, and … she'll be … huggin' me and kissin' me" doesn't make him sound like much of a lady killer – this Gloria might be too much to handle! Mop Top Mike pointed out that this was one of the earliest covers of the Them song, released about six months before the Shadows of Knight had a major national hit with their version.
"J.J.J.P." is the band's original, an instrumental take on the Louie Louie bass line and changes. Paul Battle handled the vocals for "Gloria".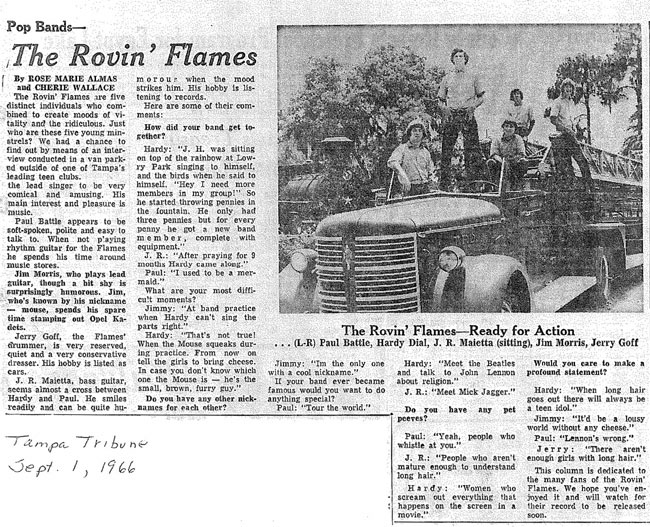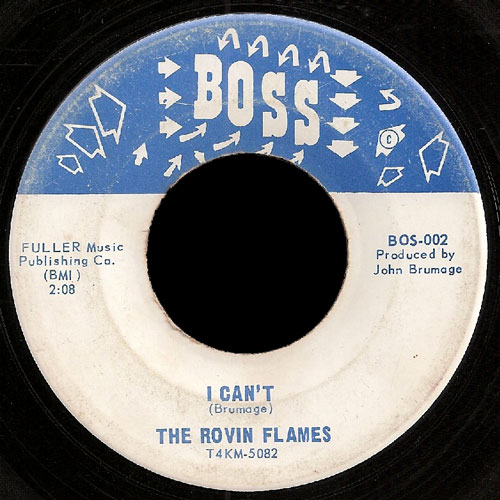 Spring or summer, 1966:
Hardy Dial – lead vocals
Paul Battle – rhythm guitar, vocals
Jim Morris – lead guitar
J. R. Maietta – bass
Jerry Goff – drums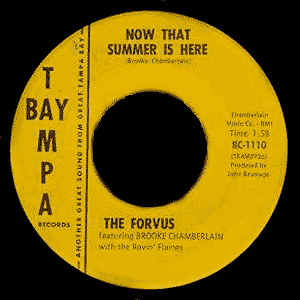 Hardy Dial came from the Outsiders, another Tampa group that cut two great 45s for the Knight label, including "She's Coming On Stronger". Dial left the Outsiders before their second 45, a ripping take on "Summertime Blues" sung by John Delise. Interestingly, Delise would be behind the microphone with the Rovin' Flames as well, but not until their last 45 in 1967.
The Rovin' Flames second record was the demented "I Can't", written by producer John Brumage and released on the Boss label in February or March of '66. The short verse is followed by six bars where Dial (or is it Paul Battle?) simply chants "I Can't" or sometimes just wails. After a short guitar solo it's right back to more of the chant, a repetition of the verse and then a fadeout to those maniacal words.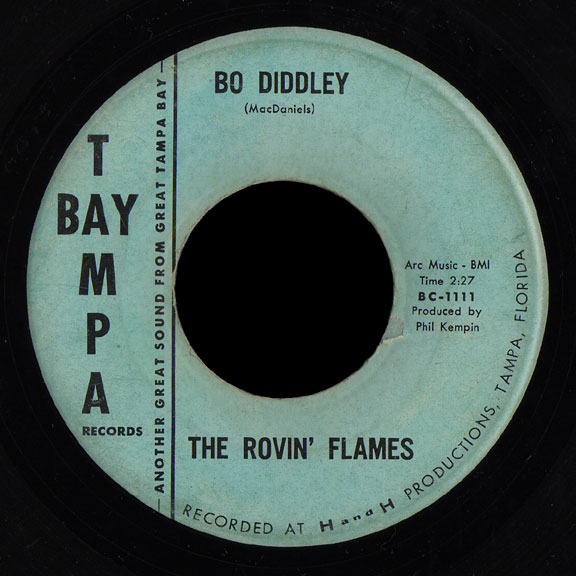 For the flip they do the entirely more sedate "I'm Afraid to Go Home", a cover of a Brian Hyland song. Despite the catchy rhythm of the guitar and bass this song drags, with rhymes of "what I'll see" and "Tennessee".
Next they provided the rhythm tracks for Brooke Chamberlain, a DJ who fancied himself a songwriter and singer. "Now That Summer Is Here" is nearly a parody of beach pop music, with lyrics like "'watermelon so good" and a chant of "summertime, summertime" in the middle of the tune. Brooke tries holding the last word of each line, but he's no Beach Boy. Interestingly there's phasing on the backing tracks, I wonder if that was intentional or caused by some mishandling the tape.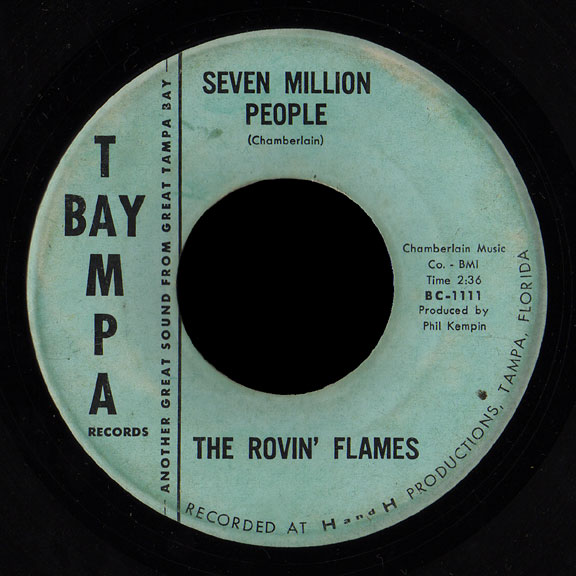 Brooke's taking himself even less seriously on the flip, "It's Nothing New". The awkward artist credits on the labels are another clue to the tongue-in-cheek nature of this 45, with "Now That Summer Is Here" billed to "The Forvus featuring Brooke Chamberlain with the Rovin' Flames'", while "It's Nothing New", is credited to "Brooke Chamberlain with the Forvus and the Rovin' Flames and Harvey Swadnungle". Chamberlain's alias in BMI's database is Frank Edmondson Jr.
Jeff Lemlich wrote to me "I think Tampa Bay was Brooke Chamberlain's label. He was a disc jockey on WALT Radio in Tampa, and as such had a lot of influence. So when he wanted to cut a record, bands like the Rovin' Flames and Four Letter Words obliged."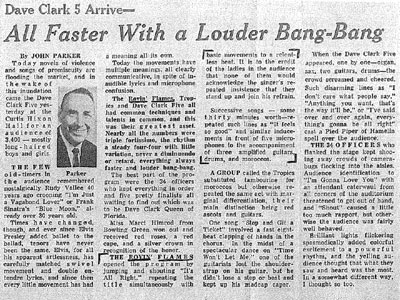 The Rovin' Flames work with Chamberlain had some benefit to the band, as he contributed lyrics for a good ballad, "Seven Million People" for their next 45, released in June of '66. The group runs the lyrics over an adaption of the Byrds "I'll Feel a Whole Lot Better". There's more action on the other side, a good cover of "Bo Diddley".
Like the Forvus single and the Outsiders 45s on Knight, this was recorded at H&H Productions in Tampa. The producer for this one is Phil Kempin, the only record they cut not produced by John Brumage.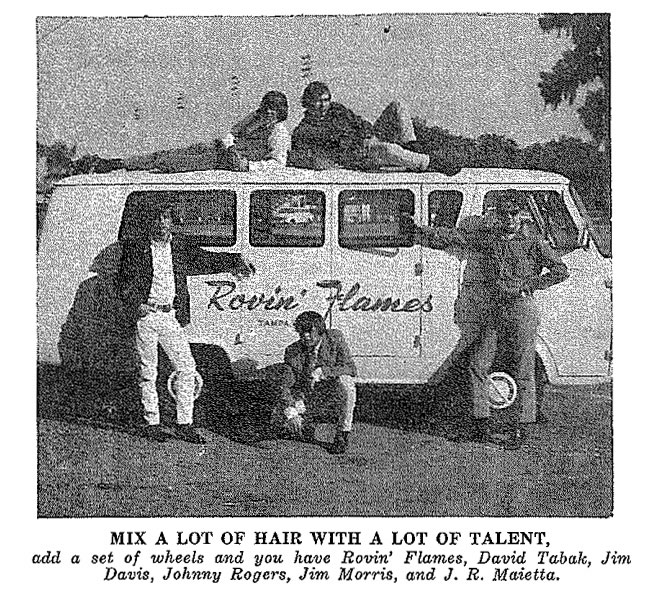 September, 1966:
*Jim Davis – lead vocals
Jimmy Morris – lead guitar
*John Rogers – organ
J. R. Maietta – bass
*Dave Tabak – drums
Paul Battle and Jerry Goff left the band for another project and about this time Hardy Dial left the group as well. By September of '66 the band had added Jim Davis on lead vocals, Davy Tabak on drums, and for the first time they had an organ player, John Rogers, who came from Mississippi. This group would stay together for a few months but not record.
December, 1966:
*Paul Battle – lead vocals
Jimmy Morris – lead guitar
John Rogers – organ
J. R. Maietta – bass
Dave Tabak – drums
Jim Davis left the group in December of '66 and Paul Battle returned for a very short time as lead vocalist. This lineup also would not record.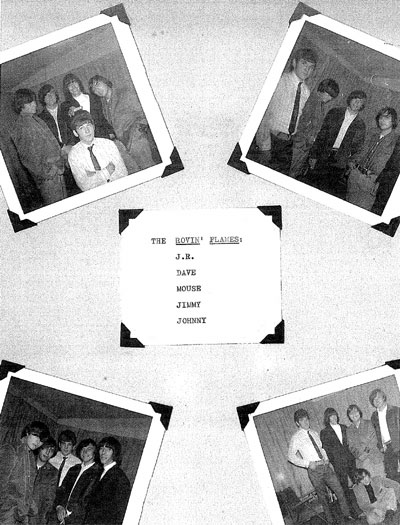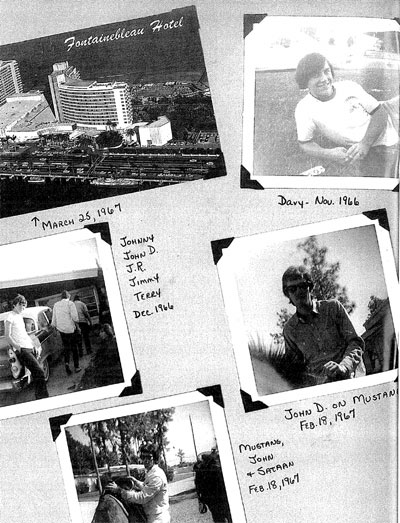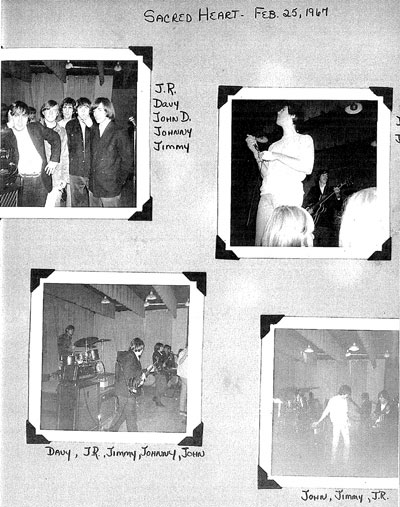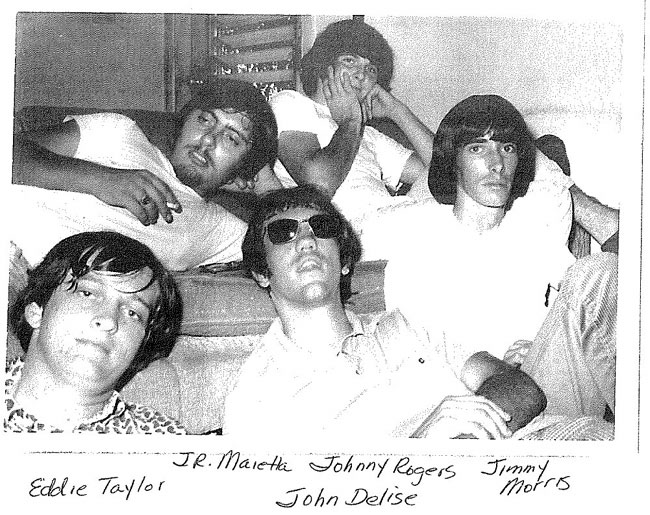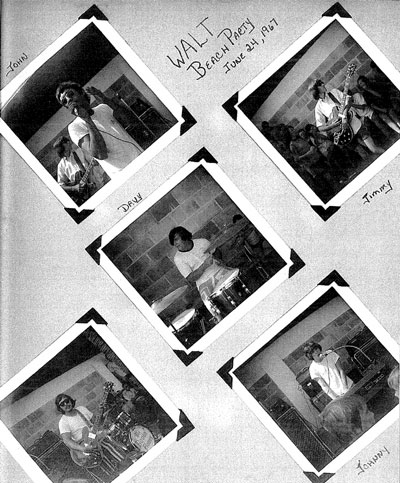 February, 1967:
*John Delise – lead vocals
Jimmy Morris – lead guitar
John Rogers – organ
J. R. Maietta – bass
Dave Tabak – drums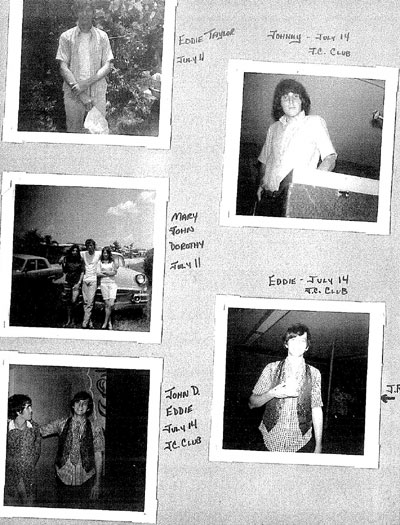 July 1967:
John Delise – lead vocals
Jim Morris – lead guitar
John Rogers – organ
J. R. Maietta – bass
*Eddie Taylor – drums
The next big change for the group was adding John Delise on lead vocals, the same singer who previously had replaced Hardy Dial in the Outsiders. Delise had a good run with the Outsiders. With their name changed to the Soul Trippers, a 45 of "I'm a King Bee" on the Laurie subsidiary label Providence was a minor sensation in the summer of '66.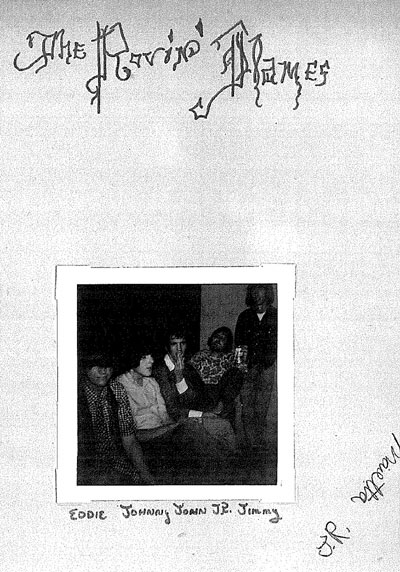 In fact, the Outsiders/Soul Trippers and Rovin' Flames stories seem intertwined in ways that aren't fully clear to me yet. With Delise moving on to the Rovin' Flames, The Soul Trippers became Noah's Ark, cutting two 45s for Decca, including a cleaned-up version of the Fugs "Group Grope" retitled "Love In" that the band credited to themselves. Ed Sanders could have sued over that one! One of the writers credited on "Love In" is Helen Uncapher who would co-wrote both sides of the Rovin' Flames next release, "How Many Times" / "Love Song #6" with John Delise. As producer of these discs, John Brumage at H&H seems to have been responsible for placing both Noah's Ark and the Rovin Flames with Decca in 1967.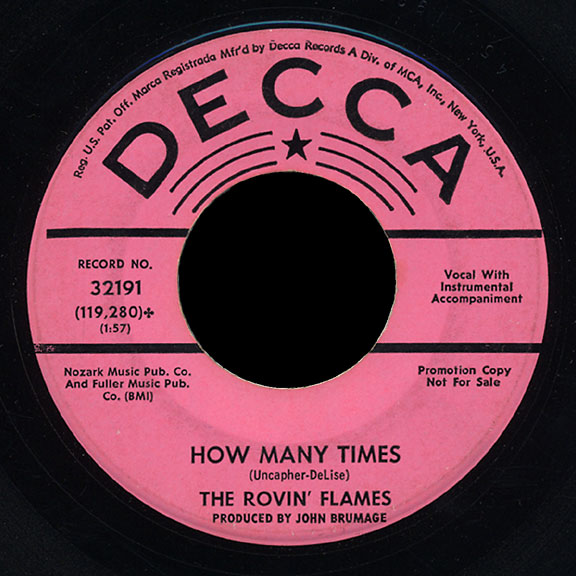 "How Many Times" is one of the most memorable of all 60's band 45s, with a swinging organ sound and Delise delivering the wild opening lyrics:
How many times can you put a gun up to your head,
thinking about the pleasures of being dead
along with a lighter verse:
How many times have you pulled into a hamburger stand,
waving your money in your hand,
yelling and screaming like a hungry man,
but the lazy waitress takes all of the day,
but you don't care she's ugly anyway!
It was released a little late for its style, in September of 1967. The freewheeling flipside "Love Song #6" was also included on the 1968 Tener various-artists LP release Bee Jay Video Soundtrack.
John Delise went on to join Those Five, probably after their cool 45 "Sidewalks" was released on Paris Tower.
In July of '67, Eddie Taylor replaced Dave Tabak on drums, though I believe Dave is playing on the Decca 45.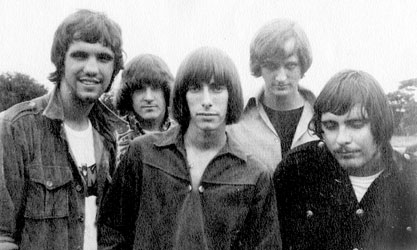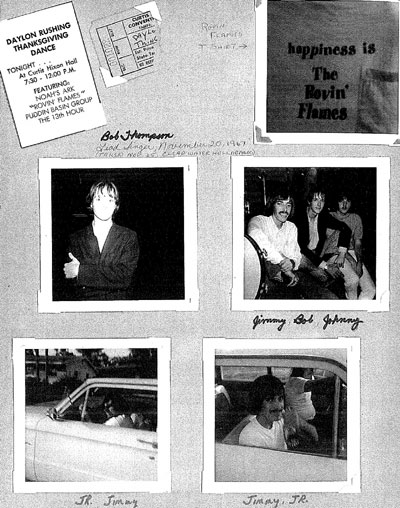 November 1967:
*Bob Thompson – lead vocals
Jim Morris – lead guitar
John Rogers – organ
J. R. Maietta – bass
Eddie Taylor – drums
July 1968:
*Ronnie Goedert – lead vocals
Jim Morris – lead guitar
*Jay Colding – organ
J. R. Maietta – bass
*Jerry Nickerson – drums
Autumn 1968:
*Hobie O'Brien – lead vocals
Jimmy Morris – lead guitar
Jay Colding – organ
J. R. Maietta – bass
Jerry Nickerson – drums
John Delise lasted longer than most of the Rovin' Flames lead singers, but still was with the group less than a year. Bob Thompson took over in November of '67. Around this time the Flames started appearing with 'Rovin' Things' emblazoned on Eddie Taylor's drumhead, though I'm not sure if they really changed their name in their bookings.
Johnny Rogers died in March 1968 and Bob Thompson and Eddie Taylor left the band. Jim Morris and J.R. Maietta must have barely been able to hold the group together, but by July they had recruited three replacement musicians – Jay Colding on organ and Jerry Nickerson on drums, plus Ronnie Goedert on lead vocals. Ronnie didn't stay long and was replaced by Hobie O'Brien in the fall of '68. The band broke up for good in early 1969.
J.R. Maietta stopped performing and owned a record store for some years. He passed away in 1996. John Delise died on October 3, 2004, and the band's last keyboard player Jay Colding passed away just this November 26, 2009. Ronnie Goedert later joined White Witch, and passed away in 2000.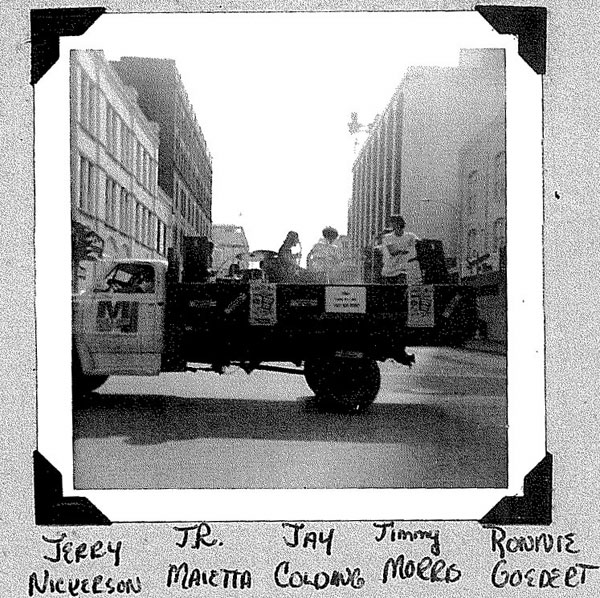 Much helpful information in writing this piece was found at The Limestone Lounge. Special thanks to Jeff Lemlich for providing additional info as well as scans of the Fuller, Boss and Forvus 45s, and transfers of "Gloria", "J.J.J.P". "Now That Summer's Here" and "It's Nothing New".More information on John Delise is on the Tampa Bay Garage Bands site, where I also found the photo of the band from the autumn of '67.
Very special thanks must go to Dorothy Chapman. Her scrapbook of photos and fan club letters provides the timeline and documentation for this article. Without her help I could not have given an accurate account of the band's history.
Here are Dorothy's comments on the Rovin' Flames:
My sister and I met the Rovin' Flames during the summer of 1966, just before I started 10th grade at Chamberlain High School, through friends who were next-door neighbors to Hardy Dial's family in our subdivision – he had just joined the band. J.R. Maietta lived with his parents, also in our subdivision, and they practiced there in the screened porch. Shortly thereafter Paul and Jerry left the band, taking the current "official Fan Club officers" with them, and my sister and I took over as "President" and "Secretary" respectively from about August 1966 until the band broke up in early 1969.

The Rovin' Flames van with Fan Club officers, August, 1966

Every day after school we would either walk or ride our horses to J.R.'s parents' house to listen to the band practice. While our school friends were going to football and basketball games, we spent our Friday and Saturday nights (and weeknights in the summers) traveling with J.R.'s parents (who were their managers) to their "gigs" all over Tampa, Clearwater and Sarasota. We even got to go to the Tiger's Den in Cocoa Beach a couple times to cheer the band on and dance the night away! I kept a scrapbook containing photos, mementos, and some of the monthly newsletters that I laboriously typed on an old manual Underwood typewriter and mailed to our loyal Fan Club members, keeping them up-do-date on the band's comings and goings. In addition to the newsletters, the members received a membership card and a copy of their latest record, all for $1.00 a year. We even had t-shirts with "Happiness is the Rovin' Flames" printed on them.They performed some of their recorded songs live – Gloria and Bo Diddley were always favorites. They did play How Many Times regularly, but if I recall correctly they all hated Love Song #6 (which they called Love Song #69). It wasn't theirs, but I remember that Mustang Sally was always the "dance contest" song. Among others, they performed with the Dave Clark 5, the Grass Roots, the Robbs and Mitch Ryder & the Detroit Wheels here in Tampa, and with ? and the Mysterians in Gainesville.

It's hard to explain to people what it was like to run around with a local rock band in the late 60's – they were truly local celebrities. There were so many places for kids to go for dancing, where they just sold cokes and pretzels and it was such fun to be a part of the scene! In the Tampa area we regularly went to the FCA Hall, Temple Terrace Rec Center, Sacred Heart Academy Auditorium, The Inn Crowd, Gandy Ballroom, Strawberry Patch, and the Hullabaloo Clubs in Clearwater and Sarasota, to name a few. The memories make me smile (well, most of them anyway).

When Johnny Rogers died it was a real shock – he was such a sweet guy, but obviously had problems we didn't know about. Things were never quite the same after Johnny died although the band stayed together for about a year. They finally phased out in January or February 1969. Sadly, I've heard that a number of the guys have passed away.
Documented gigs and timeline:
August 1965 – first 45 "Gloria" / "J.J.J.P." released (Fuller CFP2627).
1966:
Feb. or March – second 45 "I Can't" / "I'm Afraid to Go Home" released (Boss BOS-002)
? – Rovin Flames back the Forvus featuring Brooke Chamberlain on "Now That Summer Is Here" / "It's Nothing New" (Tampa Bay BC-1110)
June – third 45 "Seven Million People" / "Bo Diddley" released (Tampa Bay BC-1111).
July – Hardy Dial joins on vocals
July 10 – Curtis Hixon Hall, Tampa, with the Dave Clark Five and the Tropics, set list: "It's All Right", "Hey Little Girl", "Younger Girl", "Wild Thing".
July ? – Lakeland Shower of Stars
July ? – Tiger Den, Cocoa, FL
August 13 – Billboard predicts "Bo Diddley" likely to crack top 100 (it didn't)
Aug. 24 – Sacred Heart Academy
September – Dave Tabak joins on drums, Jim Davis on vocals, followed shortly by John Rogers on keyboards
Sept. 10 – Delta Sigma Phi, Gainsville, FL
Sept. 17 – Tiger's Den, Cocoa, FL – first show with lead singer Jim Davis
Sept. 24 – Patricks Air Force Base
Oct. 1 – Sacred Heart Academy
Oct. 15 – Sacred Heart Academy/ "FCA"
Oct. 29 – Sacred Heart Academy
Oct. 31 – Lakeland
Nov. 1, 2, 3 – Lakeland
Nov. 4 – Umitilla
Nov. 5 – Fla. Pres. College, St. Petersburg
Nov. 11 – Daytona Beach
Nov. 12 – Cocoa, FL
Nov. 17 – Lakeland
Nov. 18 – Fla. Pres. College, St. Petersburg
Nov. 19 – Sacred Heart Academy
Nov. 25 – Carrollwood Country Club
Nov. 26 – Trowel Building, Tampa / Benefit for Robert McCord Oral School – with the Surfsiders
December 1966 – Paul Battle rejoins as lead vocalist
Dec. 25 – Sacred Heart Academy
Dec. 31 – King Solomon's Mine
1967:
Jan. 16-22 and late January – Beachcomber Club, Jacksonville
Jan. 20 – Sacred Heart Academy
Jan. 21 – band starts using new Vox equipment
Jan. 31 – Feb. 6 – Lakeland
February – John Delise joins on lead vocals
Feb. 17 – Temple Terrace
Feb. 18 – Punta Gorda
Feb. 25 – Sacred Heart Academy
Late Feb. – early March – Lakeland
March 7 – Largo Fair
March 11 – Tiger's Den, Cocoa, FL with the McCoys
March 17 – Big Moose Showcase
March 18 – Apopka Youth Center
March 20 – April 3 – Fontainebleau Hotel, Miami
April 7 – Big Moose's Showcase, St. Petersburg
Apr. 8 – Sarasota Armory
Apr. 9 – Benefit in memory of Charlie Beecham of the Emotions
Apr. 21 – Big Moose's Showcase, St. Petersburg
Apr. 28 – Tiger's Den, Cocoa, FL / benefit for Crippled Children's Home
Apr. 29 – Sacred Heart Academy, Tampa
May 6 – Lake City
May 12 – Sebring
May 13 – Umatilla
May 19 – F.C.A.
May 20 – Tiger's Den, Cocoa, FL
June 2 – Inn Crowd, with the Robbs and the Gents ("15-minute psychedelic version of 'Summertime Blues'")
June 3 – Sacred Heart Academy
June 7 – Melborne Civic Center
June 9 – Aloha
June 16 – Temple Terrace
June 17 – Inn Crowd
June 23 – Tiger's Den, Cocoa, FL
June 24 – Aloha / WALT Beach Party
June 28 – Sacred Heart Academy
June 30 – Sacred Heart Academy Luau (private)
July – Eddie Taylor replaces Dave Tabak on drums
July 1 – Sacred Heart Academy Semi-formal (private)
July 10 – Tiger's Den, Cocoa, FL
July 14 – J.C. Club
July 17 – Temple Terrace
July 19 – Sacred Heart Academy
September – fourth and last 45 "How Many Times" released (Decca 32191)
November – Bob Thompson joins on lead vocals
Nov. 25 – Clearwater Hullabaloo
late Nov. – Curtis Hixon Hall, Tampa, with Noah's Ark, the 13th Hour and the Puddin' Basin Group
1968:
March – Johnny Rogers dies
March 9 – Tiger's Den, Cocoa
July – Ronnie Goedert joins on lead vocals, Jay Colding on organ and Jerry Nickerson on drums
July 13 – Soap Box Derby Parade
Autumn – Hobie O'Brien joins on lead vocals
1969: Band breaks up in January or February