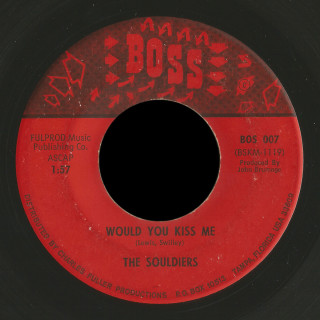 Here's an obscure single on Tampa, Florida's Boss label, the Souldiers with a great harmony song "Would You Kiss Me" b/w an underrated ballad, "Lemon Sun". Release date was approximately January 1967 on Boss BOS 007 (BSKM-1119/20)
Lewis and Swilley wrote "Would You Kiss Me" for Fulprod Music Pub ASCAP, while Hillert wrote "Lemon Sun" published by Fuller Music Pub. BMI.
Despite the obscurity of the band, the other two names on the labels are famiilar, John Brummage and Charles Fuller.
John Brummage had a hand in the production of the Royal Guardsmen's "Snoopy Vs. The Red Baron". He produced the Split Ends "Rich with Nothin'", the Noah's Ark "Love In", several for the Rovin' Flames including "I Can't" (which he wrote) on Boss, "Gloria" on Fuller and "How Many Times" on Decca, and many for the Boss label including the Berkley Five's "You're Gonna Cry" and the Ravens who I'll feature soon.
Charles Fuller headed the CFP, Fuller, Tigertown and Boss labels, among others, with Brummage most often listed as producer.
There's a possibility this Souldiers band is connected to another local group called the Soljers aka Blues Syndicate, with Bob Conn as either member or manager, but otherwise I can't find any definite info on who was in the band or any photos of the group.