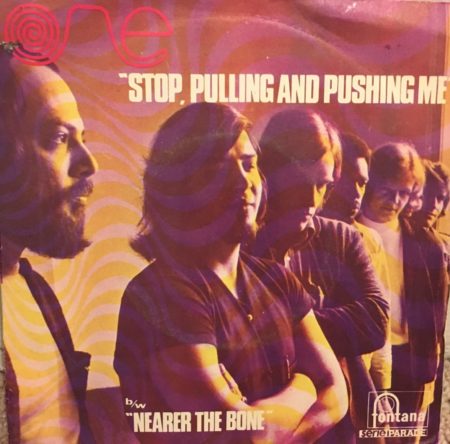 Alan Marshall – lead vocals/guitar
Bobby Sass – keyboards
Kevin Fogerty – lead guitar
Brent Forbes – bass
Norman Leppard – horns
Conrad Isadore – drums
In late 1969/early 1970, a motley crew of London-based musicians entered Trident Studios in the heart of Soho to record a lone, rare album for Fontana Records. Helmed by Indian-born musicians and childhood friends, singer Alan Marshall and keyboard player Bobby Sass, One had initially formed in early 1969 after a series of jam sessions at Marshall's studio flat, located at 6 Denmark Street which he shared with manager Roger Burrow, a friend of Graham Nash's.
Born in Lahore, Alan Marshall had quite the musical pedigree. Starting out with Bexley Heath, Kent R&B outfit The Loose Ends in the early 1960s, Marshall had cut two excellent singles on Decca before the original formation splintered in October 1966. Forming a new version with members of Croydon band The Subjects and another Bexley Heath area aggregation, Bob 'N' All, the new-look Loose Ends landed a short residency at the Bang Bang Club in Milan during January-February 1967.
When the musicians returned to London that March, they were spotted by Otis Redding at the Scotch of St James (or Speakeasy depending on who you speak to) and, 'blown away' by Marshall and co-vocalist Bob Saker's duets, the soul legend took both singers back to the States to record two tracks at Fame Studios in Muscle Shoals – "Johnny B Goode" and "Keep Pushing". The plan was to couple the two recordings for a single on Atlantic but internal politics led to the tracks being shelved. Tragically, Redding died later that year.
Back in the UK, Alan Marshall reunited with guitarist Peter Kirtley who'd been playing with Alan Price's band after leaving The Loose Ends the previous October. The pair decided to form a new group, Happy Magazine, and Marshall recommended his childhood friend Bobby Sass (not Bobby Tench under an alias which has often been misreported) to play keyboards. Unfortunately, after some tentative rehearsals, it was decided that Sass didn't fit the band concept and he was dropped.
"He was a tremendous piano player and he loved Errol Garner. He and I grew up together in Karachi," says Marshall. "Bobby didn't make it in Happy Magazine. They didn't like his style; he was too jazzy."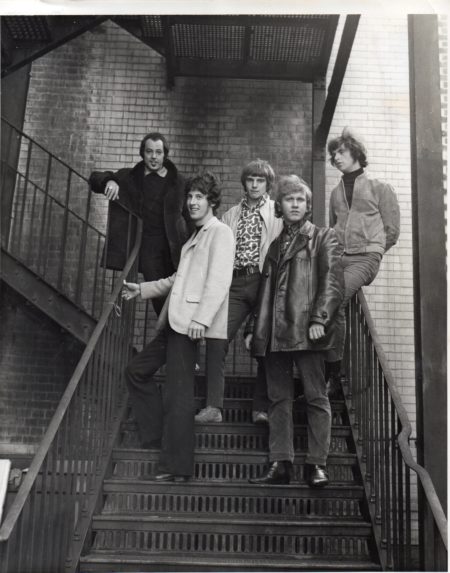 Signed to Polydor, Happy Magazine cut three singles with Alan Price in the producer's chair before splitting in early 1969. By this point, Marshall had moved into a studio flat on Denmark Street (aka as Tin Pan Alley) with his friend and manager Roger Burrow; Bobby Sass was a regular visitor. As the singer recalls, the doors were always open and musicians used to wander in.
This is the most likely explanation for how Antiguan-born drummer and percussionist Conrad Isidore entered the picture that spring. An incredibly gifted musician, Isidore had first come to prominence working with noted R&B outfit Joe E Young & The Tonics during 1967. It was here that Isidore worked with school friend and future band mate, bass player Calvin 'Fuzzy' Samuel, a former member of The Blue-Act-Unit, who also featured future Bob Marley sideman, Junior Kerr (aka Junior Marvin).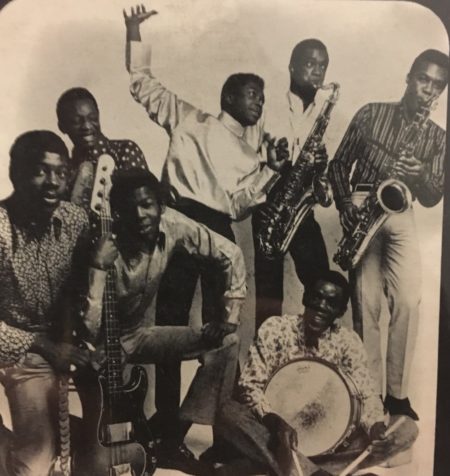 Isidore and Samuel soon moved on to form The Sundae Times with singer/guitarist Wendell Richardson. Produced by The Equals' Eddy Grant, the trio recorded three singles and an LP, Us Coloured Kids, during 1968-1969 before the musicians went their separate ways. Somehow Isidore's path crossed with Marshall and Sass and the drummer threw in his lot with the two Indian musicians.
Not long after, bass player Brent Forbes also joined the loose-knit set up. Originally from Salford, Greater Manchester, Forbes had previously played with The Rogues, who cut a lone single for Decca in December 1967. After changing their name to Sunshine in February 1968, the musicians turned pro and landed a residency in Turkey of all places. This was followed by a six-month stint playing clubs in Crete before the musicians returned to the drizzle of Greater Manchester.
At this point, Forbes joined a short-lived group called Zac, who moved down to London and cut an album's worth of material at IBC Studios near Marble Arch. When this project failed to materialise, Forbes's former band mate from Sunshine, guitarist Rod Alexander, who was managing Sound City on Shaftsbury Avenue, directed him to Marshall's nearby studio flat.
The next musician to join was guitarist Kevin Fogerty, who had first come to prominence with Southport R&B group, Timebox. Fogerty appeared on the band's early recordings but in the spring of 1967, he jumped ship and signed up with The Dave Davani Four, which is where he later met tenor saxophonist and flutist Norman Leppard.
Originally from Handscross in West Sussex, Leppard was 23 years old when he turned professional. "I was mainly a freelance musician, working with different bands, touring all over the place," he says. "I was always busy. I did a fortnight tour with The Temptations".
Sometime in 1968, Leppard auditioned for The Dave Davani Four and landed the gig, despite being up against about 20 sax players. "Kevin was with them before I joined them," he adds. "I ended up sharing a flat with Kevin and his then girlfriend Jenny in Kennington."
According to Forbes, the loose-knit group of musicians spent ages rehearsing material before album sessions commenced at Trident Studios in St Anne's Court, Soho, encompassing the latest in 16-track technology.
"We spent weeks, months, it felt like forever, in this studio [in Denmark Street] and the band would go in and play," recalls the bass player. "We'd do an arrangement one day and go in the next day and it would be totally different as music should be. Depending on the mood of everybody it would be totally different."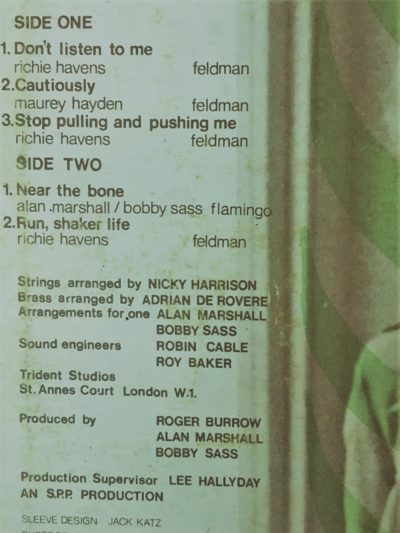 Production was split between the band's manager Roger Burrow and Alan Marshall and Bobby Sass, working with sound engineers Robin Cable and Roy Baker. Production supervision meanwhile was handled by Lee Hallyday, who'd recently recorded his brother Johnny's self-titled LP in France. According to several band members, the sessions at Trident's studios also featured Alan Marshall's former band mate from The Loose Ends and Happy Magazine, Peter Kirtley, who provided lead guitar on several cuts.
"Kevin was on some of the tracks," explains Leppard. "He was mainly on rhythm guitar I think. I am not sure he's on all the tracks, but he's definitely on most of them."
Brent Forbes is quick to credit Isidore and Marshall as the key inspirations during the recording process.
"Whether he's playing guitar, percussion, drums or singing, [Marshall's] just a warm spirit," he says. "Conrad was [also] a fantastic influence for me. Great feel. He sat down one day and said: 'Brent the notes are all right but the feel'. He made me think about that and I managed to maintain it and got a reputation for it over the years."
Judging by the track listing, Richie Havens was a huge influence on the singer, but Marshall is not entirely happy with how some tracks turned out. "There are a couple that I am not too keen on," says Marshall. "It was marijuana fuelled and they went on and on like 'Run, Shaker Run' but we didn't know any better. We were young guys."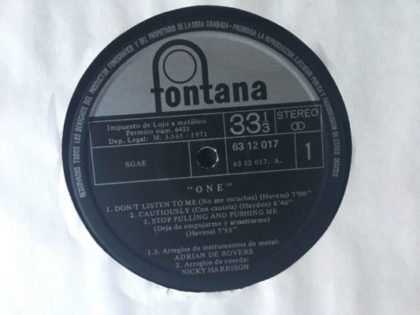 That may well be, but One's storming cover of Havens' "Don't Listen To Me", which opens the LP and third track, "Stop Pulling and Pushing Me" are inspired, extended workouts full of inventive playing and powerful instrumental passages. The musicians also do justice to "Cautiously", an atmospheric reading of the ballad written by Maurey Hayden, singer, stand-up comedian and wife of Lenny Bruce. Alan Marshall and Bobby Sass's "Near The Bone", the band's lone contribution to the song-writing stakes is also noteworthy.
According to Forbes, there were no left-overs from the album sessions, which is perhaps surprising considering how long the musicians spent rehearsing material.
With the sessions complete, Norman Leppard was invited to become a fully-fledged member of One. "After the album was done, they asked me to join the band, which I then did for quite a long time," remembers the session player.
Fontana duly released the LP in the UK in late 1969, followed by continental releases in France, Germany and Spain. The label also issued several singles but like the LP, none of the releases charted, which is perhaps not surprising considering that One undertook very little live work to promote the records. One notable gig took place on 7 October 1969 when the musicians made a rare appearance on stage at Hatchettes Playground in Piccadilly.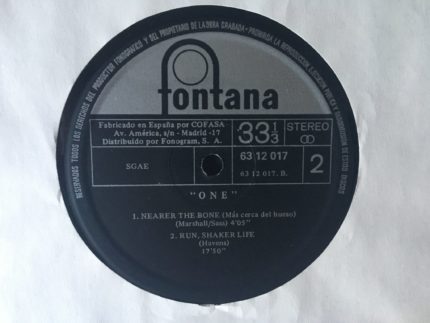 During March-April 1970, the musicians got to meet Stephen Stills, who was in London to record sessions for his first solo LP. It's not clear who in the band made the initial contact. Marshall says that he used to leave the flat door open and musicians used to wander in. One strong possibility is Roger Burrow, who of course was a friend of Graham Nash's. Alan Marshall, however, is pretty certain that it was Bobby Sass who ran into Stills.
"I don't know how he met Stephen [but] we used to go over to the house [in Elstead]," says Marshall. "[Stills] had Peter Sellers' old house and we used to go out there and hang out."
Impressed by Conrad Isidore and his friend Calvin Samuel, Stills recruited both for his solo LP sessions. In May 1970, no doubt concerned about the shortage of live work, the drummer jumped ship to join Manfred Mann Chapter 3.
"We didn't do as many gigs as we should have," admits Forbes. "We did a hop or two to [West] Germany and we probably did the Marquee. We never did enough work really. How on earth we existed [I don't know] – I think Roger [Burrow] the manager helped support everybody."
The German club in question was the Happy Cat in Eschollbrucken near Darmstadt, which is close to Frankfurt. However, the shortage of live work soon led to cracks in the group and by the summer of 1970 both Kevin Fogerty and Norman Leppard had also moved on.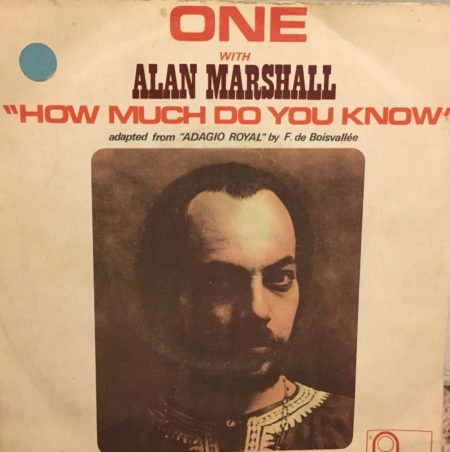 Interestingly, while One's revolving door of personnel changes continued at pace, Fontana issued a French-only '45, 'How Much Do You Know" (adapted from Adagio Royal by F de Boivallee), which was credited solely to Alan Marshall backed by One's 'Don't Listen To Me".
By the time the single appeared, Alan Marshall, Bobby Sass and Brent Forbes had pieced together a new formation which included guitarist Jack Lancaster and drummer Terry Stannard.
"There was a guitar player called Jack Lancaster, [who had] the same name as the famous one in Blodwyn Pig and he came from Swindon. He came in and took [Kevin Fogerty's place]," says Forbes.
"God knows what we did after that. I can't remember doing many gigs. It was a time when Fat Mattress got £200,000 advance and just sat rehearsing. It was a time when groups could afford to do that."
Stannard, meanwhile, also originated from Wiltshire where he'd worked with Calne group, The Pack during late 1966. In the summer of 1967, the drummer moved up to London where he briefly landed a gig with Freddie Mack & The Mack Sound (and may have spent a short stint with Herbie Goins). He then moved on to join Junior Kerr (aka Junior Marvin) and Linda Lewis in the short-lived White Rabbit. By mid-1968, however, Stannard had moved on. While it's not clear who he played with in the interim, one of the bands was Mirrors featuring Boz Burrell and Nick Judd.
Forbes remembers the new formation cutting an LP for Johnny Hallyday at a studio near Marble Arch, which could well have been IBC, towards the end of the year. "I remember getting session money for it because I went home to my uncle's and had a very nice Christmas," says the bass player.
Not long after, in early 1971, One underwent yet another reshuffle. On this occasion, Alan Marshall and Bobby Sass put together a short-lived version featuring former Them/Trader Horne guitarist/singer Jackie McAuley, future Traffic bass player Roscoe Gee and drummer Glenn LeFleur, who like his predecessor Terry Stannard, went on to play with Kokomo.
"I don't know how I met Roscoe and Jackie," says Marshall. "I used to meet so many musicians because I used to leave the door open in summer and musicians would drift in. We had a PA and Hammond organ and drums all set up."
The new formation played at the Speakeasy and also Strawberry Fields where according to Marshall, "Paul McCartney and those guys used to love hearing us."
Unfortunately, the group wound down soon after with the musicians scattering to work in a diverse range of projects.
Marshall ended up joining Strabismus, which subsequently changed its name to Riff Raff when the singer's former band mate from The Loose Ends/Happy Magazine, Peter Kirtley joined and also featured bass player Roger Sutton and keyboard player Tommy Eyre. However, Marshall quit before Riff Raff's debut album was recorded and pursued a solo career before recording with Zzebra. He then joined Gonzalez in the late Seventies in time for their 1979 release, Move It To The Music. Based in Thames Mead, he has become a pastor but continues to busk in Stratford, East London.
His school friend Bobby Sass later moved to Australia but died in the 2000s. Kevin Fogerty also passed away, in December 2010. During the early 1970s, he worked for a while in The Tommy Hunt Band.
As for Norman Leppard, he joined Eric Delaney's band after leaving One and also appeared on Jack McDuff's Blue Note LP, issued in late 1970. He continues to work as a session player.
Conrad Isidore meanwhile became a noted session player, working with the likes of Joe Cocker, Linda Lewis, Terry Reid, Vinegar Joe and Eddy Grant to name a few. He also later played with Junior Marvin in his band Hanson and with Hummingbird. Isidore currently resides in Porvoo near Helsinki in Sweden.
Brent Forbes also landed on his feet and, immediately on leaving One, joined the West End show, Catch My Soul. Like Isidore, he later moved into session work, playing with Doris Troy, Jimmy Helms, Lulu, Locus, Jim Capaldi and Hudson Ford among others. From 1975-1980, he also landed regular work on West End shows like Rocky Horror Picture Show and Les Miserables. During this period, he also briefly performed with Herbie Goins and Zzebra. Later, he moved into TV session work, providing music for Young Ones, the Lenny Henry Show, Victoria Wood among others.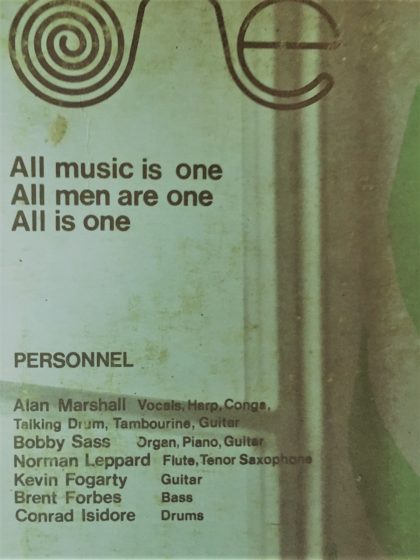 As for One, the group remains something of an obscurity. While the LP has been issued on CD by two different labels, neither appear to be official releases. Given the collectability of the record and the fact that a mint copy will probably fetch you close to £100, perhaps it's time that the band was given a proper re-issue treatment, complete with detailed liner notes.
Many thanks to the following for their help with the story: Alan Marshall, Brent Forbes, Norman Leppard and Jackie McAuley.
Copyright © Nick Warburton.  All Rights Reserved. No part of this article may be reproduced or transmitted in any from or by any means, without prior permission from the author.