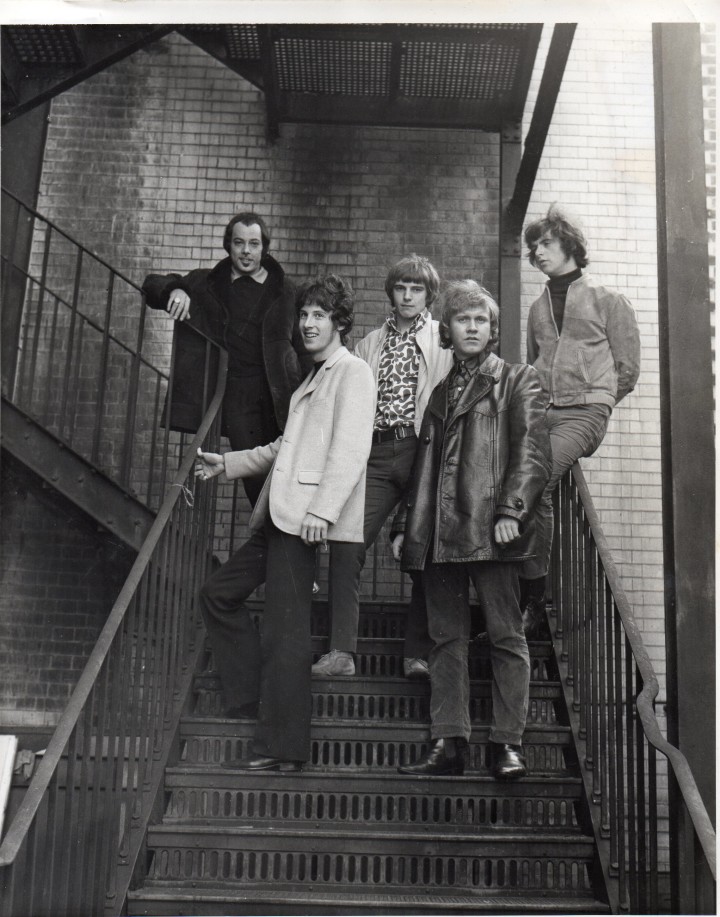 Alan Marshall – lead vocals
Peter Kirtley – lead guitar
Kenny Craddock – organ
Brian Rowan – bass
Alan White – drums
Happy Magazine was soul/R&B band that was formed during August 1967 by singer Alan Marshall and lead guitarist Peter Kirtley and was managed and produced by former Animals keyboard player/singer Alan Price.
The two musicians have previously played together in Southeast London R&B group, The Loose Ends from around July 1965 to October 1966 when Kirtley departed to join The Alan Price Set.
Alan Marshall meanwhile formed a new version of The Loose Ends, drawing on Croydon, Surrey band, The Subjects, which featured Malcolm Rudkin (vocals); Alan Griffin (lead guitar); Phil Lanzon (organ); John Manderson (bass); and Roy Manderson (drums).
After a few months, John Manderson and Malcolm Rudkin, who did not want to turn professional, departed and the band's manager Bryan Mason recruited sax player/guitarist Mick Patel, who had previously worked with Carl Douglas and bass player Colin Pullen from Kent band, Bob 'N' All. Not long after, Roy Manderson was succeeded by another Bob 'N' All member, Tony Glyde.
In early December 1966, Bryan Mason expanded the formation by adding another Bob 'N' All member – singer Bob Saker and the group played regularly at the Playboy Club.
The Loose Ends then landed a residency at the Bang Bang Club in Milan's San Guiliano district, which kicked off in the third week of January but Alan Griffin departed just before the group left for Italy and Colin King from Bob 'N' All took his place.
During early March 1967, The Loose Ends returned to London and played at the Scotch of St James and the Speakeasy. At one of the venues, Otis Redding spotted Alan Marshall and Bob Saker and invited them to Muscle Shoals to record, and during May/June the singers cut two tracks – "Johnny B Goode" and "Keep on Pushing", which were never released. Marshall and Saker then returned to the UK.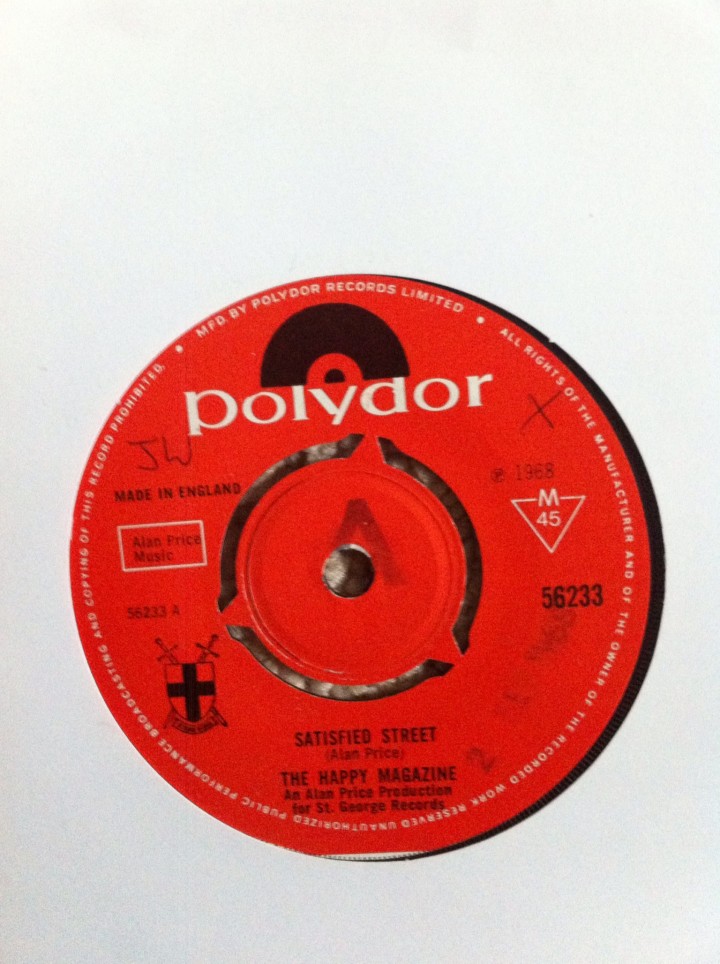 By this point, Peter Kirtley was ready to leave The Alan Price Set to team up with Alan Marshall and around August the pair formed Happy Magazine. Initially, Marshall's friend Bobby Sass was going to play keyboards but he departed after initial rehearsals.
Kirtley, who was originally from Tyneside and had played with Shorty & Them during the early 1960s, introduced his old friends from Jarrow, the late Kenny Craddock on organ from Tyneside bands The Elcorts and New Religion, and Brian Rowan on bass from Shorty & Them. He also recruited drummer Alan White, formerly a member of Tyneside outfits, The Bluechips and The Gamblers.
Kicking off with Alan Price's excellent "Satisfied Street", backed with "Beautiful Land" in December 1967, featuring a horn section that may well be Amboy Dukes members Buddy Beadle and Steve Gregory (also ex-Alan Price Set), the label re-issued the track three months later coupled with the Dan Penn/Spooner Oldham soul classic "Do Right Woman – Do Right Man". During this time, the group also became regulars at Rasputin's club in Bond Street.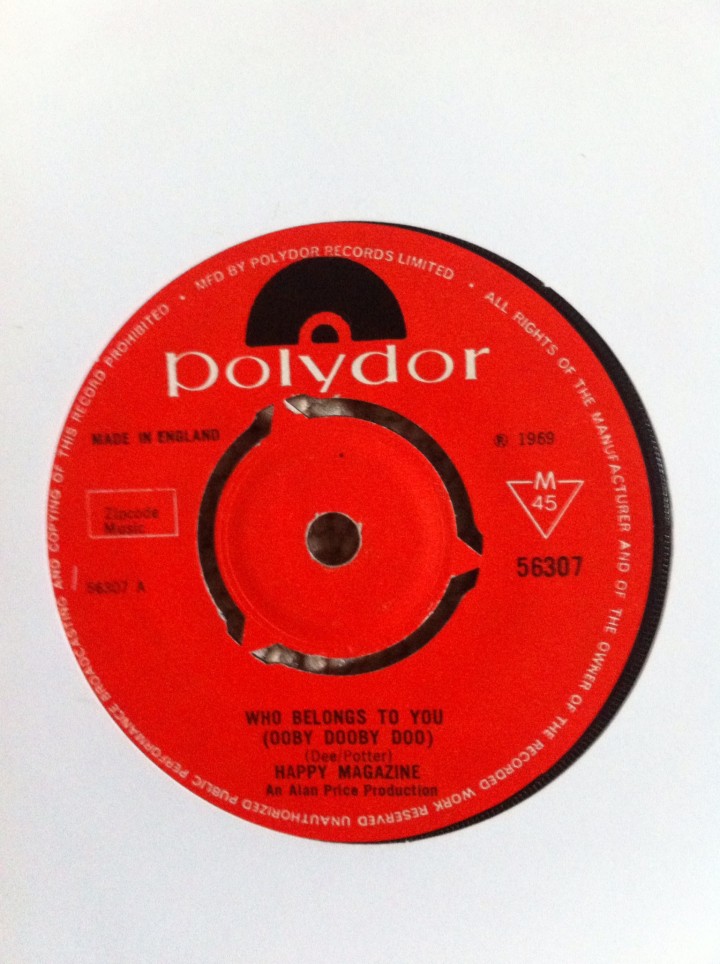 During 1968, Alan Price recruited Alan White for his backing band, and Malcolm Wolffe from West London bands, The Tribe and Dream took over. The band then cut its third and final outing, a brilliant reading of the Dee/Potter collaboration, "Who Belongs To You" (again with horns), coupled with the previously available "Beautiful Land". Issued on 14 February 1969, the single should have catapulted the band into the charts.
With the single failing to grace the charts, Alan Marshall departed to form the experimental jazz/funk/blues band, One, who cut a brilliant lone album for Fontana later that year.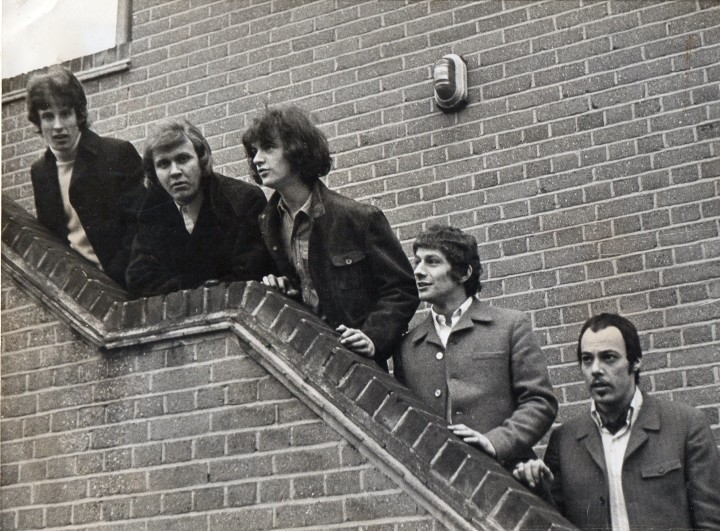 Joined by lead guitarist Kevin Fogarty (originally a member of Southport R&B group, Timebox); his old friend and keyboardist Bobby Sass; bass player Brent Forbes from Salford bands, The Rogues and Sunshine; sax and flutist Norman Leppard; and drummer Conrad Isidore, One should have been a huge success but the album (which featured Peter Kirtley on lead guitar) sank without a trace.
Peter Kirtley, Kenny Craddock and Alan White meanwhile brought in two friends from Newcastle – ex-Skip Bifferty members, singer Graham Bell and bass player Colin Gibson, and signed to Bell Records for a one-off single as Griffin.
Produced by Alan Price and issued on 25 September 1969, the Kirtley-Gibson-Craddock collaboration, "I am The Noise in Your Head," coupled with Kirtley's "Don't You Know" was an impressive outing but failed to trouble the charts.
Griffin soon splintered and Kirtley went on to record with several notable bands, including Riff Raff, Radiator and Pentangle. Later he appeared on albums by Liane Carroll and Bert Jansch.
Kirtley has also issued two solo albums, Peter Kirtley and Bush Telegraph as well as the charity single, "Little Children", for Jubilee Action, to raise money for street children in Brazil and featuring Paul McCartney.
Having fronted new versions of One, Alan Marshall surfaced as a solo artist on Fontana in 1970. In France, the label issued a rare single that coupled One's excellent cover of Richie Havens's "Don't Listen To Me" with a solo outing – "How Much Do You Know", adapted from "Adagio Royal" by F de Boivallee.
When that single failed to chart, Marshall ended up joining Strabismus, which subsequently changed its name to Riff Raff when the singer's former band mate from The Loose Ends/Happy Magazine, Peter Kirtley joined. However, Marshall quit before Riff Raff's debut album was recorded and pursued a solo career before recording with Zzebra. He then joined Gonzalez in the late Seventies in time for their 1979 release, Move It To The Music. Marshall continues to perform in London.
Alan White became a top session player, working with John Lennon and George Harrison among others and later joined Yes, with whom he continues to play.
White's replacement Malcolm Wolffe meanwhile joined Geno Washington & The Ram Jam Band.
Notable gigs: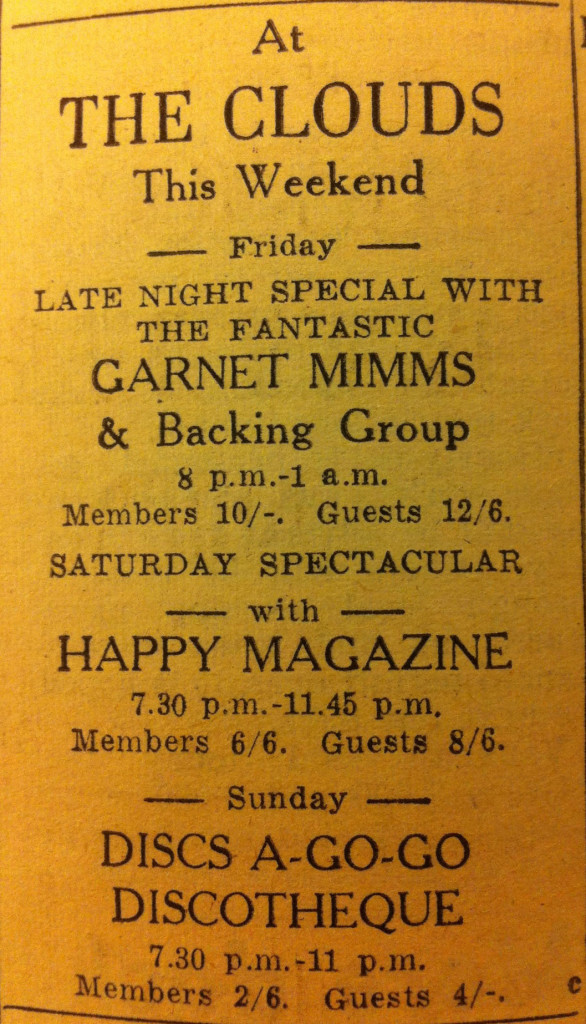 9 September 1967 – Tiles with Winston G Set and Heart and Souls
23 September 1967 – Clouds, Derby
7-9 March 1968 – Hatchetts Playground, London
8 June 1968 – Clockwork Orange, Chester with Watson Brown Band
1 August 1968 – Klooks Kleek, West Hampstead, London
8 August 1968 – Bag O'Nails, London
9 August 1968 – The Grotto, Ilford, Essex
10 August 1968 – Beachcomber, Nottingham
7 September 1968 – Rainbow Suite Co-Op, Birmingham with The Baron
19 September 1968 – Klooks Kleek West Hampstead, London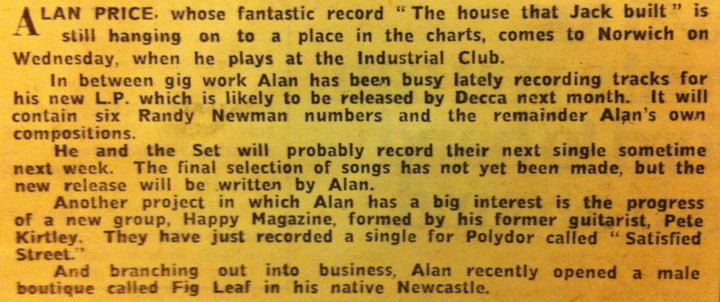 Sources:
Fabulous 208 Magazine, Derby Evening Telegraph, Northwich Chronicle, Melody Maker, Birmingham Evening Mail
Thanks to Alan Marshall, Peter Kirtley, Alan Griffin, Phil Lanzon, Bob Saker and Colin Pullen for helping piece the story together. Thanks to Peter Kirtley for the photos.
Please contact the author at Warchive@aol.com with further information/corrections