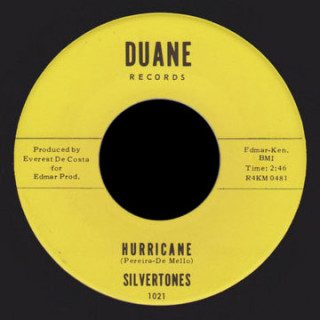 Duane Records discography
any help with this would be appreciated – contact me)
Duane catalog numbers run consecutive with that of the Edmar label, which is why there are so many gaps in this discography. Edmar had many more releases than Duane, and tended to be calypso and steel band music, so I've chosen not to include those releases in this discography. It's possible there are some Duane issues I haven't included in this discography – if you find one please let me know.
45s:
Duane 1021 – The Silvertones – "Hurricane" (Pereira – deMello, Edmar-Ken BMI) / "Groovy Baby" (produced by Everest DeCosta for Edmar Productions, R4KM-0481, 1964)
Duane 1022 – The Ebbtides – "Star Of Love" / "First Love" (both sides Phillips-DeMello, Maredken Music, BMI 1964)
Duane 1023 – Lee Curtis – "My Love Don't Go" / ?
Duane 1042 – The Weads – "Don't Call My Name" / "Today"
Duane 1043 – The Savages – "No No No" / "She's Gone"
Duane 1046 – Bishop Kane – "Any Time That You Are …" / ?
Duane 1048 – The Gents – "If You Don't Come Back" (W. Cabral) / "I'll Cry"
Duane 1049 – The Savages – "Roses Are Red My Love" / "Quiet Town"
Duane 1054 – The Savages – "The World Ain't Round, It's Square" / "You're On My Mind"
Duane 101 – The Invaders – "Lost Time" (Richardson) / "Bossa Blue" (recorded February 5, 1970, produced by J.P. Salvatori, Maredken Music BMI)
Duane DX 500 – Stone Foxx – "Gypsy Lady" (Leon Elton, Chris Rowe) / "Agamemnon"
LPs:
Duane LP-1047 – The Savages – Live n' Wild
Duane LP-1101/1102 – The Invaders – Spacing Out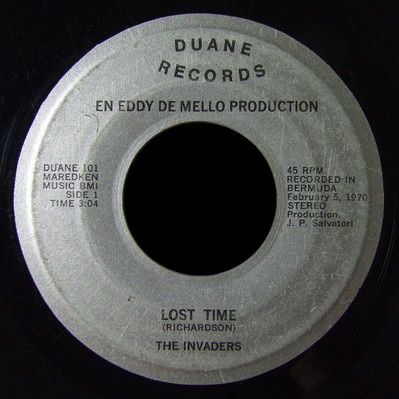 The Weads, the Savages and the Gents are all the great garage records. See my pages on the Savages and the Weads for more info on those bands.
The Gents included Andy Newmark, Glen Mello (I'm not sure if there's any relation to Eddy DeMello) and drummer Frank Chiappa, and possibly Winston Cabral. The Gents is one band I'd love to know more about.
Spacing Out was reissued (legitimately?) on the Duane label and also booted on Baadasss Records. Originals etched Duane 1101-A/1101-B, with small "lw" in script and small stylized "sr"
Eddy DeMello owned the Duane Records (named for his son) and Edmar Records labels and operated out of the Music Box record store in Hamilton, Bermuda. Eddy passed away on March 6, 2013 (see Royal Gazette artlcle).
Note: No connection to another "duane" (all lower case letters on the labels) which had country releases by Roy Montague produced in Memphis, TN, and a good garage 45 from a Boise, Idaho band, Wm Penn & the Quakers: "Coming Up My Way" (Gerald D. Tucker) / Care Free (Lanny Gunther); produced by Gerrie Thompson.
Thanks to Steve Kahn for informing me about the Ebbtides release.