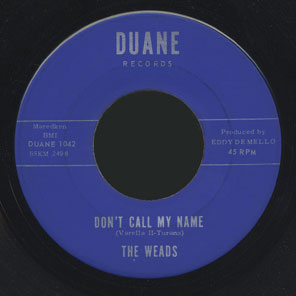 The Weads were the very first rock band to release a record on the Duane label in Bermuda. I wondered, how did a band from Stony Brook, New York end up on a label from Bermuda? That question was answered when I spoke to Rodger Jackson, bass player for the Weads, who generously provided a lot of information about this great band.
Rodger Jackson started a band called the Statics with Allan Varela at their high school in Garden City, Long Island, Rodger playing bass and Allan lead guitar. Allan was 14 at the time and Rodger a little older. The next year, Allan moved to Stony Brook, where he attended the Stony Brook Boys School, though he continued playing music with Rodger. They recruited Dick Turano from Northport to play drums and Myron McCloud to play rhythm guitar. Myron was from Texas but was attending the Stony Brook Boys School at the time.
The Weads distinguished themselves from other groups by playing only original songs, most of them written by Allan Varela (listed as Varella II on 45 label). They outfitted themselves in suits, and played through Vox Super Beatle amps. Allan Varela played a Stratocaster, Rodger a Precision bass, and Myron a Vox Teardrop guitar.
Also at the school was a student from Bermuda, Alan Dowdy, who took a demo tape of the Weads back home with him and played it for Eddy DeMello, owner of the The Music Box in Hamilton. DeMello liked what he heard, and in short order he contacted the Weads and signed them to 3 year, 10 song contract. The Weads recorded at least four songs at National Recording in Long Island. DeMello then took the masters back to Bermuda and pressed records there.
DeMello stocked them in his record shop and DJ Bryan Lodge got them played on the local radio station ZBM, sending "Today" to #2 in Bermuda. Allan Doughty from Bermuda became their manager. All the college students there for vacation knew the songs from the local radio play, so when the Weads arrived for College Week, they already had a good audience. Like the Savages, they played for college audiences around the island and at the Princess Hotel. It's likely that the success of their 45, "Toda"y / "Don't Call My Name", led to the recording and release of records by the Savages and the Gents.
Back in the states, the flip side Don't Call My Name went top 10 on Long Island. The Weads did an hour-long radio interview that may still exist on tape somewhere. They played shows at local Hullabaloo clubs and in Pt. Jefferson. They also started recording commercial jingles and may have recorded new material at Ultrasonic in Hempsted.
About a year after signing with DeMello the Weads decided they wanted to get out of contract in order to concentrate on breaking into the national scene. DeMello fought this and made it difficult for them to find another label. Columbia passed on them in late '66/early '67 and with members going to college, the Weads called it quits.
During college, Rodger joined a club band, playing the Hamptons and Lake George. He fondly remembers late night jam sessions with members of other Long Island bands at the Afterhours.
Master tapes of the Weads sessions should still be in existence. One of the unreleased songs has a title like "Her Name Was Lynn". Until those tapes surface, we'll have to wonder what else this talented group was capable of. Given the quality of their original material on the Duane 45, they could have done well if they had the backing of a major label.
Anyone have a photo of the group?