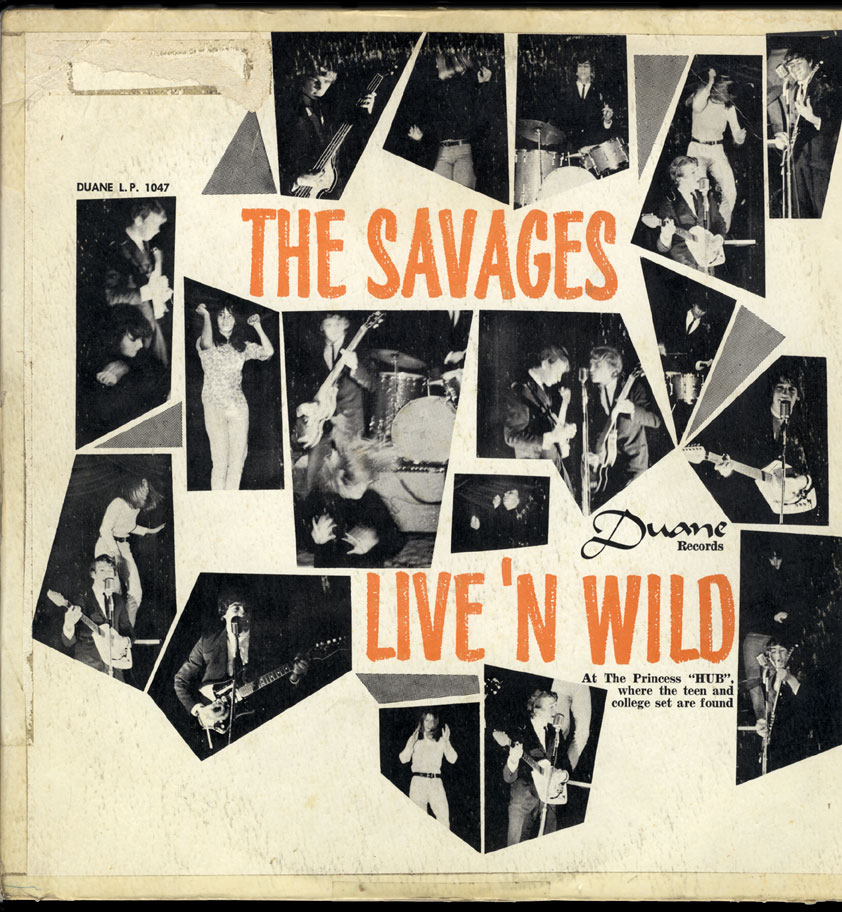 Updated January 26, 2007
The Savages – four kids in Bermuda playing the hotel nightclubs for tourists wound up cutting one of the great live lps of the era.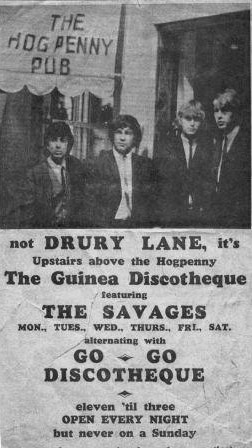 This is a solid garage album, with standout tracks being "Quiet Town", "Nobody But You", "The World Ain't Round" and "No No No".
Since first writing this post, I've corresponded with guitarist Paul Muggleton, attempted to interview producer Eddy DeMello with negligible results, and gathered information from as many other sources as I could, including Ed Nadorozy's previous interviews with bassist Rob Zuill and Paul. Following is a revised and updated telling of their story that is as complete as I can make it. There are still some gaps to fill and mysteries to be explained, with luck some more information will turn up in the future.
Paul Muggleton: "The Savages started in 1965 in Bermuda. We used to watch another band in Bermuda rehearsing, they were the Gents. We were not sons of diplomats …my father was a printer…both Jimmy O'Connor and Bobby Zuill's fathers were sea captains and Howie Rego's father had a supermarket. Jimmy O'Connor and I started the band and recruited Bobby Zuill and [drummer] Howie Rego.
"We played teen functions periodically then got a job at the Hub [a nightclub at the Princess Hotel in Hamilton, Bermuda].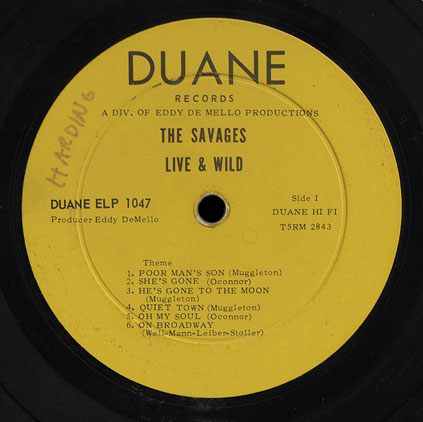 We worked pretty solidly, sometimes doing three gigs in a day. In the morning we played for two or three hours on Elbow Beach to thousands of American college kids, then from 7 to 9 in the clubhouse above the beach, then from 11 to 3 at the Hub.
"We played seven nights a week doing mostly covers until we were asked to make an album which Jimmy and I wrote in about 3 weeks which became the 'Savages Live' album. It was recorded straight to a four track machine, warts and all, live except for one track. 'No No No' was recorded after we recorded the album as a b-side to the first single 'She's Gone.' I think it was a small audience, maybe 150 tops, set up to record the album."
Rob Zuill: "We recorded that album live at the Hub [on February 6, 1966]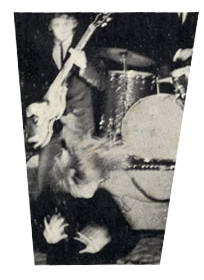 and we were all so scared that we played everything way too fast. The songs should have been played much slower. In listening to the album later we were very disappointed with our performance. Anyhow it was way to late to do anything about it then. But I know that if we had recorded the album at a proper studio it would have turned out much better."
Rob may not have been happy with the results, but listening to the album today is a pleasure. For one thing, most of the songs are originals, and the quality of the songwriting is amazing considering the inexperience of the band. Paul Muggleton wrote "Poor Man's Son", "Gone to the Moon", "Nobody But You", "No No No" and the fantastic "Quiet Town". Jimmy O'Connor wrote "She's Gone" and "Oh My Soul", and he and Muggleton collaborated on "I Believe". Howie Rego and Rob Zuill co-wrote the most famous song on the record, the dissonant "The World Ain't Round, It's Square."

Of the three cover songs, two are predictable – a fine version of "We Gotta Get Out Of This Place", and one that I would say is the least worthy track on the LP, "On Broadway".
The third, however, is a very unusual choice – an English version of an Icelandic song, "Ertu Med" written and recorded by Thor's Hammer in 1965. Paul Muggleton: "Our manager, Bev Welsh was Icelandic, he played us the song and I may have written the lyrics in English." Confusion arises because Thor's Hammer recorded their own English version of the song under the title 'If You Knew,' with totally different lyrics than the Savages'. In fact, Thor's Hammer's English version wasn't recorded until May of 1966, several months after the Savages live session!
Also of note is that "No No No" came to be recorded by The Instincts, a band from Connecticut, most likely because someone brought the Savages 45 back home with them after vacationing in Bermuda.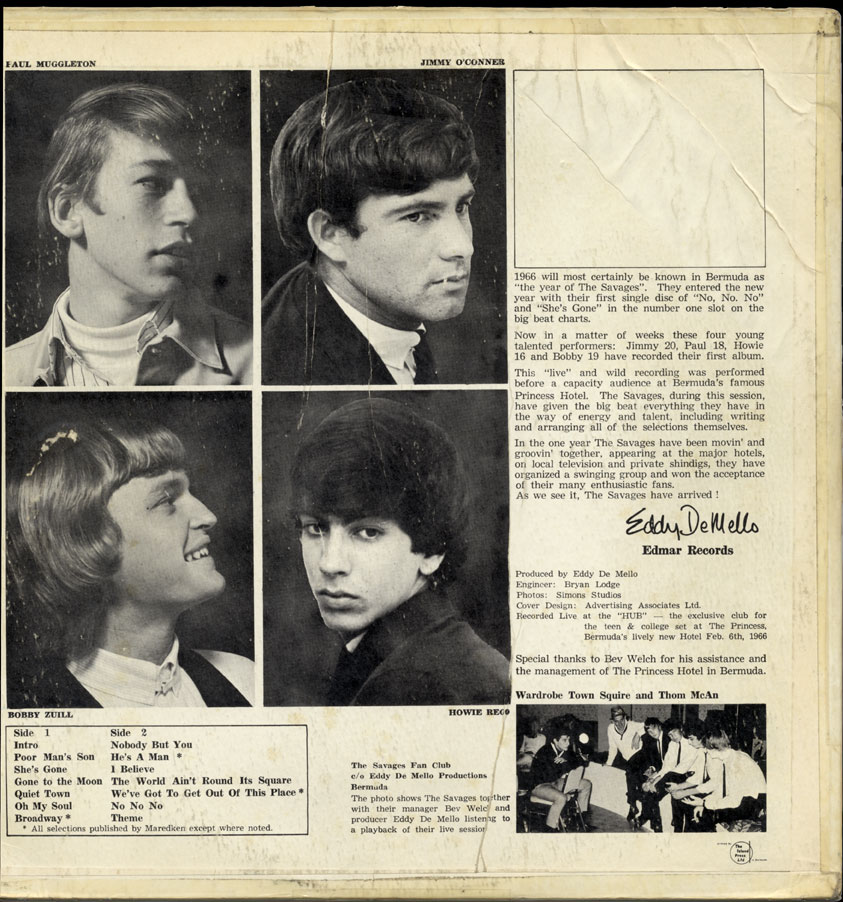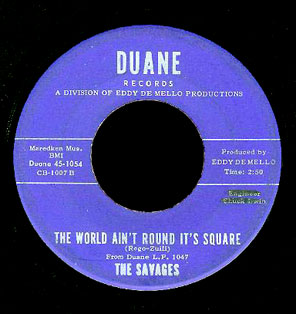 The Duane label was run by Eddy DeMello, a Bermudan of Portuguese descent. All the Duane releases recorded in Bermuda have a fine natural echo, leading me to believe they were recorded at the same location. Two other garage bands are also on Duane, the Weads and the Gents, along with a fantastic funk LP, Spacing Out by the Invaders. For more info on the Duane label, see the list of releases I've added to the site.
Paul Muggleton: "Eddy De Mello was the only promoter on the Island and I think initially he worked hard for us…putting us on tours of the West Indies and getting us to the States [summer, 1966] for gigs like the Scene and The Coney Island Pub and gigs on Long Island and Providence, Rhode Island. We went to New York to record 'Roses Are Red.' We also recorded two other songs at A&R studios with engineer and producer Chuck Irwin." Released as their second 45, "Roses Are Red My Love" shows a tighter, more mature sound than the live recordings done just a few months previous. No one seems to remember the names of the other songs recorded in NY, and the tapes have disappeared.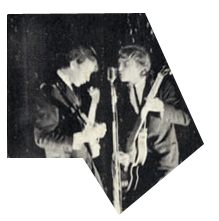 While in NY, someone in the band made an insulting remark in Harlem which caused an irrepairable rift in the band. Paul: "The Savages broke up because of an incident in New York that nearly got us all killed through the stupidity of some of the members…and that's all I can say on that one, even after all these years."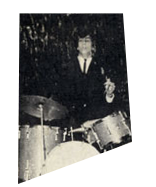 Paul Muggleton: "The album is still to this day on sale [on CD, taken not from master tapes but from a scratched vinyl copy] and up to this moment no one has received any royalties for either the publishing or mechanicals. The record was only promoted in Bermuda but thousands were sold to college kids so there should be quite a few out there."
E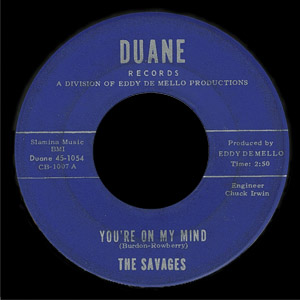 ddy De Mello currently runs a nightclub/music store called the Music Box. When I asked him about the band all he had to say was "it's history." Paul sums up De Mello: "I'm afraid he wouldn't be interested because there was no money in it…that's the way he is, someone who knows the price of everything but the value of nothing."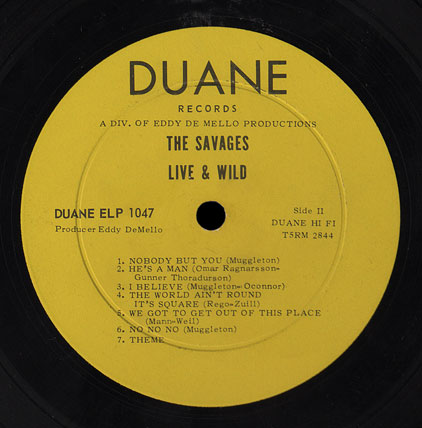 After the Savages broke up, Paul Muggleton and Jimmy O'Connor joined with Andy Newmark and Glenn Mello of the Gents to make the Bermuda Jam album for the Dynovoice label, which includes the incredible psychedelic patische "Good Trip Lollipop". Part of this band including Muggleton became the house band at Steve Paul's "The Scene" in New York in June and July of 1967.
Since that time, Paul Muggleton has been active in music. Recently I heard one fine single he recorded for Columbia in Spain in 1970 under his own name: "Billy Snow, Jim Black" / "Where Time Flies".
Rob Zuill: "We were a very big group in Bermuda in the late 60s. We really thought we were hot shit. And maybe we were."
45s:
Duane 1043 – The Savages – No No No / She's Gone
Duane 1049 – The Savages – Roses Are Red My Love / Quiet Town
Duane 1054 – The Savages – The World Ain't Round, It's Square / You're On My Mind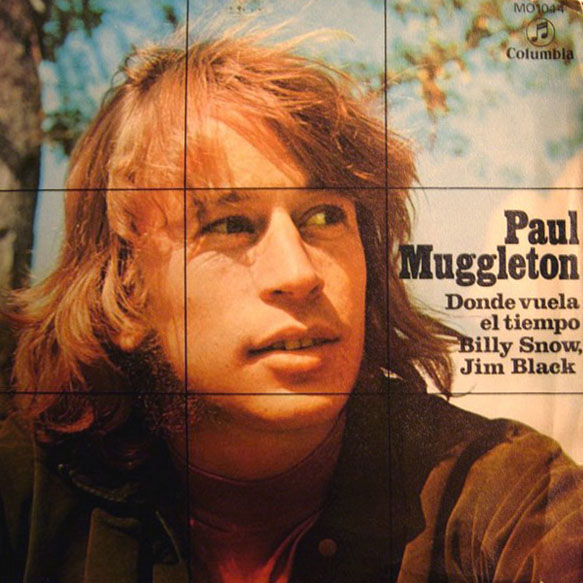 Thanks to Borja for info on "Billy Snow, Jim Black".