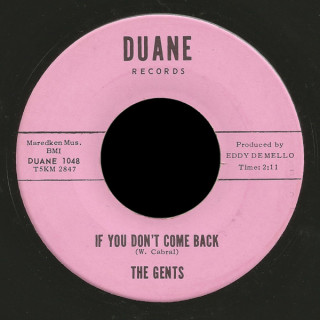 Based in Bermuda, the Gents may have included Andy Newmark, Glen Mello (I'm not sure if there's any relation to Eddy DeMello) and drummer Frank Chiappa, and possibly Winston Cabral. I've seen a poor photo of a signed copy of the 45 that seems to include five names: Roddy, Mick, Winston and two I can't make out.
I haven't found any new information on the Gents, but I have finally bought a copy of their rare 45, "If You Don't Come Back" / "I'll Cry", released on Duane Records 1048 in the first half of 1966.
Winston Cabral wrote "If You Don't Come Back", recognized as a classic of garage punk since its first compilation appearance on The Chosen Few vol. 1 in 1983. R. Marshall wrote the excellent heavy-echo ballad, "I'll Cry". Both sides published by Maredken Music, BMI and produced by Eddy De Mello, owner of the Duane label.
T5KM 2847/2848 indicates the lacquer was cut at one studio and supplied to RCA to be pressed in the first half of 1965.
In a comment on the page for the Savages, John McGill recalled being in a group with Winston Cabral called the Castaways, which also included Corky Fishbeck and 'Mutt' Mutzke.
Andy Newmark, Glen Mello joined Paul Muggleton and Jimmy O'Connor of the Savages to make the Bermuda Jam album for Dynovoice.
The Gents is one band I'd love to know more about, if anyone has more information or a band photo, please contact me.