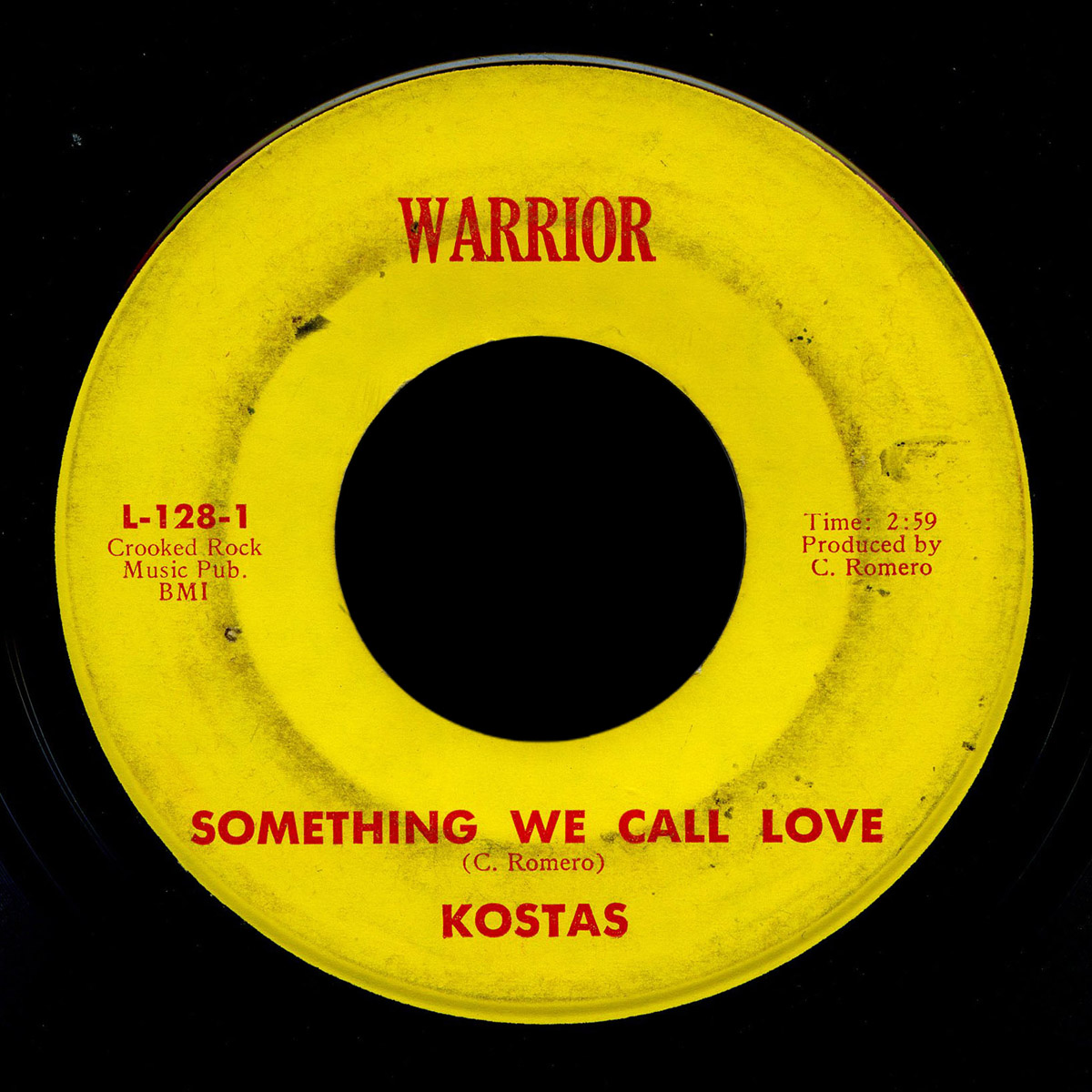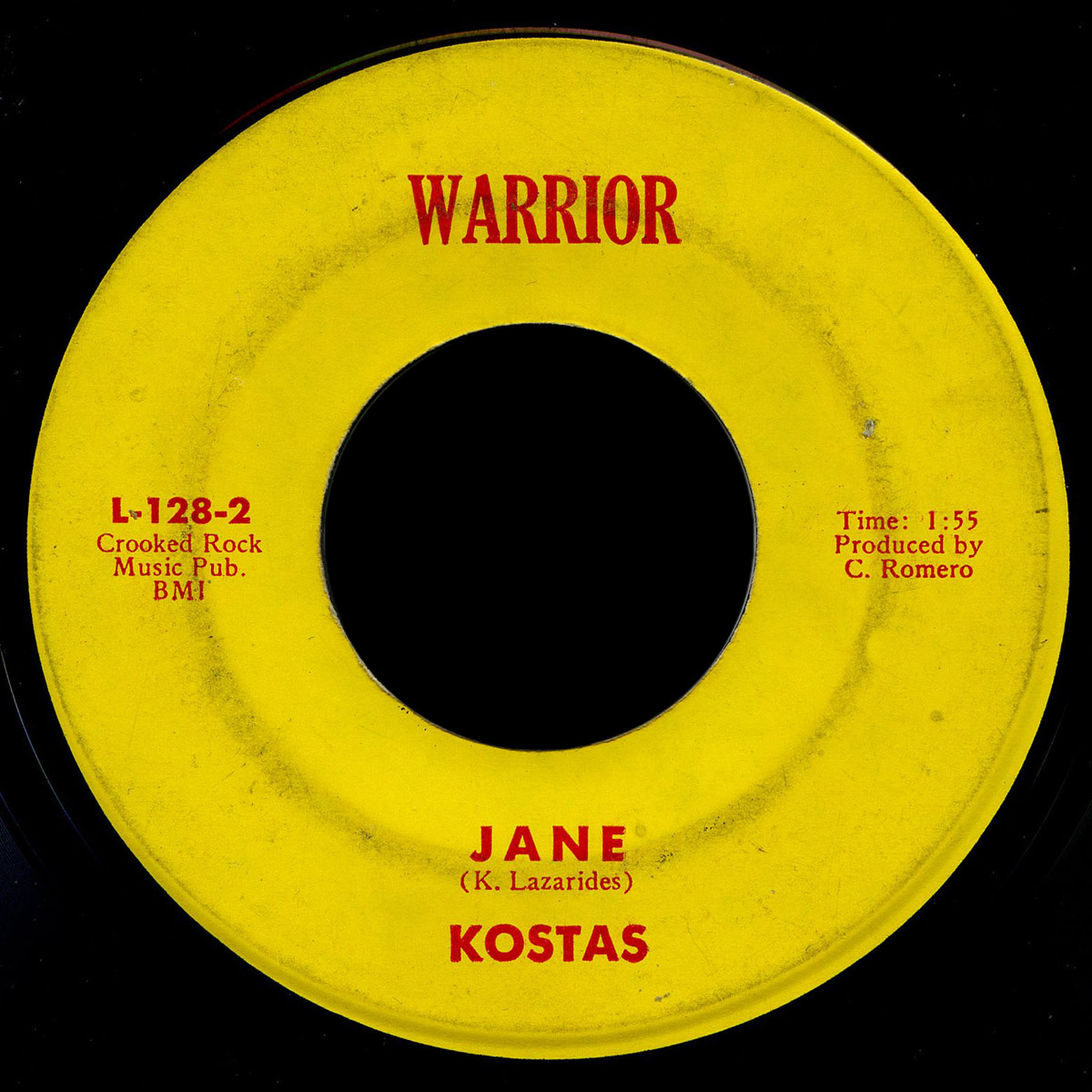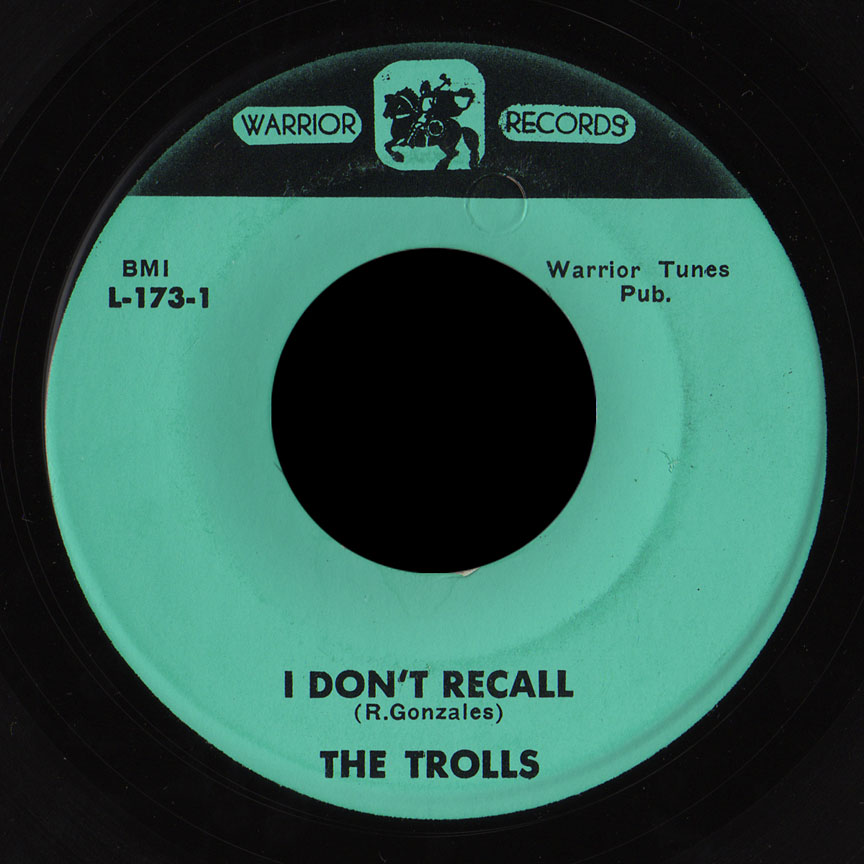 I'm trying to clear up some of the confusion about the various Warrior labels that existed in Texas, Montana, Louisiana and California.
Let's start with Chan Romero's Warrior label from Billings, Montana:
I've read that Chan, a one-time Pueblo, Colorado resident best known for writing and recording "Hippy Hippy Shake" owned the Warrior label that released the great single "I Don't Recall" by the Trolls (also from Pueblo). I was uncertain of this, as a notice in Billboard announcing the formation of Romero's Warrior label in Billings, Montana came much later – 1971. However, Lisa Wheeler of Pueblo City Limits related that Chan told her he was indeed the owner of Warrior, starting it in Billings as early as 1962.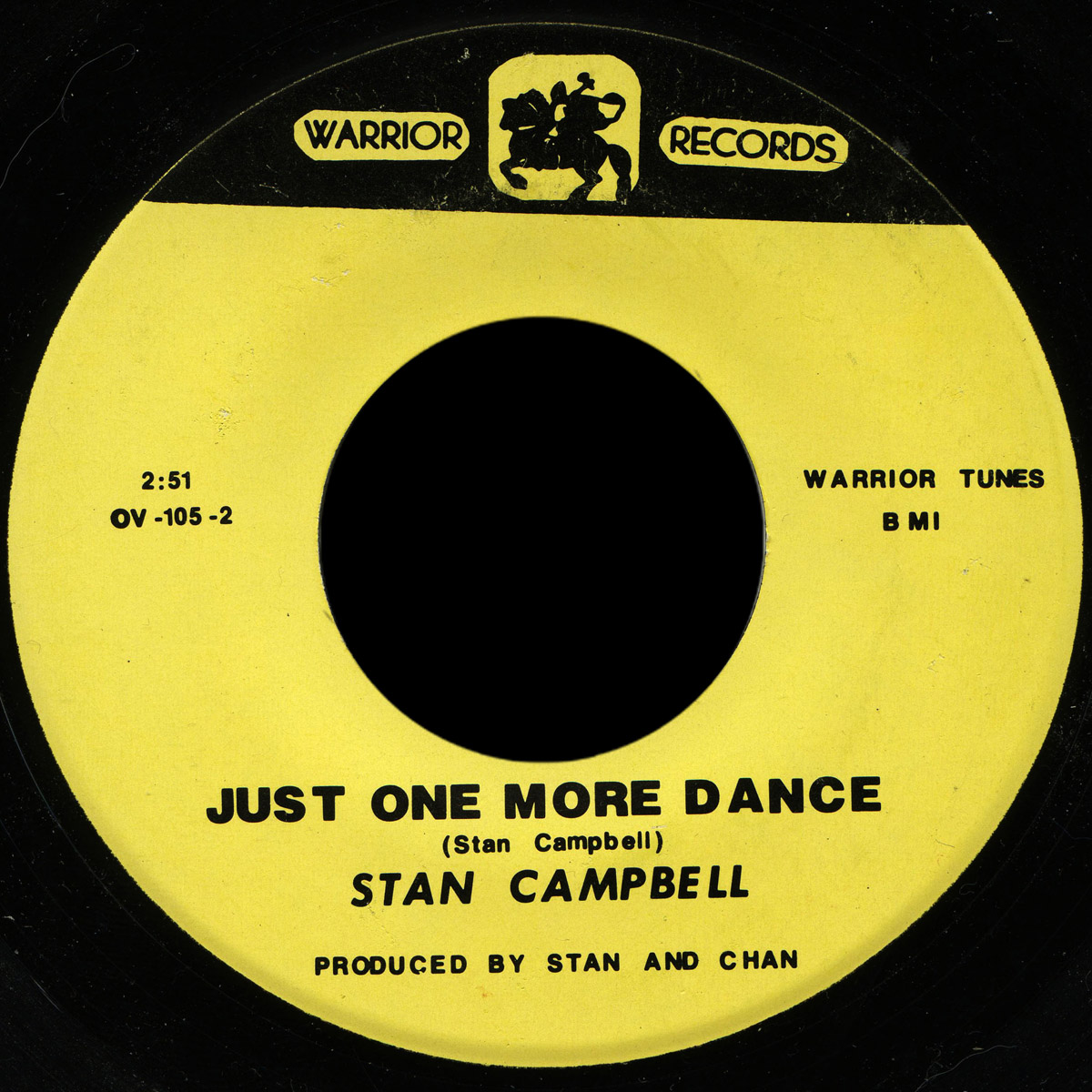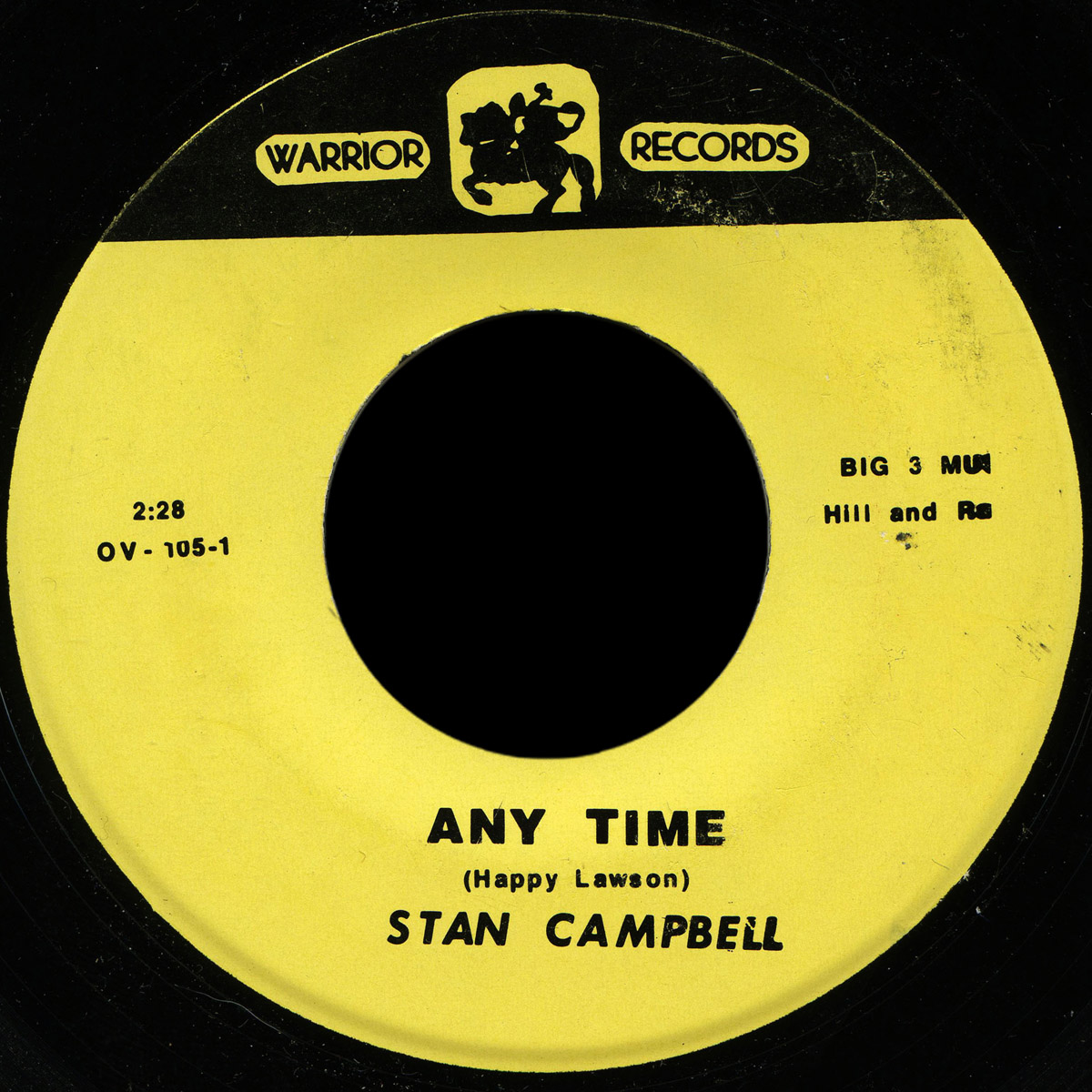 Billings, Montana. Chan Romero, owner, circa 1962-1966:
likely incomplete – any help with this would be appreciated
Warrior L-128 – Kostas – "Something We Call Love" (C. Romero) / "Jane" (Kostas Lazarides) ( Crooked Rock Music, BMI, 1962 or later)
Warrior L-140-1- The Wanderers – "Don't Pity Me" / "Give Me All You Got"
Warrior L-173 – Trolls – "I Don't Recall" (Richard Gonzales, Warrior Tunes BMI) / "Stupid Girl" (November 1966)
Warrior L-219 – Chan Romero – "Lost In Love" / "Billie" (can anyone provide a label scan?)
Warrior OV-105 – Stan Campbell – "Any Time" (Happy Lawson) / "Just One More Dance" (Stan Campbell) (date?)
Warrior WS-106 – Faith, Hope & Charity – "That's What the People Said" / "Hey, Hey World" (1971),
Warrior WS-114 – Lonnie Bell and the Yellowstone Dudes "The Last Mile" / "Montana Song"
Warrior NRF-542 – Chan Romero – "The Best Thing I Ever Had" / "The Fire in My Light" ("recorded in Canada")
For more info see also:
Chan Romero discography at WangDangDula.com.
Interview with Chan Romero at Rockabilly N Blues Records.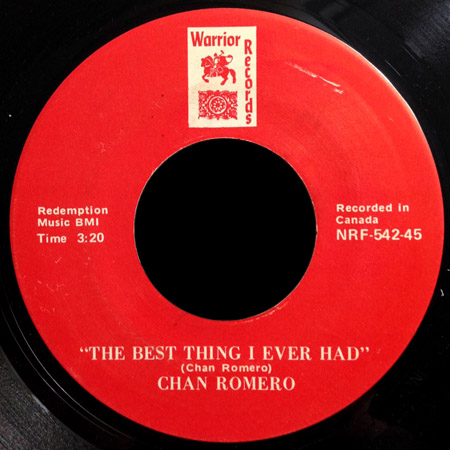 Other Warrior discographies:
Any help with these would be appreciated: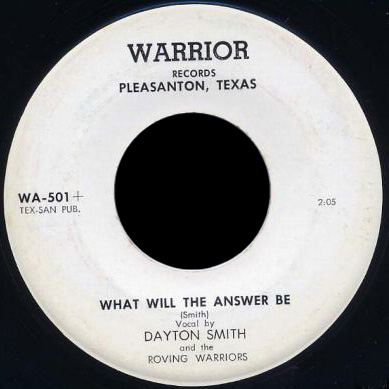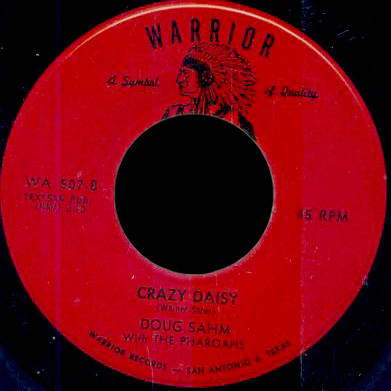 Pleasanton, Texas and San Antonio. E.J. Henke, owner, 1957-1959. Emil J. Henke would go on to own the Satin label also covered on this site.
Warrior WA 501 – Dayton Smith & the Roving Warriors – "What Will the Answer Be" / "Standing by a Seashore"
Warrior WA 502 – Red Hilburn – "Three Words" / "The Rambling Blues"
Warrior WA 503 – Opal Jean – "I'll Never Forget My Kind of Boy" / "I Heard His Heart Break Last Night" (reviewed in Billboard Sept. 30, 1957)
Warrior WA 504 – Franklin Smith with Roving Warriors Band – "No Wonder I Wonder" / "A Golden Dream of You" (1957, blue 'Chief' label with Pleasanton address)
Warrior WA 505 – Jerry Smith – "I Don't Care What They Say" / "I Couldn't Win Your Love" (1958)
Warrior WA 506 – Al Dean & His All Stars – "Fragile Heart" / "Blue Sky Waltz"
Warrior WA 507 – Doug Sahm & the Pharoahs – "Crazy Daisy" / "If I Ever Need You"
Warrior WA 508 – Al Dean – "I Shot Billy" / ? (1959)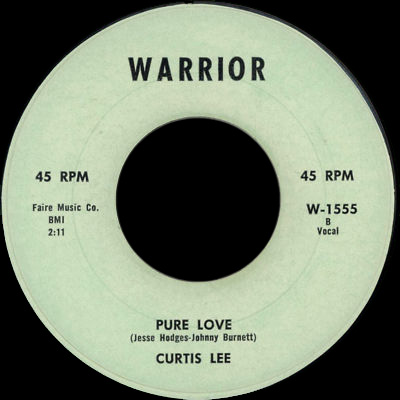 Hollywood, California, 1959:
Warrior W-1554 – Bobby Lee Trammell – "Open Up Your Heart" / "Woe Is Me" (May 1959)
Warrior W-1555 – Curtis Lee – "Pure Love" / "With All My Heart (I Love You)" (1959)
Warrior W-1556 – Joey Norman – "King of Fools" / "Heart of Mine"
Warrior W-1557 – ?
Warrior W-1558 – ?
Warrior W-1559 – ?
Warrior W-1560 – Frankie Knight – "Unchained Melody" / "Call Me"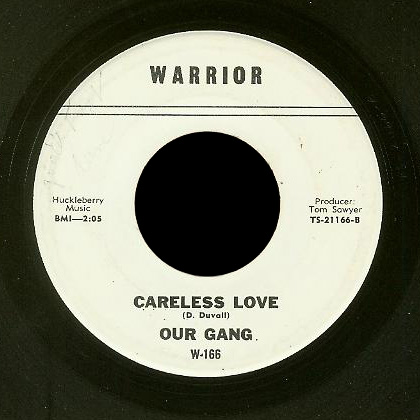 North Hollywood, owned by Tom Sawyer, 1966
Only one release I know of:
Warrior W-166 – Our Gang – "Careless Love" (D. Duvall, Huckleberry Music, BMI) / Heartbeat (1966, prod. by Tom Sawyer)
Doesn't seem to be connected to the earlier Warrior label from Hollywood. Tom Sawyer also had the Trident label. Our Gang were from Buena Park by Los Angeles (info from Mike Markesich). This band Our Gang is not the Colorado Springs group who cut "Rapunzel" / "Here Today, Gone Tomorrow".
Another Warrior label from California
Warrior SM-1007/SM-1008 – Simon T. Stokes "Big City Blues" (Clifton) / "Pow! Zap! (I'm the Bat)" (Murray-Clifton) January 1966, produced by John Herring, Sawtell & Herring Music, ASCAP
Simon Stokes would record several different versions of "Big City Blues". After the Warrior release, he would cut it for the HBR label (HBR 487) in July of '66, with new flip "Truth Is Stranger Than Fiction" (Simon Stokes) and arrangement credited to Harold R. Battiste, Jr., and A&R by Larry Goldberg. He made a third version b/w "Cobwebs" on the In-Sound label in 1967, and also released it on MGM K14135 as by Simon Stokes and the Night Hawks, prod. by Michael Lloyd for Voodoo Prod. Stokes was also a member of the Perpetual Motion Workshop ("Infiltrate Your Mind" / "Won't Come Down" on Rally), the Flower Children ("Mini Skirt Blues" on Castil and Allied) and recorded as Simon T. Stokes & the Nite Hawks on Elektra.
Louisiana:
1001 – Guy Spitale – "Who's That Woman" (W-101) / "It's Over Forever" (W-102)
1002 – Guy Spitale – "Returning Your Letters" (W-103 )/ "Scroungy" (W-104) (white label w/ red printing)
Unknown locations:
RFF 777 – Ivan X – "Edge of Night" / "Tell Tale Heart"
Special thanks to Westex of Lone Star Stomp, Drunkenhobo, Bob of Dead Wax, Collin Pruit of Inkmathematics, Dave Martens, Kurt Rokitta and Andy for their contributions to these discographies. Thank you to Dominic Welhouse for the Simon T. Stokes scans.
Check out Dave Marten's page on Montana bands at Long Time Comin' – Lost Sounds from the Treasure State.
Thank you also to Lisa Wheeler for scans, info and continued updates regarding Chan Romero.