There are two garage 45s in these lists, Shep & The Downbeats "Girl, Girl" / "You're Never There" on the Roulette-distributed Satin label from NY, and Gary & Kyle "Stay With Me" / Smaller Than You" from San Antonio.
Any help with completing these discographies would be appreciated.
I could also use good quality scans of the San Antonio label 45s, and of the Adophus Bell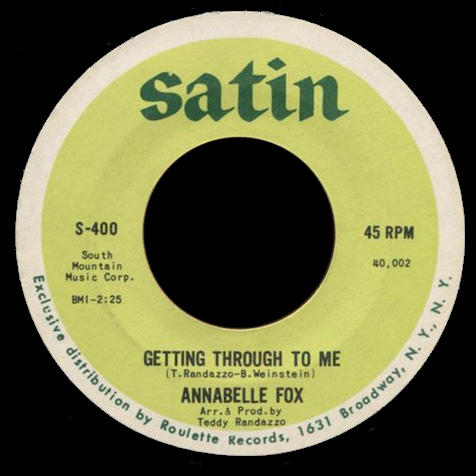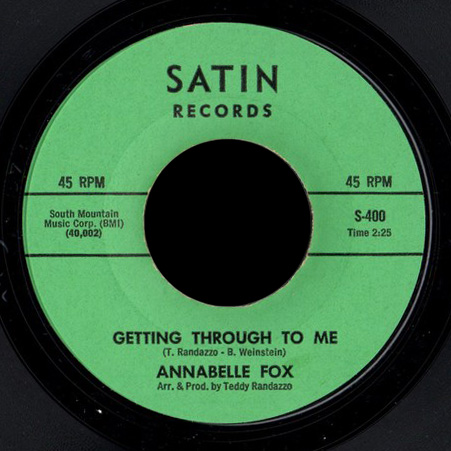 New York:
All labels read "Exclusively distributed by Roulette Records" except for a green label with plain black text version of S-400, Annabelle Fox's "Getting Through to Me", which Mike Markesich states is a West Coast pressing and not the first issue.
The first three releases come in promo white label and two-tone green labels. 402 and 403 only seem to exist with promo white labels.
Satin S-400 – Annabelle Fox – "Too Good to Be Forgotten (Bell 40,004) / "Getting Through to Me" (mastered at Bell Sound 40,002)
Satin S-401 – Al Hibbler – "Good for a Lifetime" / "Once Before" (Bell Sound 40,005)
Satin S-402 – Annabelle Fox "Lonely Girl" / "Humor Me" (Bell Sound 40,003)
Satin S-403 – Shep & The Downbeats – "Girl, Girl" / "You're Never There" (both by Ted Kobran) (produced by Rama Wilson Associates, Bell Sound 40,009/10)
All except Shep & the Downbeats produced by Teddy Rendazzo, and published through South Mountain Music, BMI.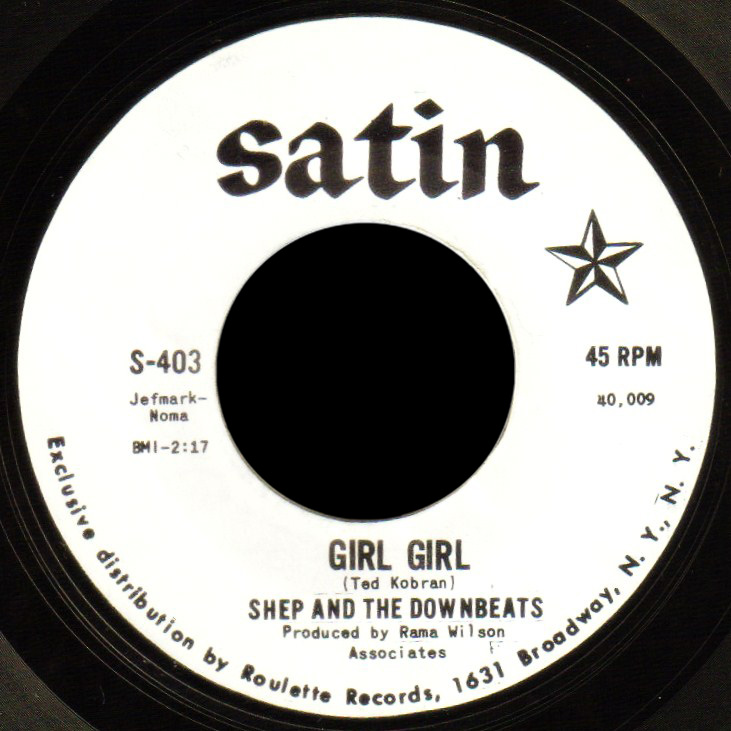 Most of the Rendazzo produced 45s have song writing credits to some combination of Rendazzo, Bobby Weinstein, R. Allison and L. Stallman.
Kurt L. sent me the scan of Shep and the Downbeats. Kurt remembers hearing that the band won the WABC Battle of the Bands, with a recording contract with Satin being the prize. The group played at Martin Van Buren High School in Queens Village, and likely were students at that school. The only name I can find in connection with the group is Ted Kobran.
Teen Beat Mayhem says the band was from Union City, New Jersey and gives a release date of August, 1966. Although "You're Never There" rates higher than the flip in TBM, I think "Girl, Girl" is the better song.
Shep & the Downbeats has a "Rama Wilson Associates" production credit. This should read Ramal-Wilson, as in Bill Ramal and Marty Wilson. They had previously produced singles for Diamond.
A notice from Billboard's October 22, 1966 issue states"new artists added to Ramal-Wilson Associates are Shep and the Downbeats, the Upper Crust, Gary Criss, Bruce Bruno and Carole Colby."
Another Billboard notice from May 21, 1966 mentions Ramal-Wilson Associates producing the Ramblers on Red Bird and the Perfect Strangers on Capitol. "All sides were arranged by Joe Scott, staff arranger for Ramal-Wilson." However, I'm not aware of any releases by these other artists.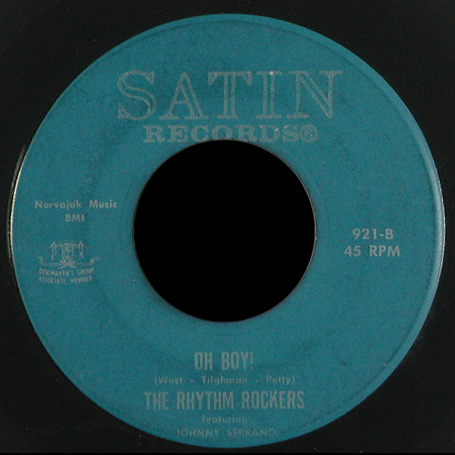 New York
(probably no connection to the later Satin label, above):
Satin 921 – Rhythm Rockers featuring Johnny Serrano – "Oh Boy!" / "We Belong Together" (Norvojak Music BMI) (October 1960)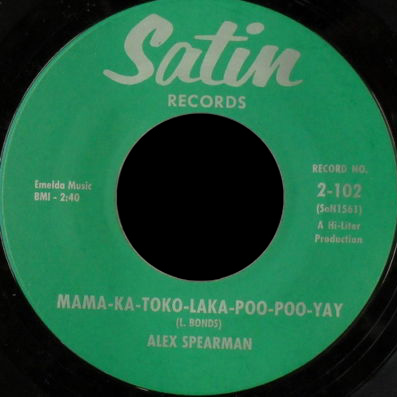 New Orleans:
Satin 2-100 – Tammy McKnight – "What's Her Name" (E. Darder – Allen Orange) / ? (SoN 1591, Chavis Music BMI, A Hi-Liter Production)
Satin 2-101 – Al White & The Hi-Liters – "Johnny B Goode" / "Let That Guitar Roll"
Satin 2-102 – Alex Spearman – "Mama-ka-toko-laka-poo-poo-yay" (L. Bonds) / "On Our Wedding Day" (Emelda Music BMI, SoN1561))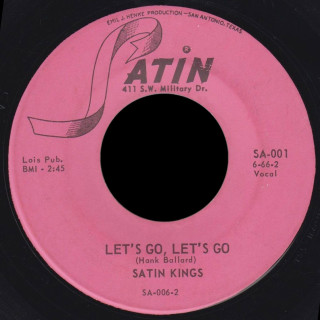 San Antonio, Texas:
Owned by Emil Henke, who also owned Warrior and part of Harlem. Mr. Henke passed away on February 22, 2002.
pink label with ribbon "S" in Satin. 411 S.W. Military Dr., San Antonio and "Emil J. Henke Production":
Satin SA-100 – Doug Sahm – "Crazy Daisy" (Sahm, Warner) / "Can't Believe You Wanna Leave" (1959)
Satin SA-001 – The Satin Kings – "Let's Go, Let's Go" (Ballard)/ "Matilda"
Satin SA-002 – ?
Satin SA-003 – The Mavericks, vocal: Moe Bandy – "Lonely Girl" / "Too Many Times Before"
Satin SA-004 – The Trochais –  "Give Me An Answer" / "Phantom"  (both by Francis Akeroyd, 1966, B-side is a surf instr)
Satin SA-005 – The Mavericks, vocal: Moe Bandy – "What Would You Do" / "As Long As There's A Chance"
Satin SA-006 – Satin Kings – "Mil Veces" / "Echale un cinco al piano"
Satin SA-007 – Gary & Kyle – "Stay With Me" / "Smaller Than You" (both by Gary Young, Satin Music Pub SESAC, June '66, duo from Poteet, TX)
Satin SA-008 – Bailey Anderson – "Folsom Prison Blues" / "They'll Never Take Her Love From Me" (6-66 1)
Satin SA-009 – Moe Bandy & the Mavericks – "You're Part of Me" / "Hey There My Friend"
Satin SA-010 – Paul & Chuck "House Of Blue Lovers " / ?
Satin SA-011 – Playboys – "Dame Licencia" (Hazme El Milagro) / "Nomas Por Quererte" (7-66-2)
Satin SA-012 – ?
Satin SA-013 – Playboys – "All I Do Is Cry" / "Little Playgirl" (Robert Suarez) 8-66 PB-3/4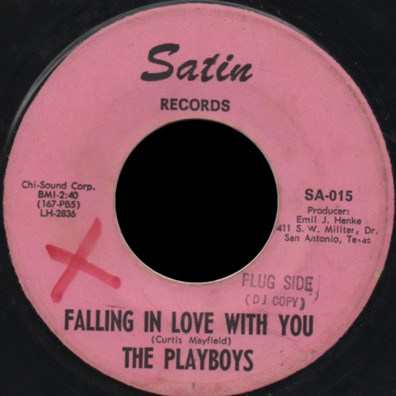 pink label with a script "Satin" and no ribbon:
Satin SA-014 – Bailey Anderson & the Satin Gentlemen – "What Will The Answer Be" (Dayton Smith) / "The Satin Gentlemen" (1066 BA 4)
Satin SA-015 – Playboys – "Falling In Love With You" / "Let Them Talk" (Joe Seneca) (LH-2836/7, December 1966)
Satin SA-016 – Conjunto Los Navegantes "Te Fuiste" (Rosendo Torres) / "Navegando" (Adolf Garcia) (167-CLN-1/2, LH-2876/7 "Spanish Series" Satin Music Pub)
stylized Satin logo on left with two lines above and below:
Satin SA-021 – The Ones – "Sure Gonna Miss You" (often marked up to read "Sure Gonna Miss Me" / "What's It Like To Be In Love" (LH-3299, 1967)
two-tone label with Satin Records in box (except for SA-028 which reverts to the original ribbon S):
Satin SA-025 – The Lively Set "Soul Diggin'" "Blues Get Off My Shoulder" (vocal by Earl Adams)
Satin SA-027 – Jim Faber "Just for a Moment" / ? (country)
Satin SA-028 – The Casino Royal "Don't Mistake Me for a Fool" (D. Cruz, T. Zamudio) / "Return Of The Prodigal Son"
Satin SA-030 – The Three Dudes – "Sad Little Boy" / "I'm Beggin' You" (Jan 1968, group aka Four Dudes, Images)
Satin SA-031 – Michael Lord – "(Life's a Ball) Lovin' It All" (H.M. Byron) / "Its Only Make Believe" (Twitty)
Satin SA-033 – Nat y Los Music Makers – "Una Eternidad" / "Por Ultima Vez"
Satin SA-035 – Bailey Anderson – "The World's Youngest Naughty Old Man" / "There Goes My Everything" (1969)
Satin SA-037 – The Satin Souls (vocal by Madison Mitchell) – "Gimme Some Lovin'" / "I'd Rather Go Blind"
Satin SA-041 – Michael Lord & the Romainaires – "St.James Infirmary" / "Take Five" (1969)
Satin SA-047 – Clique Camarilla – "The Ride" (Donny Leavitt) / "The Hello Song" (Prod. by M. Montgomery for Sabra Prod., Riviera Music BMI, 4-69-1)
Satin SA-061 – Ty Lemley – "Ramblin' Ways" / "One Day at a Time" (country 45)
Satin SA-102 – J.D. Williamson "You're Something Else for Me" (Fender, Duncan) / "I'm Getting Better" (Luella Lewis, Arthur Vosgein) 1979
The Casino Royal is the same group as the Casino Royale on Key-Loc.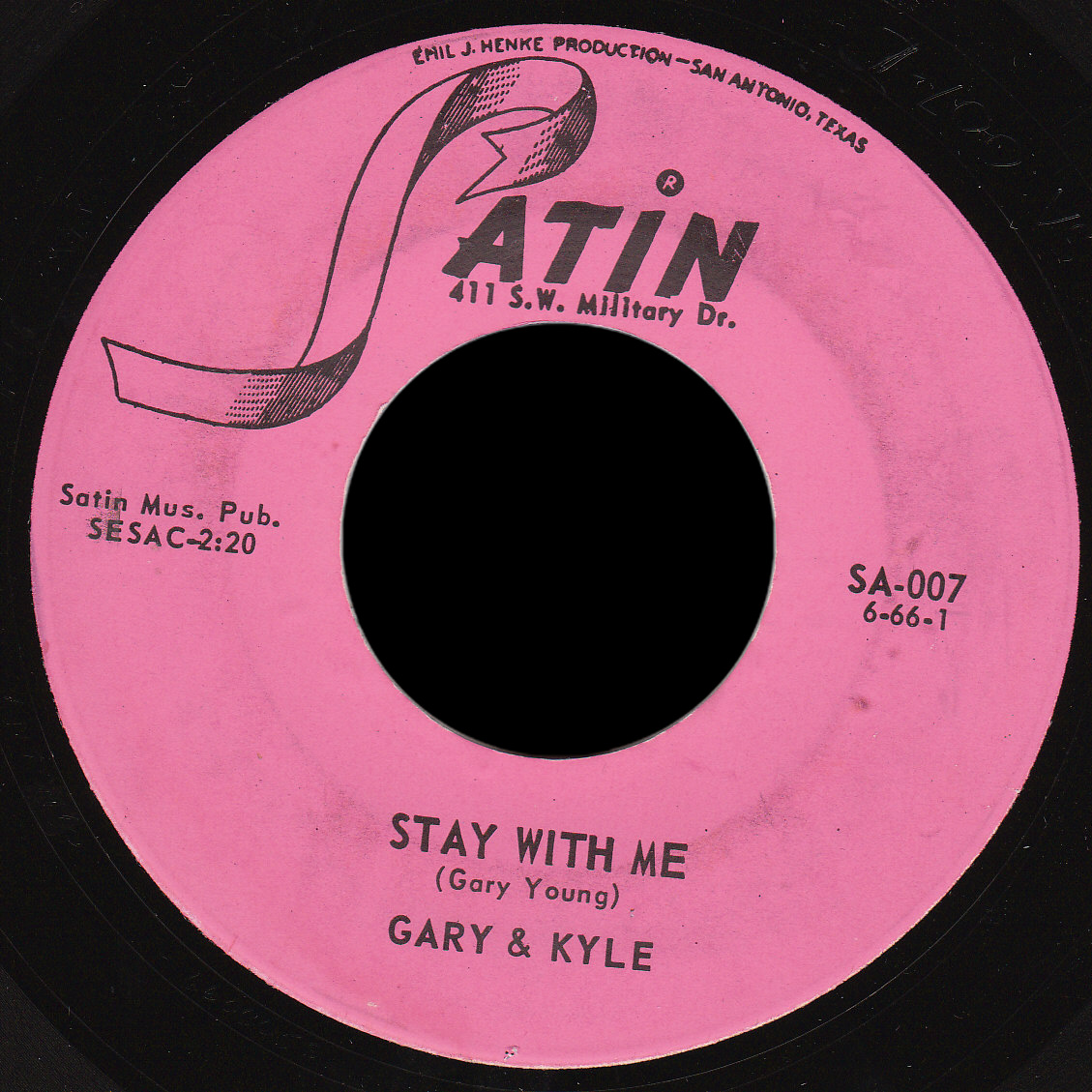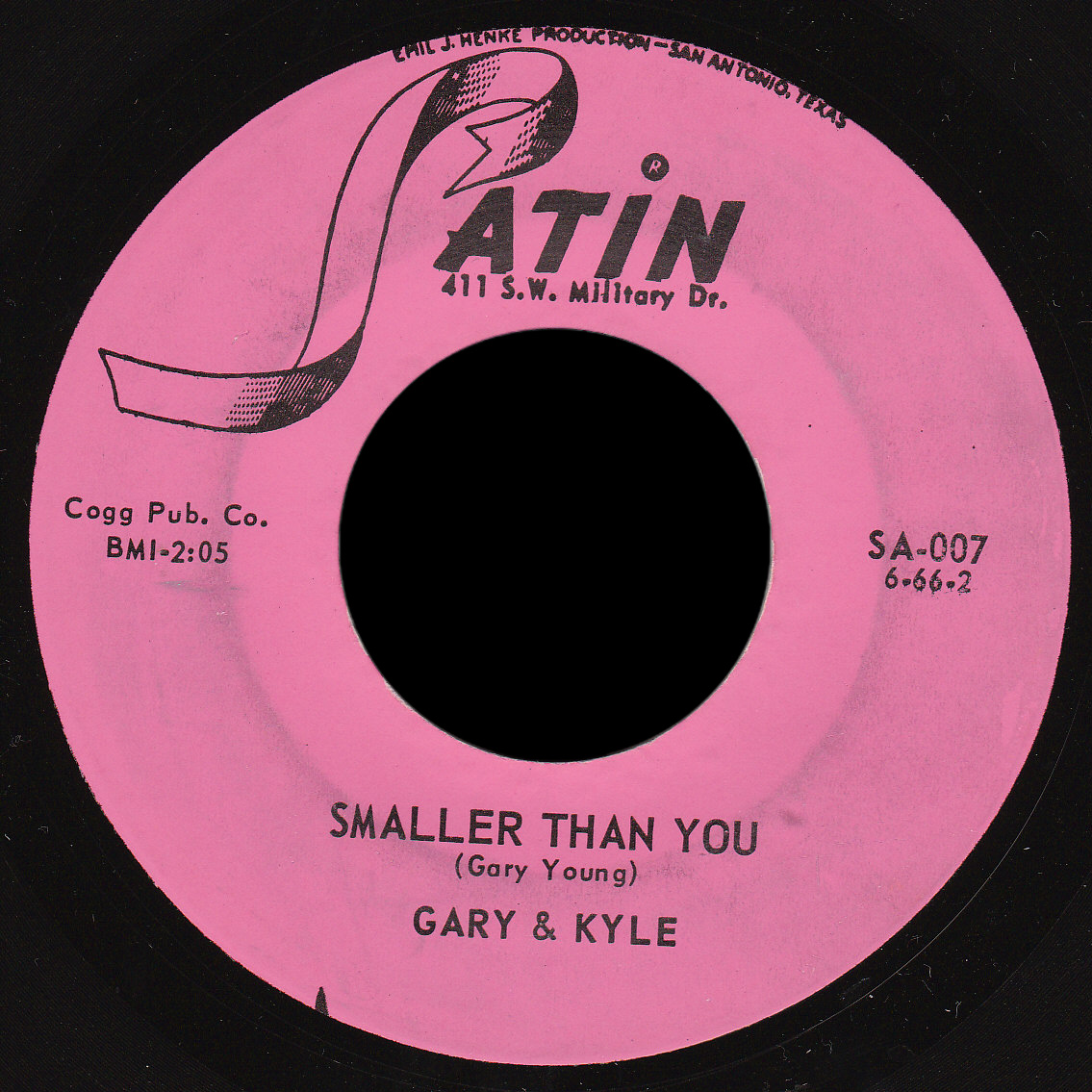 Pennsylvania (?):
Satin SAT-1111 – Adolphus Bell & the Up Starts – "Black Eye Peas" (C.A. Bott, W. Hutchingson, Joy Boy BMI) / "Lafin Gas" (C.W. Powell, D. Bell, S. Godfrey, Cevet BMI) (1031-45-SAT1111)
Blues Art Journal has an article on Adolphus Bell but the author seems unaware of this recording.
Plainview, Texas:
Satin RHB-1120 – Harry Bray & the Wheels – "I Lost My Love" b/w "Way Down South in San Antonio" (SoN 84892) country with drum machine!
Ogdensburg, NY:
Satin SR-561 – The Four Satins – "Drop Off" (Larry Costigan) / "Hip Hop", possibly Jimmy Massia lead vocals (see this post on Utica entertainment for a little more info)
There was also a Satin label out of Washington state in the 1970s that had a 45 by the Main Attraction.
Thank you to Max Waller, Kent Chatellier, and Martin Hancock for their additions to this discography, and to Max for the Gary and Kyle scans.