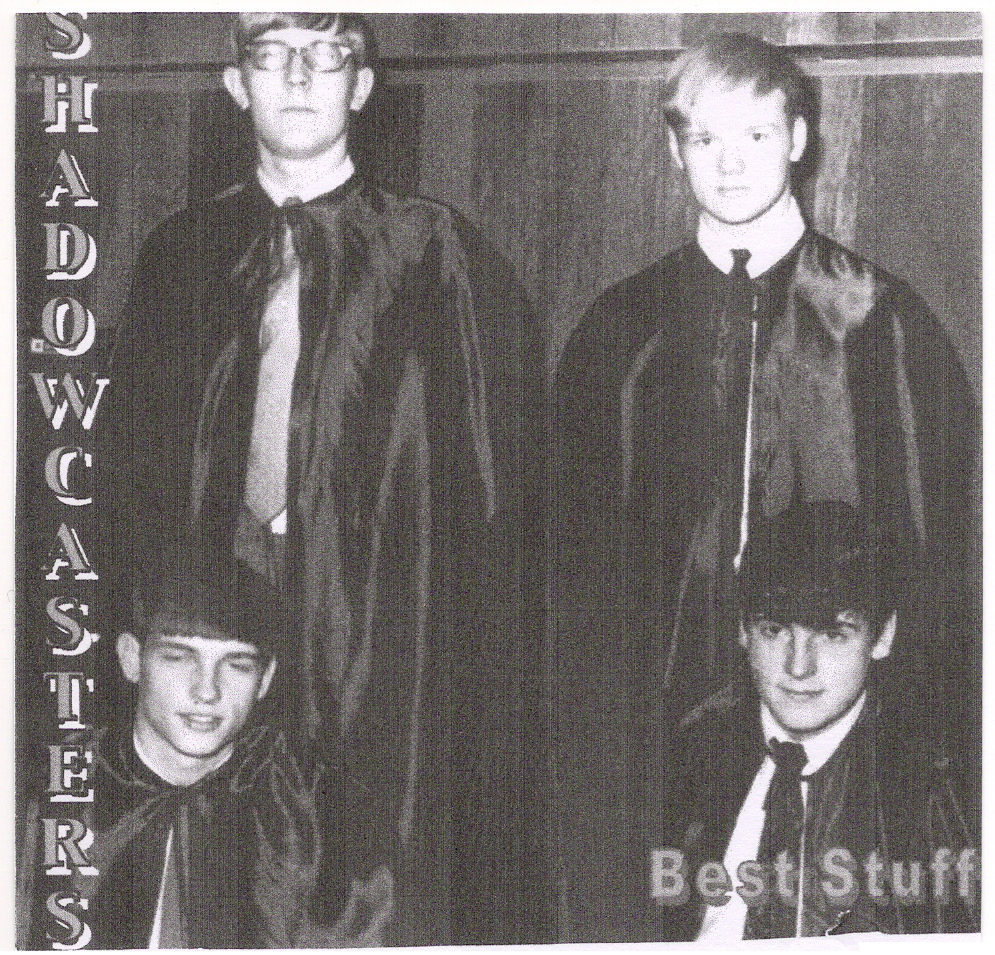 Updated October 2010
The Shadow Casters were students from West Aurora High School in Aurora, Illinois, on the edge of the greater Chicago area. The band was active from 1966 to 1969, when members left for college.
They released two 45s on J.R.P. Records (James Ruff Productions) in November 1967 and April 1968. I knew little about the group until members of the band started leaving comments, below, so I'm rewriting this post with this new information.
Bill Maakestad – lead vocalist
Gregory Ellis – lead guitar (replaced by Thom Swiss)
Ron Pansing – bass
Bill Buff – drums
"It'll Be Too Late" is their first 45, credited to Ron Pansing. The flip "Going to the Moon" has a slow, late night atmosphere. Singer Bill Maakestad says that this song made it to American Bandstand.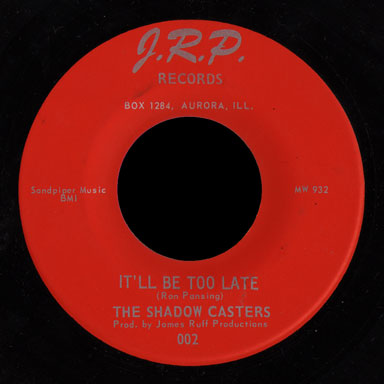 Their second record featured a guest vocalist, Dick Johnson. "But Not Today" was their most upbeat song, credited on the label to Bill Buff. "Cinnamon Snowflake" is an excellent melancholy number credited to Greg Ellis.
Originally I was surprised to see each of the Shadowcasters' songs written by a different member of the group (plus one credited to their producer, James Ruff). Bill Buff corrects this, saying Bill Maakestad wrote all lyrics and co-wrote the music with Greg Ellis. Maakestad's name was left off the labels only because James Ruff couldn't remember how to spell it. Ruff was not musically inclined, but somehow listed himself as writer of "Going to the Moon".
The only other single on J.R.P. that I can find is Something Obviously Borrowed, a band who may have included D. Geinosky and L. Carr as members.
Thanks to Ad Zwaga for sending in the soundclip of "Cinnamon Snowflake".