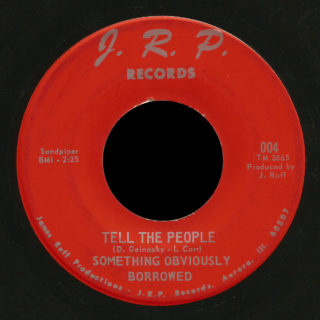 Something Obviously Borrowed are another mystery to me. Their only single is a good two-sider, released on the same J.R.P. label as the Shadow Casters.
"Tell the People" is upbeat, with typical lyrics of the time ("Now is the time to tell the people, all about love"). D. Geinosky and L. Carr wrote the song; they were probably members of the band.
"Joan" is laid-back rock, with a feel something like Loaded-era Velvet Underground, the singer intoning "please come on home, Joan". Writer credit is to the producer, James Ruff, but members of the Shadow Casters noted he put his name on one of their compositions, "Going to the Moon".
James Ruff Productions probably paid for recording time and pressing of the single on J.R.P. 004, sometime after April 1968. J.R.P. labels list an address in Aurora, Illinois. Sandpiper BMI published both songs but I don't see a copyright listing for either. The code TM 2665/6 indicates Chess Records' Ter-Mar studio in Chicago.
Something Obviously Borrowed seems to be the only other release on JRP besides the Shadow Casters, and also seems to be rarer than their singles.