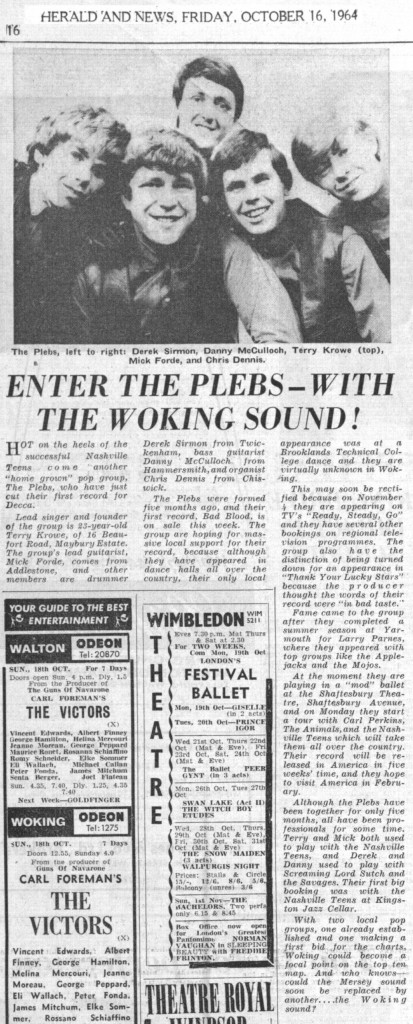 Terry Crowe – lead vocals
Mick Dunford – lead guitar
Danny McCulloch – bass
Chris Dennis – keyboards
Derek Sirmon – drums
An historically interesting band, The Plebs were formed around May 1964 after former Nashville Teens members Terry Crowe and Mick Dunford joined forces with Danny McCulloch and Derek Sirmon, who had previously worked together in Screaming Lord Sutch & The Savages and before that Frankie Reid & The Casuals.
Mick Dunford (aka Mick Forde) had started out with Weybridge, Surrey band, The Cruisers Rock Combo while Sirmon had once been a member of The Conchords (Mungo Jerry in its early days) and then Mike Dee & The Jaywalkers with Ritchie Blackmore on lead guitar.
The Plebs were all experienced professional musicians (one of the members trained at the Royal Military School of Music) and could play anything from modern jazz to rock 'n' roll to ballroom.
After backing Jess Conrad and Mark Wynter on the road, The Plebs signed to Decca Records and released a lone single, a cover of The Coasters' "Bad Blood" c/w "Babe I'm Gonna Leave You", in October 1964.
That same month, the band accompanied the internationally acclaimed American modern ballet company the Alvin Ailey dance show at London's Shaftsbury Theatre, which proved to be a long and successful engagement. However, this took them out of the "loop" with bookers for rock venues.
The Plebs went on to become the backing band for Jerry Lee Lewis on a European tour. The band can be seen on Ready Steady Go on YouTube playing "High Heel Sneakers" and "Whole lot of shakin'" with Lewis.
In early 1965, the band played at the Star Club in Hamburg, Germany and then appeared in the film Be My Guest (again with Jerry Lee Lewis).
A few months later, the group went back to Germany without Derek (Degs) Sirmon who had got married. In his place, The Plebs took replacement drummer Dave Maine.
Differences in the band, however, saw its break-up in spring 1965 with Crowe and Dunford forming The Pentad. Both are now deceased.
As for the other members, Chris Dennis later moved to Italy where he teaches English.
Danny McCulloch meanwhile went on to work with singer Tony Sheridan and then spent a brief period of time in Germany in a "scratch" band with Ritchie Blackmore.
Back in the UK, he briefly hooked up with The Carl Douglas Set in the summer of 1966 before joining Eric Burdon's New Animals later that year. He still composes and produces music and advertisements.
Derek Sirmon became a company director but is now retired.
Huge thanks to Derek Sirmon and Danny McCulloch for providing information on the band. I would also like to credit the Woking Herald for source material.
Copyright © Nick Warburton, 2014. All Rights Reserved. No part of this article may be reproduced or transmitted in any from or by any means, without prior permission from the author.
I have tried to ensure the accuracy of this article but I appreciate that there are likely to be errors and omissions. I would appreciate any feedback from anyone who can provide any additions or corrections. Email: Warchive@aol.com