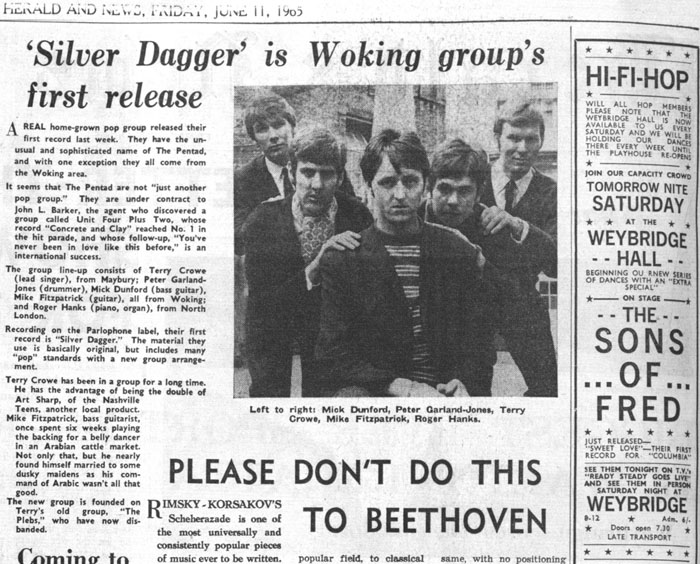 Terry Crowe – lead vocals
Mike Fitzpatrick – lead guitar
Roger Hanks – piano, organ
Mick Dunford – bass
Peter Garland-Jones – drums
A Woking, Surrey band that was formed around April 1965 from the ashes of The Plebs, The Pentad was led by singer Terry Crowe, who together with Mick Dunford, had been an original member of The Nashville Teens.
The band's debut single "Silver Dagger" c/w "Nothing But Love" came out on Parlophone in June 1965. The group recorded a second single, "Don't Throw It All Away" c/w "Too Many Ways", which was released later that year.
Pentad's third and final release, "Something Other People Call Love" c/w "It Better Be Me", was issued in March 1966. Dunford later became a member of Renaissance.
The Woking Herald provided good source material.
Copyright © Nick Warburton, 2013. All Rights Reserved. No part of this article may be reproduced or transmitted in any from or by any means, without prior permission from the author.
I have tried to ensure the accuracy of this article but I appreciate that there are likely to be errors and omissions. I would appreciate any feedback from anyone who can provide any additions or corrections. Email: Warchive@aol.com