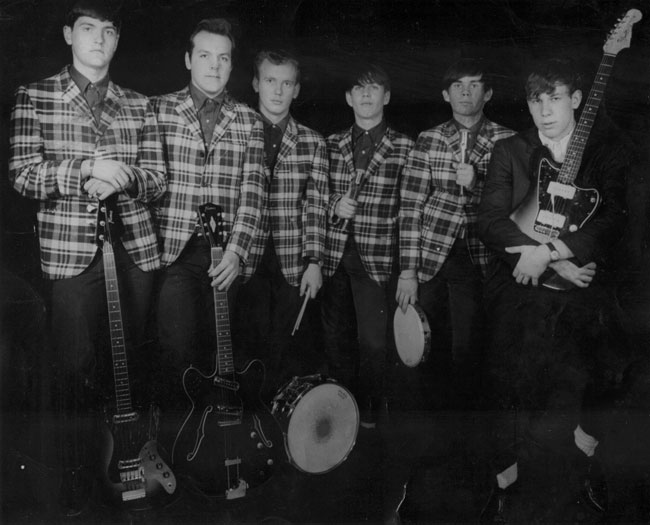 About a hundred miles east of Sault Ste. Marie is Sudbury, Ontario, home of the great Inferno 5 Plus 1. Members of the band were Lance Whitman and Randy LaRocque on guitars, John Bell vocals, Wayne Wallace (or Wayne Wallice) bass, Leslie Maki on drums and Dave Powers on keyboards and vocals.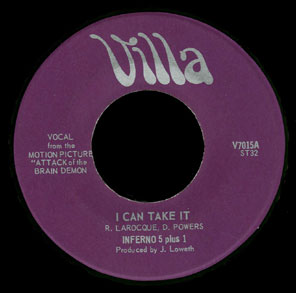 "I Can Take It" has insistent drumming, repetitive guitar riffs, and good harmonies. The lack of cymbals, distortion or echo makes for a very dry production but the band's raw energy is apparent. Either this song or the flip "Fay's Gig" (which I haven't even heard yet – anyone have a transfer?) became part of the soundtrack to the movie "Attack of the Brain Demon". That movie seems lost to time as a print has never surfaced, though I've read silent 8mm footage of the band practicing exists.
John Loweth produced for his own Villa label, and the songwriting credits are R. Larocque and D. Powers. The prefix below the Villa label number, ST-, indicates that this, like the two 45s on Algoma, is an custom press from the Arc company in Toronto.
After my initial post about the Inferno 5 Plus 1, I heard from guitarist Lance Whitman, who gave me background about the band and sent in over a hundred photos of the band (see below). Soon after, producer/manager John Loweth contacted me and filled in some of the details.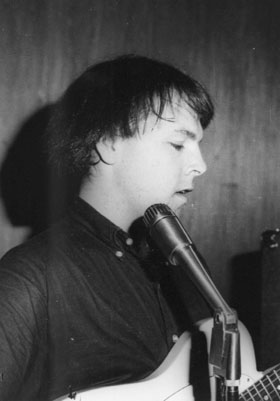 Lance Whitman:
The Inferno was a local club in a laneway behind Durham Street in Sudbury where we were the house band. That's where the name Inferno 5 came from, when Randy joined we didn't want to change it so we just added + 1.

The 45 "I Can Take It" was recorded at a local Radio Station, CHNO here in Sudbury one evening back in the 60's where John Loweth was a DJ at the time.

I never got to see the movie, it aired at a local Drive-In here which had a large homemade screen on the side of a hill…… The 45 was released around the time that I left the the band. [Prior to this] Wayne Wallace left the group and Les Maki went from drummer to bass player and Rick Panas took over as the drummer.

"I Can Take It" was not used in the movie that I'm aware of … it may have been as it says on the 45. The flipside "Fay's Gig" was used in the movie … Where the movie is, is anyone's guess I would think that there maybe a copy of it somewhere though everyone involved has been out of touch for so long it's hard to say….

The scene back that was like a lot a towns I guess a lot of local bands…and a lot of fun times The Kids, King Street, Marketville Riot, The Village Steps, The Beasties. Can't recall all of them.

The Inferno Five + 1 like a lot of groups had differnces of opinions and parted ways. The remaining members went to form 'The East African Fair' and they released a 45 "Lovin' Every Little Thing You Do" written again by Randy and Dave I believe.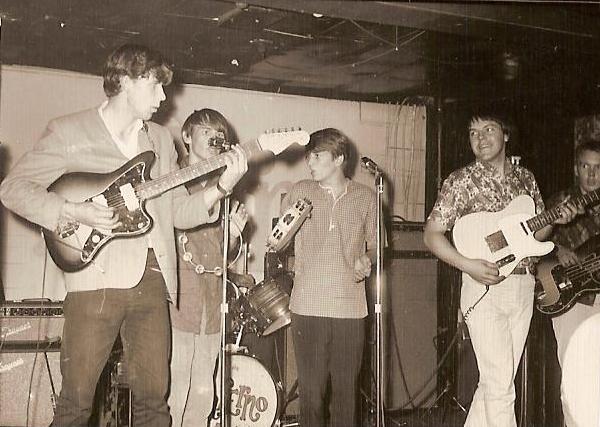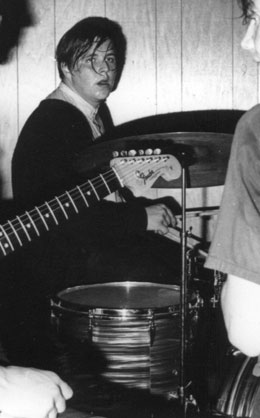 John Loweth:
I was a pretty popular DJ on CHNO in Sudbury at that time and also worked for the record company Arc Sound as sales and A&R promotional rep in N. Ontario. I used to do a lot of school dances on Friday nights taking portable DJ equipment to the dances, but around 1964 as groups like Beatles, Dave Clark 5, Stones became so popular, all the students were asking me if I could get a group to come and play at the dances as well.

So as the Inferno 5 +1 who had started to play at the Inferno Club in Sudbury were becoming popular, I had them come out and play basically during my break. Naturally it was a very short time before I was playing 45s during their break, as our roles quickly changed. I suggested we record some material, and as I had access to professional recording equipment, all it took was a little time how to figure out how to do it.

The recording "I Can Take It" received quite a bit of air play throught Northern Ontario. I know – I was the producer, and promotional guy, and band manager, and mother. We recorded it and a number of other tracks in the dead of night at the CHNO radio studios when the station was off the air on single track Ampex reel to reel recorders and did multiple dubs to get everything on tape.

Through my contacts in radio I was able to get all my buddies in other radio stations to play it and chart it, ie: Sault Ste Marie, North Bay, Kirkland Lake, Timmins etc. and then I started booking the band in some of those towns as well.

We sold over 4,000 45's which was pretty good, but I had access to and knew all the other DJ's from CJIC and CKCY in the Soo [Sault Ste. Marie], to all the other towns, plus in my day job as a record guy I had their 45's front racked in all the Kresges, and Woolworths and even drug stores across the north. And also had special signs advertising the records.

Attack of the Brain Demon poster, "starring Harvey Ransom, Paul Quesnel, Doreen Wright, Meeka Littlejohn, Frank Carbone and Yolanda Zwygart"

Attack of the Brain Demon was produced by 19 year old local Sudbury High School student Larry Zazelenchuck at a cost of $3,500 in B&W 16 mm, in 1967. Starred local school kids Names included Harvey Ransom, Paul Quesnel, Doreen Wright and some others including me as the DJ announcing some sort of demon sightings.

Larry was a fan of mine and came to see me about this film he was doing, and could I arrange to record the sound track, I think we recorded the Inferno 5 with some instrumental pieces plus other stock music and used naturally "I Can Take It" as the title tune. Its premier was at the Sudbury High School Theatre about 400 seats and sold out several shows, It also played successfully at other high schools around Sudbury area, after that I don't remember what happened to it, or to Larry.

Later we changed the name to East African Fair and did pretty well with our second record, "Lovin Every Little Thing You Do Girl" (after Lance left) which was a totally different style (more Hermans Hermits) than the Stones style of the first release. Then we moved to the big city of Toronto. We did lots of auditions and things and played in trendy Yorkville where you just had to be if you wanted to be anywhere in Canada at that time of 1967.

The national CTV show 'After Four' was interested in replacing the current group Robbie Lane and the Disciples and said they woud use us as the featured band next season, they suggested a name change and the remainder of the group now lead by Randy LaRocque became 'York Lane'.

A major booking agent booked the group in southern Ontario and upper New York state, but unfortunately several band members became homesick and discouraged due to lack of money, and went home, leaving just Randy and myself. I think we were just inches away from stardom.

Randy went on to bigger things, as lead guitarist and arranger for many well known bands and singers and was based in Atlanta, GA for 25 plus years, and I have been lucky enough to make a lifelong living with my company Mayfair Music, due in part to everything learned in those early exciting years.
Update: I'm sorry to report that John Loweth passed away on April 4, 2009. John generously shared his recollections and memorabilia to help document the story of this band.
Srouces: Photos of the band from Lance Whitman, scan of the ad for Attack of the Brain Demon and some info on the band from an article by Alex Taylor and Ivan Amirault in Loose Leaf Review #2.
A history of the Inferno 5 Plus 1 in photos
From the collection of Lance Whitman (click on any photo below to see many more images):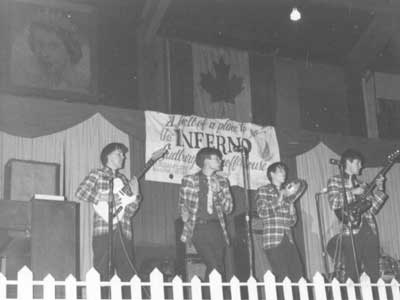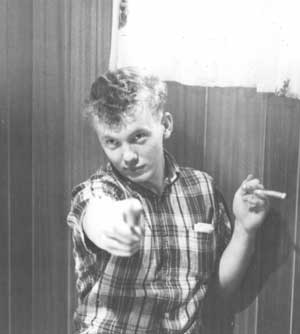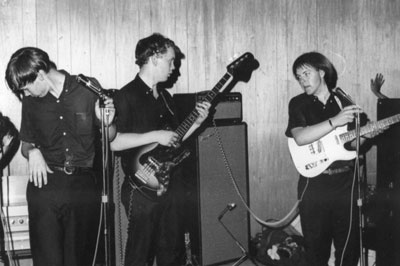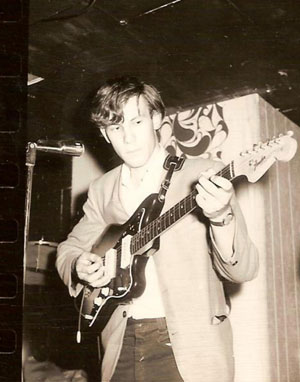 Two documents of a later version of the band, from the collection of Ivan Amirault: