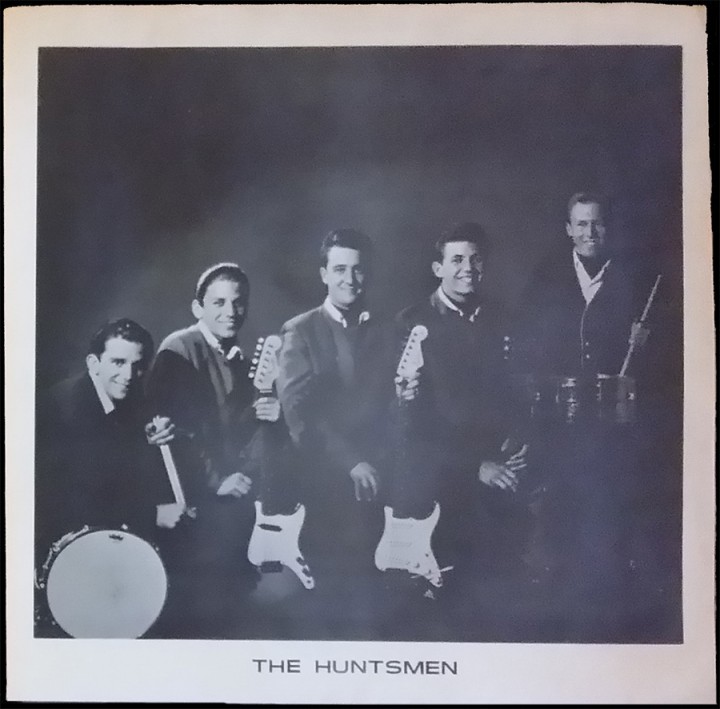 The Huntsmen came out of Millikan High School in Long Beach, and were friends with the Emperors and also likely the Royal Knights, as this sleeve scan and the business cards below came from the collection of one of that band's members.
The Huntsmen had two singles on the Pam label in the early '60s:
Pam 1001/1002: "Send Me Some Lovin'" / "Wishbone"
Pam 1003/1004: "Fever" / "Big Bowl of Soul"
"Wishbone" and "Big Bowl of Soul" are band originals.
The labels list the band members, but I don't have good scans of the labels – if anyone can provide some please contact me.
Jim Bradshaw – lead guitar and lead vocals
Jerry Christensen – drums
Mick Lorito – rhythm guitar
Bill McKinney
Don Rabish (?)
I'm not sure if this is the same Pam label that owned by Jim Aguirre and located at 150 Pamela Blvd in Monrovia, across the city from Long Beach. That Pam had a release from the late '50s, Bill Garland's "Lonesome Guitar" / "Guitar Blues" (Pam 45-201).
I've heard the A-sides of both singles and they're excellent as this shows:
Jim Bradshaw had a long career in music after the Huntsmen, including a bi-racial band, the Disciples of Soul, and stints with Johnny Otis, Shuggie Otis, Eddie Vinson, Taj Mahal, Etta James, Junior Wells, and Henry Vestine of Canned Heat. James Bradshaw died in Oregon in 2003.
Pam label info from Rockin' Country Style.
These band cards offer a glimpse of the local scene circa 1964-'65, including the Royal Knights, the Huntsmen, the Emperors and two cards from the Starfires from Downey. Did any of these other bands record?