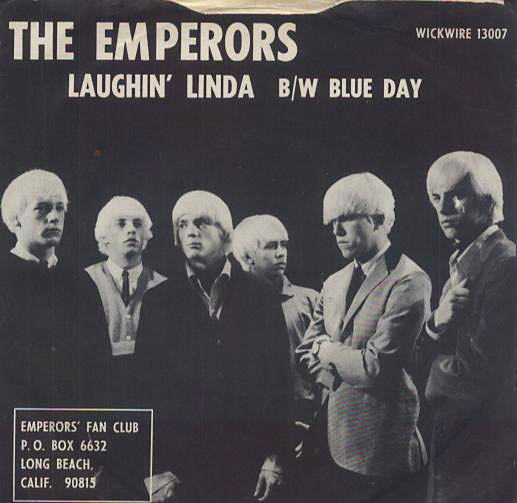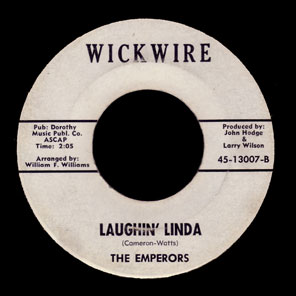 The Emperors were a southern California group based in Long Beach and not from San Bernadino as I've read elsewhere. Their sound had origins in a pre-Beatles rock and r&b style. They toured throughout southern California, including the Balboa Ball in San Diego.
As Steve and the Emperors they released their first 45, "Great Balls of Fire"/"The Breeze and I" on the Best label.
Then came two records on the related Wickwire label. The first was "A Fool For You I've Been" / "Searchin' Around the World", both written by Bill Hughes (Wickwire 13003). (See this page for more info on Wickwire and Best.)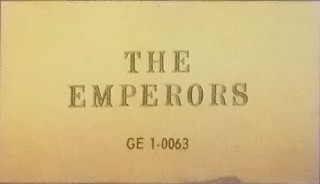 The next was a cover of Australian pop singer Tony Barber's "Blue Day" backed with a good rocker, "Laughin' Linda", which was written by Cameron-Watts. This 45 was produced by John Hodge and Larry Wilson, and arranged by William F. Williams. Despite the bleached moptops on the sleeve, at this point their forte was strictly 1963 era pop, as the 'Wipe Out' intro on "Laughin' Linda" attests.
Stan Foat has noted the band's lineup at this time:
Stan Foat, bass
Steve Watts, drums
Bill Hughes, guitar
Randall Seiger, guitar
Brian Cameron, saxophone
Mike Elam, saxophone and vocal on "Blue Day"
In the spring of 1965 they released their next 45 on the Sabra label. The A-side is a fine jangly ballad, "And Then", but for the flip they fashioned an entirely different sound. A pounding bass and drum beat punctuated with staccato guitar notes sets up the leering vocal "Let me tell you a story …" and then the refrain: "He-e-e-y woman … I want my woman"! This is the kind of intense, demented record garage fans live for!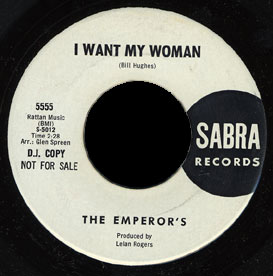 Both sides were written by Bill Hughes who also sang on "I Want My Woman", arranged by Glen Spreen, and produced by Lelan Rogers before he returned to Texas. For a long time there was confusion over whether this was a Texas group because Rogers included "I Want My Woman" on Epitaph for a Legend, which compiled rare tracks of bands on the International Artists label.
The Emperors have one last 45 on the Two+Two label that I really want to hear, "You Make Me Feel So Good"/"Love Pill". I wonder if there was a change of band members before recording "I Want My Woman". If not, I'd have to say the Emperors did an incredible job of adapting to the trends in the music scene at the time. One change that definitely happened was Bobby Cochran replacing Randy Seiger on lead guitar, but I don't know if this happened before or after the Sabra 45 was recorded.
John "Chris" Christensen of Opus 1 recalled the Emperors:
Steve Watts, (the leader of that group) and I met early in 1963 when he offered to help me set up my drums at a gig at the Poly Hutch, which was The Poly High School Youth Center.

I used to have a copy of "Love Pill," but it seems to have gone away. It was a novelty song, in a sort-of Coasters style. The lead guitarist, by then, was Bobby Cochran, whom, I believe was Eddie Cochran's nephew.

Bill Hughes was a member of the band indeed, and is the lead singer on "I Want My Woman."

They changed their membership many times over the years, with the constant always being drummer/singer Steve Watts.

They also released an album in the late 70's, when they were know as "Emperor." The keyboardist from that version of the group who was also a member of early 60's Long Beach band "The Illusions" was Mike Lobbett. Mike and I had a really hot duo in '78- '79 for about 8 months.

Spider Taylor (Emperor, Delaney Bramlett, Hey Taxi, and Red Wedding) was also the guitarist for my group, Midnight Flyer, in '75.
Fan club president Renee Bagley wrote to me about the group:
I am not sure who the members were of Emperor. I knew them more intimately when they first started and had the white hair (The Emperors). I saw them later but I was there at their beginnings.

Steve sang then but was not the lead singer, Mike was the lead singer (the one on the far right of the picture). He left because he didn't like having his hair bleached white. People made nasty remarks. Most of them at the time were going to Long Beach City College. He was engaged at the time so he just wasn't into their image.

Then Steve started singing more lead parts. Bill did a lot of the singing too but he left and I think he got drafted … don't remember now. Then Randy, the guy who is Javanese went I believe it was into the Navy (Vietnam War). I wrote to him a couple of times but don't know what happened to him. He was a very nice guy.

Then there was Stan on the far left who was my favorite at the time who had a g/f who was always there when they played. He was the bass player.

I think Randy was the lead guitarist. Then they got Bobby who was youngest of them all at that time. They weren't wearing their hair white when he came into the group.