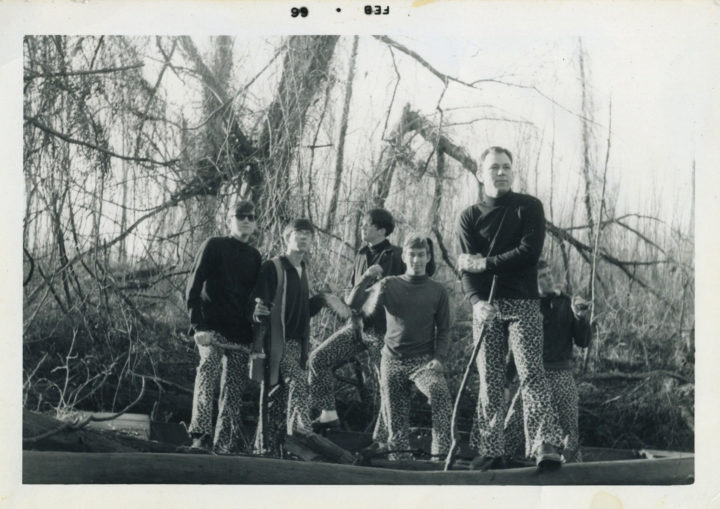 The Lost Generation came from Baton Rouge, Louisiana and had one single on the Bofuz Enterprises label, "Let Me Out" / "They Tell Me" in 1966. Both sides are original songs.
"Let Me Out" has a great relaxed Stones feeling to it. Band members Michael Rhodes and Bob Keating wrote the song.
The flip is a different style, an echoing ballad that alternates harmonized verses with a mournful lead vocal. Mike Rhodes wrote this side.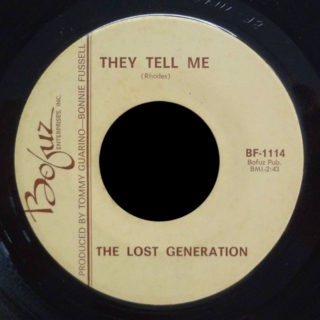 John Herring sent in the photo above (courtesy of Pam Causey) and wrote to me about his career in music:
The personnel in the photo were the players on the Bofuz (Bonnie Fussel) record:

Bob Keating – lead vocals
Mike Rhodes – lead vocals
Ron Grassman – lead guitar
Ronnie Easley – rhythm guitar
John Herring – bass and vocals
Ronnie Schilling – drums

Mike Rhodes went on to a career in broadcasting (radio & television) primarily doing Sports for WBRZ-TV in Baton Rouge.

I later played bass and sang in a three-piece power group, The Joint Effort with lead guitarist Jerry Heinberg (Souls of The Slain) and drummer Jimmy Rink, before joining Danny Cohen (Casey Kelly) from The Greek Fountains and Joe Miceli (A.J.'s older brother and the drummer for John Fred and The Playboys) in an L.A.- based group who recorded on A&M Records as The Luziana Band.

The Luziana Band also had guitarist/songwriters Jeffrey Comanor and Sammy Rubin (ye olde Inn Crowd) at different times.
Contrary what you may read elsewhere, this is not the same Lost Generation who had a single on Tear Drop 3195: "Baby!" (Allan Green, Gary Green) / "Night Time (Makes You Lonely)" in October 1968. That group came from the area around Freeport, Texas, including West Columbia, Clute and Lake Jackson. The members were Leonard 'Beak' Johnson (lead vocalist), Willie Funderburg (lead vocalist), Gary Greene (lead guitar), Larry Beal (organ), Mike Roberts (bass) and Pat O'Leary (drums).