Baton Rouge group the Inn Crowd recorded a few 45s, all produced by Sam Montel (a pseudonym for S.J. Montalbano), and released on his Montel-Michelle and Michelle labels.
Bill Johnson founded the Inn Crowd and recruited Hal Ellis and Cookie Smith from the Emeralds.
Members changed over the years, but they included:
Cookie Smith – lead vocals and organ
Hal Ellis – lead guitar, replaced by Jimmy O'Rourke after the singles
Sammy Rubin – rhythm guitar and shouts on "Run Clarence Run"
Bill Johnson – bass, replaced by Harold Coward after the singles
Jim Ingalls – drums, replaced by Lester Dodge by the time of the singles
Darrel Folse – tambourine
Jerry Ameroso – percussion in the early days
Duke Bardwell of the Greek Fountains occasionally sang with the Inn Crowd.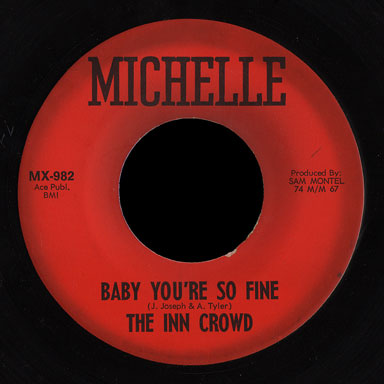 I haven't heard their first 45, a cover of the Impressions' "You Must Believe Me" b/w "Sun Arise". Anyone have sound clips or scans of that single?
Their second 45, "Baby You're So Fine" features twelve string guitar work by Hal Ellis, harmonica and reverb on the beat. Hal Ellis is best known as guitarist for John Fred and the Playboys, who he joined in 1968. Bill Johnson & Lester Dodge also ended up in the Playboys after the Inn Crowd.
The song was a cover of "Gee Baby", a 1960 hit for Joe & Ann on Ace records, written by Joe Joseph and Alvin "Red" Tyler. Promo copies credit Danny Cohen (aka Casey Kelly of the Greek Fountains) for supervision of the session. It's a fine commercial recording and could have been a hit for the band with a little more luck, but a mislabeled release probably caused confusion and hurt its chances.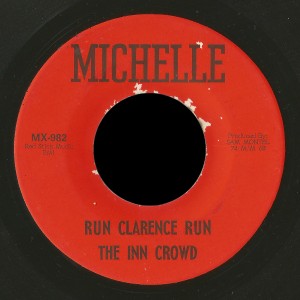 The Michelle label assigned "Baby You're So Fine" a master number of 74 M/M 68. However, labels were printed with "Baby You're So Fine" having a master # of 74 M/M 67, which actually belonged to another Inn Crowd song, "Run Clarence Run".
This mix-up may have been the reason that there is one 45 release that has the label for "Baby You're So Fine" but the song that plays is actually "Run Clarence Run". This mixed-up release is backed by a cover of John Mayall's "Someday After Awhile (You'll Be Sorry)", a fine blues workout on the guitar, and credited to Cookie & the Inn Crowd. Thus Michelle put out a record with essentially two B-sides on it, which I'm sure did the band no favors.
When Michelle realized their mistake, they must have released the actual "Baby You're So Fine", correctly labeled this time, and with a correctly labeled "Run Clarence Run" on the flip (though the master numbers are still wrong on the labels).
"Run Clarence Run turns out to be a faster take on Willie West's "Willie Knows How" on Rustone:
Their third 45 is "Go Away", an original by Ellis. The opening features an interesting arrangement of twelve string, bass and rhythm guitar, creating a droning, melancholy sound. The song gets a little monotonous though, with its repetitive lyrics. The band's name is listed as (Ye Olde) Inn Crowd for this release, and it was backed with "Keep Your Hands Off My Baby", released in 1967.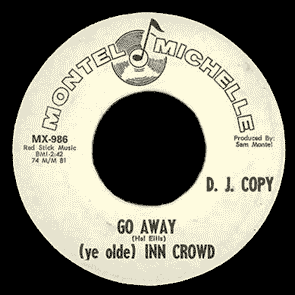 Stewart Ellis, Hal's son quoted from Hal's notes in a comment below:
We were invited by the management of a major local department store, Godchaux's (later to become Maison Blanche) to be their special guests at a fashion show and autograph party on a Saturday afternoon at the store. We signed and gave out over 100 autographed pictures of the band.
It wasn't long before our name reached Dallas, Texas where there was a recording act named 'Jon, Robin, and the Inn Crowd' that was managed by the powerful team of Hanna-Barbara of cartoon fame. We received a letter indicating that the name "The Inn Crowd" was owned by this Dallas band. In response, we quickly renamed the band to something more British '(ye olde) Inn Crowd'. In Louisiana, we still were known as The Inn Crowd.
Sam Rubin wrote to me:
I don't remember the guy you have listed as percussion at all and I don't remember Jimmy taking Hal's place. Jimmy was my roommate for several years. Lester didn't come into the band until Jim Ingalls left for Viet Nam, long after the recordings. I don't remember for sure, but I think I was the one who played the harmonica on "Clarence".  We did those records pretty early in our history, probably in '66.

I'm not sure we would qualify as a "garage band." Except for the original recordings, we were just a cover band with some pretty decent talent. Hal was one of the finest guitarist I have ever heard. We worked very hard at out harmonies and musical interpretations of songs. I guess you know we were all inducted into the Louisiana Music Hall of Fame a few years ago, 2010 I think.
This group is unrelated to the Shreveport In-Crowd, nor to the band that had an LP titled Live at the Bellemont in the 1970's.
The Inn Crowd's complete releases are:
Montel Michelle MX 971- "You Must Believe Me" b/w "Sun Arise" (1966)
Michelle MX-982 – "Run Clarence Run" (mislabeled as "Baby You're So Fine") b/w "Someday After Awhile (You'll Be Sorry)" (B-side credited to Cookie & the Inn Crowd)
Michelle MX-982 – "Baby You're So Fine" b/w "Run Clarence Run"
Montel Michelle MX-986 – "Go Away" b/w "Keep Your Hands Off My Baby"  – as (ye olde) Inn Crowd
Does anyone have a photo of the group?
Special thanks to Bossy Boots for the loan of her original copy of "Baby You're So Fine" and for pointing out the Willie West original.