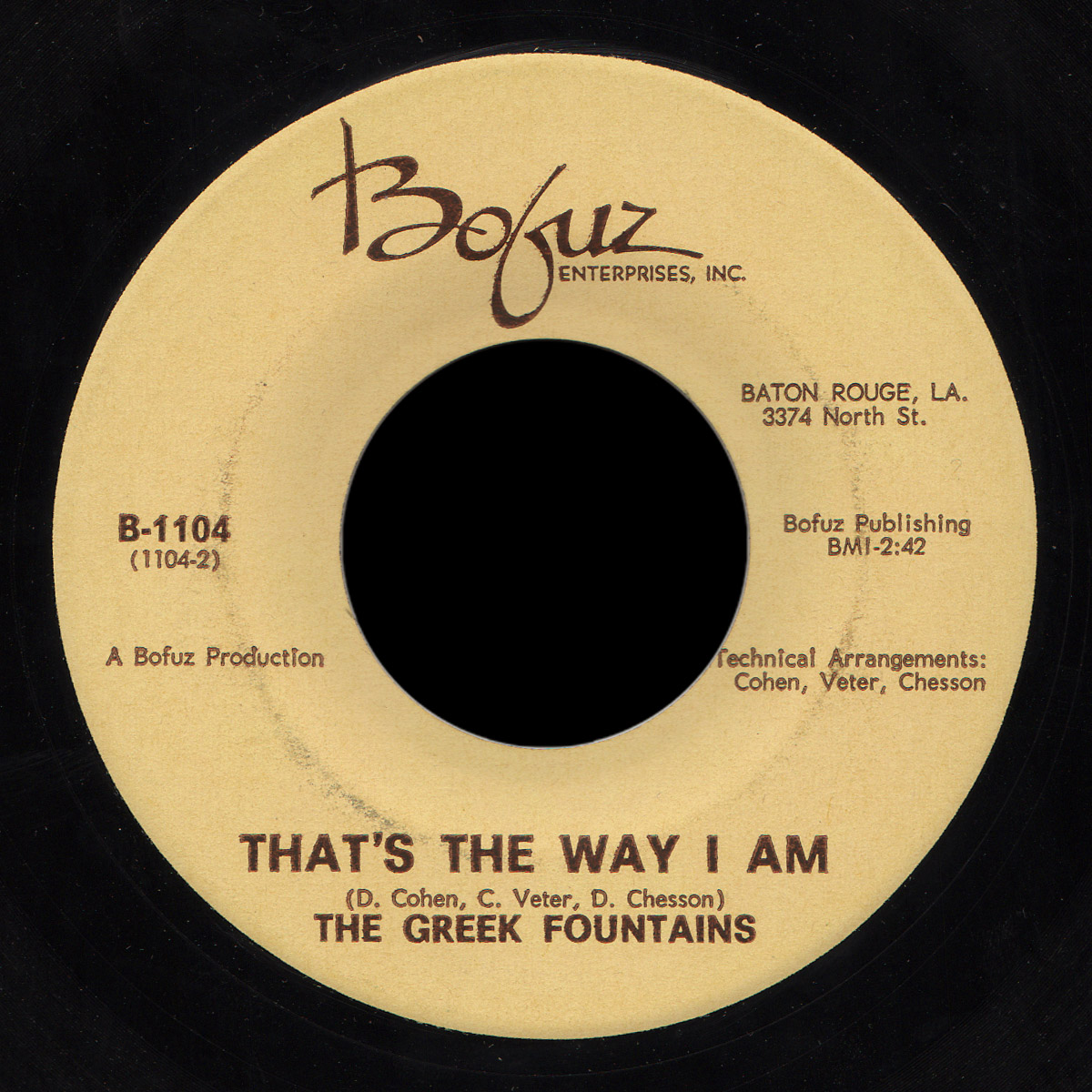 An underrated gem from the Bofuz label
Any help with this Bofuz Records discography would be greatly appreciated
1100 – Bonnie Fussell – Tell the World About You / Keep Walking On (Bofuz BF-1100, both written by B. Fussell)
1101 – Ernest Jackson – Our Love Will Always Be the Same / It's You I Love
1102 – ?
1103 – Ernest Jackson and the Tytans – A True Love Is Hard to Find (J. Wells) / I Miss You (Bofuz EJ-1103, February 1965, Dover presss, matrix # 207-1249, Bofuz Pub)
1104 – Greek Fountains – Well Alright / That's the Way I Am (Bofuz B-1104)
1105 – ?
1106 – The Tempos – Why Don't You Write Me (L. Hollins) / A Thief in the Night
1107 – The Interpreters* – Stop That Man (Sylvia Heilig) /I Get the Message (Elsie Childers) (Bofuz AM-1107, Oct. 1965, SO #2616; same matrix is on the Gemini OO release, a Bofuz Production)
1108 – Doug Stanford – Same Old Crazy Me / Think of Me
1109 – Bud Fisher – Blue Highway / You Stopped My Wheels From Rollin'
1110 – Greek Fountains – Howlin' For My Darlin' / Go Back Home (Bofuz No. 1110, "Collectors Series", Nov. 1965, Dover press & matrix # 207-1538)
1111 – ?
1112 – ?
1113 – Jimmy and the Offbeats – Stronger Than Dirt (T. Guarino, B.G. Fussell, D. Short) / Miracle Worker (Bofuz BF-1113, "Collectors Series", February 1966, Dover press, marix #s 207-1639/40)
1114 – The Lost Generation – Let Me Out (Rhodes-Keating) / They Tell Me (BF-114)
1115 – The Moon-Dawgs – Baby As Time Goes By / You're No Good (BF-1115)
1116 – ?
1117 – The Neurotic Sheep – I'm Free / Seasons of the Witch (May 1968)
2005 – The Velvets with Louis Presean – Estelle Parker / I Love You (A Thousand Ways) – soul with a Lefty Frizzell cover!?
2006 – Louis Prejean and the Velvets – Nine Pound Steel / Tell It Like It Is
19691 – Sam Euggino & The Quotations – Get Caught / ? (Bofuz BF-19691) – rockabilly!
19692 – Cold Grits – Mellow Man / Mr. Doolittle (both by J. O'Rourke, Bofuz BF-19692, January 1969, LH-5204/5)
19693 – Bill Wray and his Showband Royale ** – Ooo Baby Baby / Morning Dew (Produced by Tom Guarino, Jan. 1969, LH press, #5364/5)
19694 – Joe Degrinda – Smokestack Lightnin' / She Belongs to Me (1969/70, LH press, #6377)
I don't know why the changes in numbering, or the reason for the different prefixes to the catalog #s on the labels.
Bofuz Enterprises, Inc. 2274 North St., Baton Rouge, LA
Owned by Tom Guarino and Bonnie Fussell, who had his own single in 1961, Bonnie Fussell and the Jives – "Too High Class" / "Where Are You" on Swan 4070 and Hammond 104 (Luke Thompson pub).
*The Interpreters also issued on the Gemini 00 label with a picture sleeve "Direct from Frankfurt, Germany … Sylvia and Beate", with publishing by Irene Music, Nosark Pub, BMI.
** Bill Wray and His Show Band Royale also issued on Warner Bros 7317
Sources: thanks to the Sir Shambling site, Max Waller and 'Joe' for help with this discography.