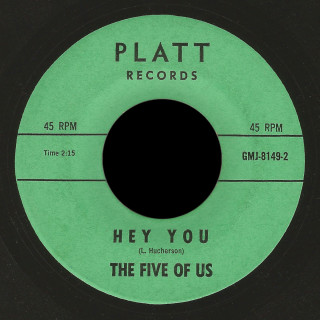 The Five of Us came from Tuscon, Arizona. Members included Paul Canella on lead guitar and George Maryville on bass (also sometimes spelled George Miraval), Alex Valdez on drums and vocals, Lee Stansrud on vocals and Richard Gomez on organ.
In 1965 they backed Tommy Gardner, a singer who sounds a lot like post-army Elvis on "Why Oh Why" / "Pretty Baby" on Keeson Recording Ltd KRL-125. The labels credit the single to Tommy Gardner and the 5 of Us. Both songs were Gardner originals, published by Keeson BMI and produced by E.M. Keener. This is the same Tommy Gardner who cut "Why" / "That Kind of Love" with the Versatiles on Rev Records.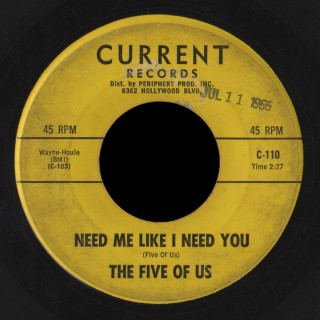 Without Gardner the Five of Us cut an interesting single on Platt Records GMJ-8149 in May 1966, "Hey You" / "I Don't Believe" – covering both sides of the Guilloteens first single on HBR 446 from June of the previous year. The Five of Us version of "Hey You" is almost as good as the Guilloteens, but the group is a little shaky on "I Don't Believe". The Platt label has no publishing info; deadwax has the Monarch delta # 61973 and CJM 8149. I can't think of any other single that covers both sides of another artist's release.
The next single would be their best, the band original "Need Me Like I Need You" published by Wayne-Houle BMI, with a repeat of "Hey You" from their Platt single. The Current Records label released it in July 1966.
Think of the Good Times: The Tucson Sound features the previously unreleased "Let Me Explain", recorded in 1966. There's another unreleased song titled "I Lied" that I haven't heard yet.
When the Five of Us split, Paul Canella and Alex Valdez joined the Yellow Balloon, and would continue into The Popcorn Explosion.