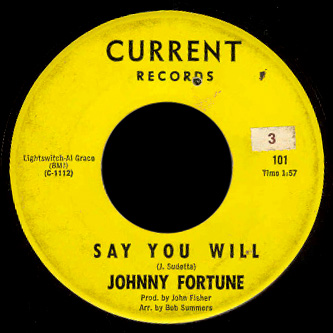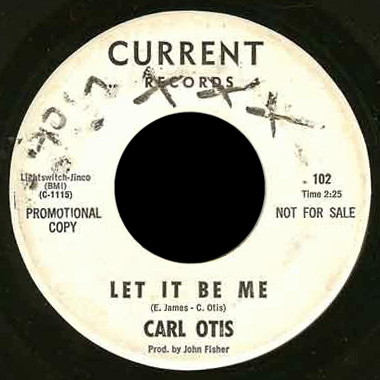 In 1964, John Fisher was president of Crusader Records, where he produced a sizeable hit, Terry Stafford's "Suspicion",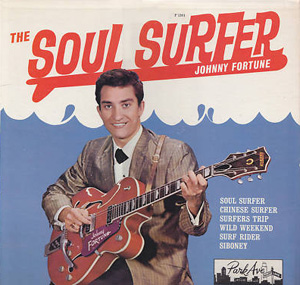 the second release on the label, as well as a 45 by Johnny Fortune. A notice in Billboard on August 15, 1964 announced that Fisher departed Crusader suddenly, to be replaced by Harry Maselow.
The notice doesn't say why Fisher left or his next plans, but within short order his name appears on the Current label, which I've read he owned. His name is on almost every Current single as producer.
Bob Moline's "Forbidden" saw release on the Imperial label in September of '64, but I've read a Current label version of it exists. If so, I've yet to see a copy – if anyone has it please send a good quality scan in.
Johnny Fortune (John Sudetta) was a fine guitarist with a number of surf recordings prior to his Current singles, first on Emmy Records out of Paul Buff's Pal Studios in Cucamonga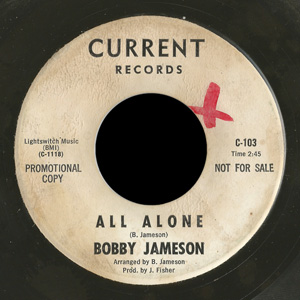 (same label for Johnny Fisher's own 45, "Tell Me Yes" / "Dream Tonight"). Johnny Fortune's biggest was "Soul Surfer" on Park Ave Records, also produced by Fisher.
Johnny had three 45's on Current. I've heard both sides of the first, the light pop songs "Say You Will" / "Come On and Love Me". Better is the top side of Current 104, "Don Stole My Girl". I haven't heard the flip to that or his third 45, "I Am Lonely For You" / "I'll Never Let You Go".
Two other singers represented on the label include Carl Otis, who has what I believe is a soul 45, "Let It Be Me" / "Never Take Away My Love", and Bobby Jameson, whose "All Alone" is a fine Stones-y r&b with harmonica, backed with the poppier "Your Sweet Lovin'" came out in early '65, after his Talamo singles.
The Avengers were from Bakersfield, and are best known for their 45 on the Starburst label, "Be a Caveman". Both sides of their Current 45 are also excellent, "Open Your Eyes" / "It's Hard to Hide". You can read the full story of the Avengers at
Flower Bomb Songs
.
I'm not sure how the Five of Us, a group from Tucson, Arizona wound up on a California label. For more on that band see the separate entry here.
The Tongues of Truth were really known as the Grodes and also came from Tucson.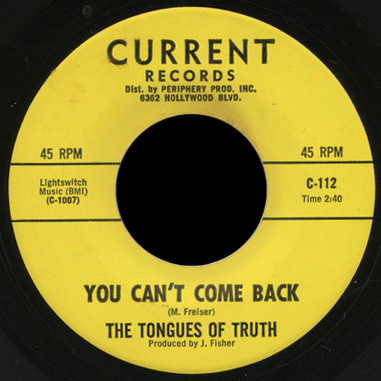 Manny Freiser of the Grodes had long-standing connections in L.A., first with Jerry Kasenetz who produced his first recording, "I Won't Be There". Kasenetz's roommate Jerry Bruckheimer brought in a the Hustlers to work with Manny and they became the Grodes. Though the band made Tucson their base for live shows, they made further L.A. connections including the disc promoter Mike Borchetta, actor Cass Martin and KRLA DJ Emperor Bob Hudson.
Emperor Hudson had his own 45 on Current, also released on RPR records, the very demented "I'm Normal" ("I fill my bathtub with strawberry jam, and feed my squirrels sugar-cured ham and I spread rumors that Stalin is dead, has to do with wearing a sheepskin when he died in bed … made that up!"), The Emperor's Friend may be Ron Landry.
For an interesting look at Bob Hudson check out George Lucas' student film The Emperor:
The Tongues of Truth is of course, the Grodes, and "Let's Talk About Girls" was the original version of the song later covered by the Chocolate Watchband. The Grodes fired their manager Dan Gates for changing their band name for the single. To add to John Fisher's connection with the
Impression label
, the Grodes also issued a 45 on Impression, "What They Say About Love" / "Have Your Cake And Eat It Too" (anyone have a good scan of that 45?).
Current Records 45 discography (any help to make this complete would be appreciated)
Current 100 – Bob Moline "Forbidden" / "If I Were An Artist" (need a scan for this one, either side)
Current 101 – Johnny Fortune "Say You Will" / "Come On and Love Me"
Current 102 – Carl Otis "Let It Be Me" (E. James, Carl Otis for Lightswitch-Jinco BMI) / "Never Take Away My Love" C-1115 prod John Fisher
Current 103 – Bobby Jameson "All Alone" / "Your Sweet Lovin'" (Monarch press #54578/9, Oct. '64)
Current 104 – Johnny Fortune "Don Stole My Girl" (J. Sudetta, Lightswitch/Algrace BMI) / "You Want Me to Be Your Baby" prod. J. Fisher (Feb. 1965)
Current 105 – Johnny Fortune "I Am Lonely For You" / "I'll Never Let You Go"
Current 106 – ?
Current 107 – ?
Current 108 – ?
Current 109 – Avengers "Open Your Eyes" (G. Blake) / "It's Hard to Hide" (G. Likens) both songs Lightswitch Music BMI, prod. by J. Fisher, distributed by Periphery Prods., Inc
Current 110 – Five of Us "Hey You" (L. Hucherson) / "Need Me Like I Need You" (July '66)
Current 111 – The Emperor "I'm Normal" (Bob Hudson) / The Emperor's Friends "The Crossing Game" (E. Mackinon), prod. by Fisher
Current 112 – The Tongues of Truth "Let's Talk About Girls" / "You Can't Come Back" both by Manny Freiser for Lightswitch Music BMI (prod by John Fisher, May 1966)
This is not to be confused with the Current label out of Nashville in the '70s.
John Fisher may have also owned the Rally label – I'd like to know more about this, if true. It seems he went back into promotions, as a John Fisher was working for Atlantic Records in the early '70s.