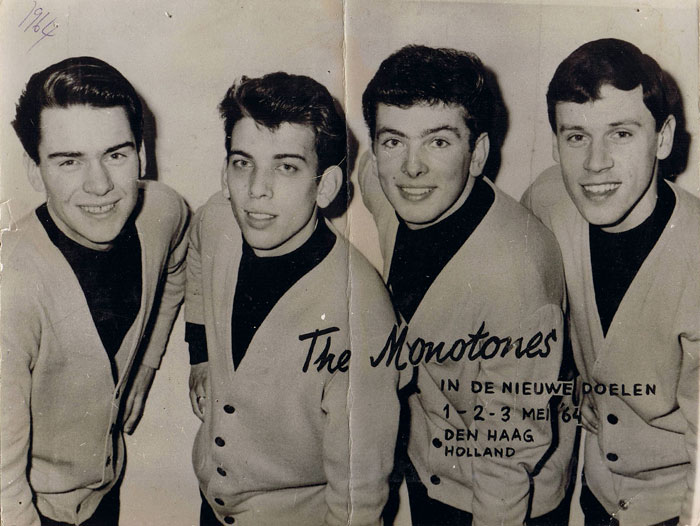 If you've ever seen the 1964 documentary Seven Up you may have wondered what song the kids are dancing to during the party scene towards the end of the film. I learned from my friend Michael Lynch that the song was "What Would I Do" by the Monotones, a group from Southend-on Sea in Essex, about 45 miles directly east of London.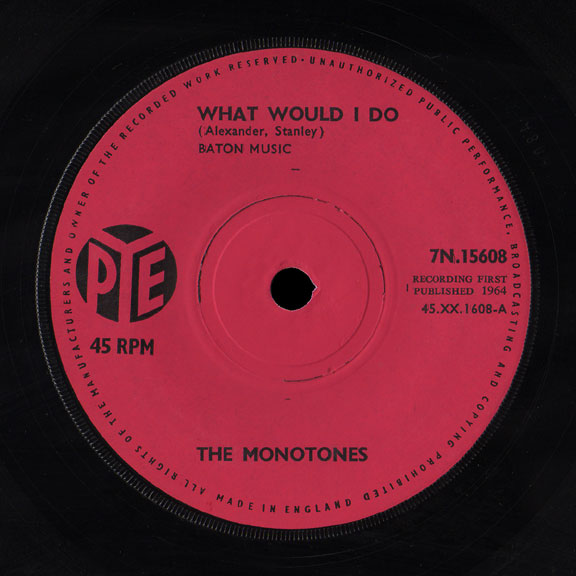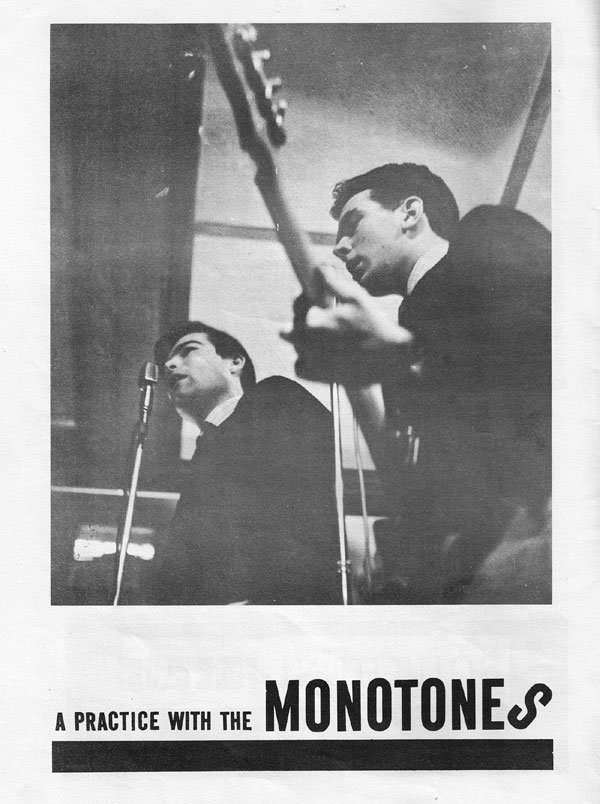 "What Would I Do" was the first of four singles they released on Pye in '64 and '65. To say this song has charm would be an understatement, even more so if you've seen Seven Up. The bridge is especially fine, with tremolo guitar behind the vocals "if I say that I love you, and you know that it's true …"
The band gives a sharp performance on the flip, "Is It Right" though the song is less distinctive than the top side. Both songs on their first 45 were written by 'Stanley Alexander', actually Brian Alexander and Stanley Peter Frederick according to the BMI database. I didn't know anything else about the band until Phil T. contacted me with the newspaper clipping and the following info:
During their early years, the group line-up changed many times but by 1964, it comprised Brian Alexander (lead), Jim Eaton (vocals and rhythm), Pete Stanley (bass) and Gary Nichols (drums) and I believe that it was these four who made the recordings. Their original vocalist, Nigel Basham also performed separately under the name Mark Loyd and was backed from time to time at local gigs by another Southend band, The Mustangs, who also originated at Westcliff High.

Sadly, I understand that The Monotones' drummer, Gary Nichols, died in April 2007.
Photos of the band's early years sent to me by guitarist Ian Middlemiss can be seen on this separate page.
Much more information about the band came when Jim Eaton and Peter Stanley left detailed comments about the band. To read the full history of the group and it's change to the Treetops, read through the comments below. Jim also sent the photos seen here with this comment:
I have attached some photos of The Monotones in the early sixties and also some of The Treetops (our new name when we joined Mecca at the Wimbledon Tiffanys). You will note we added a female to our lineup, a great vocalist Martha Smith. We cut several records as The Treetops when the lineup comprised Brian Alexander (lead guitar and backing vocals), Jim Eaton (rhythm guitar and lead vocals), Pete Stanley (bass guitar and backing vocals), Mark Lloyd (lead vocals, vibes and harmonica), Martha Smith (lead vocals and piano) and Pete Trout our very fine drummer.
In the article about the band for The Southend Standard Jim Eaton also noted their appearance on Ready Steady Go, Thank Your Lucky Stars and Juke Box Jury, clips I'd love to see if they still survive.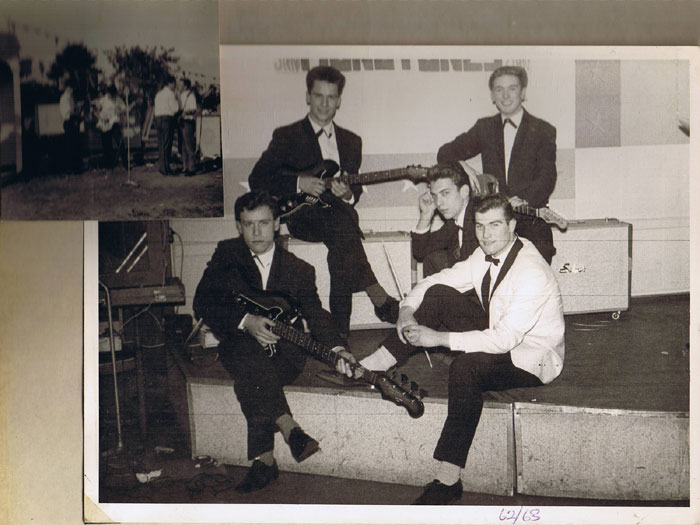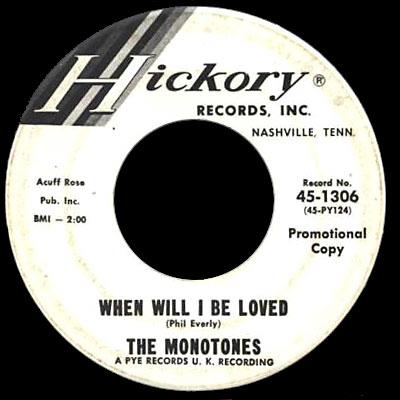 The Monotones had two U.S. releases on the Hickory label, one of which, "When Will I Be Loved" / "If You Can't Give Me All" was not released in the UK. It turns out to be a demo recorded before their first Pye 45, released in the U.S. without the group's knowledge!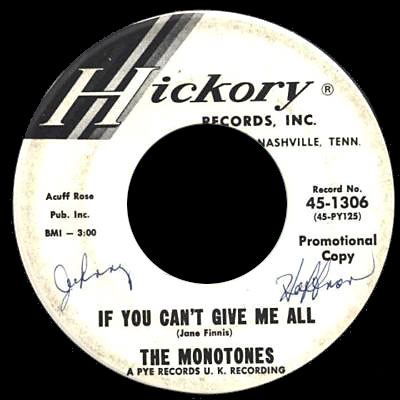 Jim Eaton recently heard these songs again for the first time in about 47 years! He wrote to me:
I received and played the record yesterday and it is definitely us. I now recall cutting both sides as a demo in 1963 at the Regent Sound Studio in London's famous Denmark St. (also known as Tin Pan Alley due to the large number of studios, record publishers and musical instrument shops.)
Monotones 45 releases:
UK:
Pye 7N 15608 – What Would I Do / Is It Right (February 14, 1964)
Pye 7N 15640 – It's Great / Anymore (1964)
Pye 7N 15761 – No Waiting / Like A Lover Should (1965)
Pye 7N 15814 – Something's Hurting Me / A Girl Like That (1965)
US:
Hickory 1250 – What Would I Do / Is It Right
Hickory 1306 – When Will I Be Loved / If You Can't Give Me All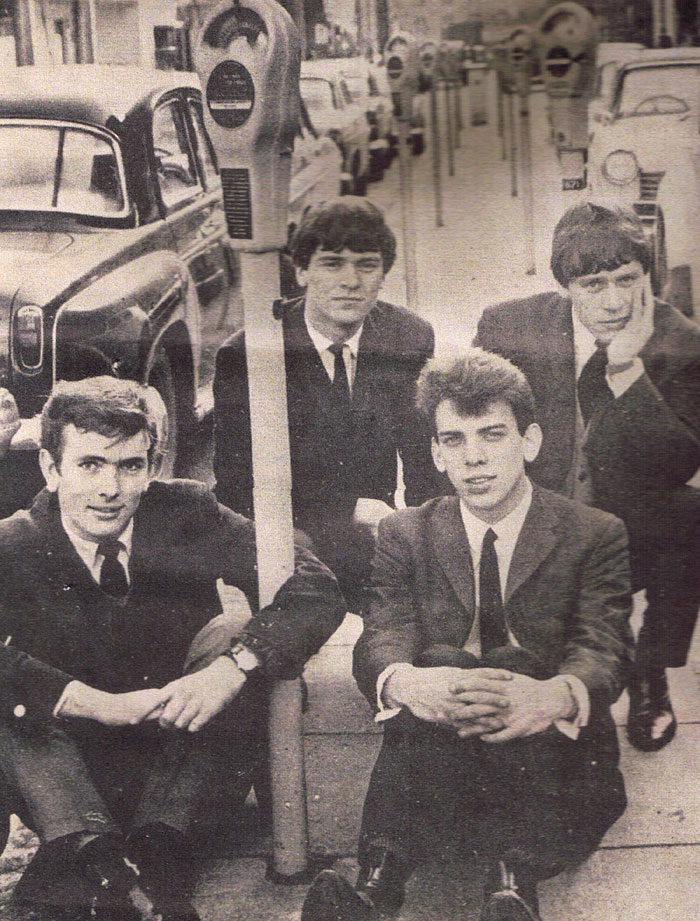 Mark Loyd backed by the Monotones with session musicians:
Parlophone R 5277 -I Keep Thinking About You / Will It Be the Same (1965)
Parlophone R 5332 – Everybody Tries / She Said No (1965)
Parlophone R 5423 – When Evening Falls / When I'm Gonna Find Her (March 1966)
Note that all his solo releases spell his last name "Loyd"
Treetops 45 releases:
Parlophone R 5628 – Don't Worry Baby / I Remember (1967 – also released in the U.S. on Tower 388)
Parlophone R 5669 – California My Way / Carry On Living (Feb. 1968)
Columbia DB 8727 – Mississippi Valley / Man Is a Man (1970)
Columbia DB 8799 – Without the One You Love / So Here I Go Again (1971)
Columbia DB 8934 – Why Not Tonite / Funky Flop-Out (Oct. 13, 1972)
Columbia DB 9013 – Gypsy / Life Is Getting Better (Aug 3, 1973)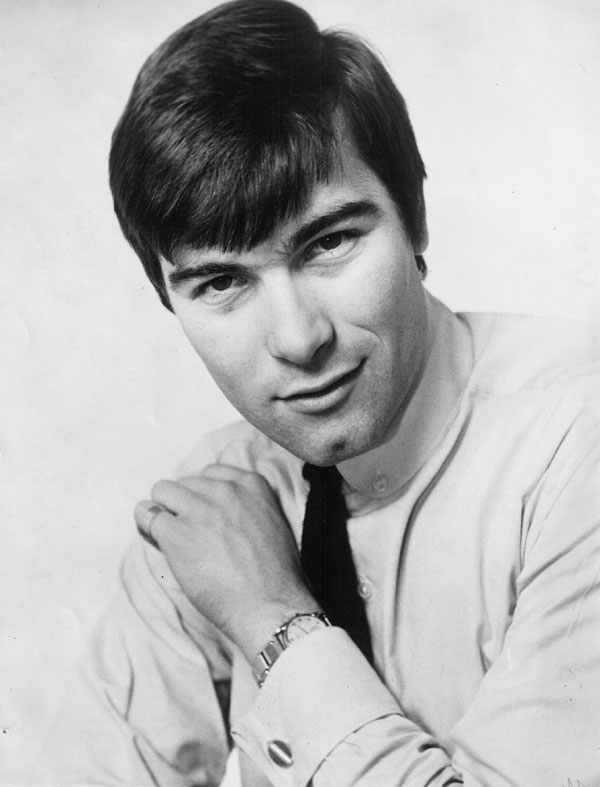 Postscript, February 2011:
Jim Eaton: "I have just returned from Australia where I caught up with Mark Loyd who was for many years part of The Monotones before he pursued a solo career.
Update, April, 2012
I'm sorry to report that Mark Loyd (born Nigel Basham), the lead singer with the Monotones and Treetops passed away on April 4, 2012, after fighting cancer for seven years. Mark had been living in Sydney, Australia where he ran a successful event/management company. My condolences to his family, friends, and band mates.
Thanks to Phil for sending in the article from The Southend Standard, January 2006 and to Jim Eaton for his help with songs, photos and information for this page.