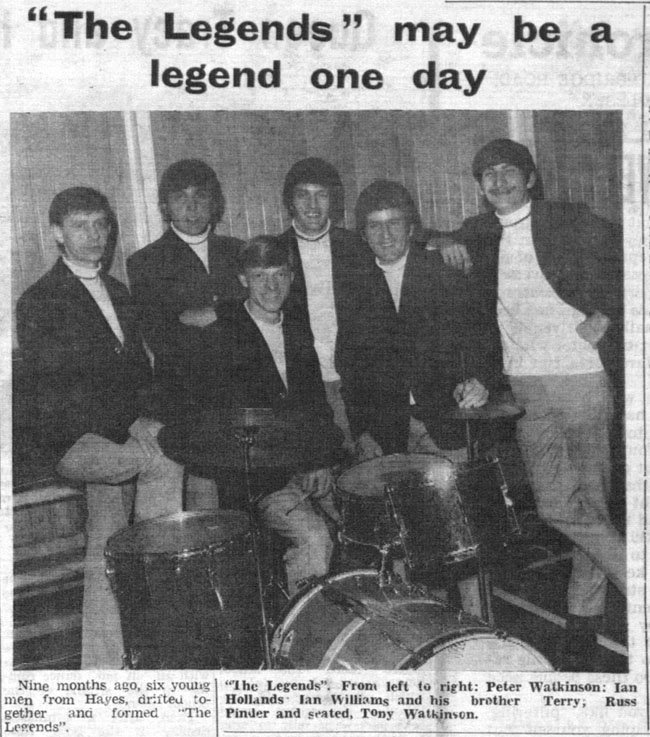 Peter Watkinson – lead vocals
Kevin Sparkes – rhythm guitar, organ
Keith Kendall – lead guitar
Rick Eagles – bass
Tony Watkinson – drums, vocals
Hayes, Middlesex-based brothers Peter and Tony Watkinson had formed the band in the early 1960s as The Limelites and were joined at some point by rhythm guitarist Kevin Sparkes.
In 1963, Rick Eagles, who'd previously played rhythm guitar with Wembley, Middlesex band The Delta 5 alongside future Deep Purple bass player Nick Simper, joined the Limelites on bass. Soon after, they became resident Sunday night band at the Clay Pigeon in Eastcote, Middlesex.
During mid-1964, Peter Watkinson caught another Hayes band, Brian & The Fantoms playing at the Seagull Hotel in Southall and was impressed by The Fantoms' lead guitarist Keith Kendall, whose father was Watkinson's manager at EMI Electronics.
Not long after, Watkinson changed the group's name to the Legends and secured a recording deal with Pye Records.
Paired with legendary producer Joe Meek, the band cut a lone single, Peter Watkinson's "Looking For Her" c/w "I'm Coming Home", which was issued as The First Impressions in March 1965 to avoid confusion with Twickenham, Middlesex group, The Legend.
However, when the US soul band, The Impressions threatened a law suit, the musicians were forced to revert back to The Legends for a second single on Pye – Peter Watkinson's "I've Found Her" c/w "Something's Gonna Happen" in July 1965.
When the two singles failed to dent the charts, Keith Kendall departed in late 1965/early 1966 and re-joined Brian & The Fantoms for a few months before subsequently joining Hayes group, Four Point Five, which also worked as The Soul System. In the late 1960s/early 1970s, Kendall hooked up with The All Night Workers.
Kendall's initial replacement was a lead guitarist called Ron, who was joined soon after by second lead player Ian Hollands. Hollands had previously worked with Ealing, Middlesex group, Frankie Reid & The Casuals between 1962-1963 and then a Teddington, Middlesex band (possibly Unit 4).
Towards the end of 1966, the band underwent further changes as both Rick Eagles (who hooked up with Tony Knight's Chessmen) and the lead guitarist called Ron departed to make way for siblings Terry Williams on trumpet/vocals and Ian Williams on bass. By November, Kevin Sparkes, who'd moved on to Hammond C3, had also left to make way for Russ Pinder.
In March 1967, The Legends finally returned with a second single on the Parlophone label – a cover of Boyce & Hart's "Tomorrow's Gonna Be Another Day" backed by Peter Watkinson's "Nobody Laughs Anymore".
Four months later, in July 1967, The Legends released their final single on Parlophone – Peter Watkinson's "Under The Sky" c/w "Twenty Four Hours A Day".
When the band broke up in late 1967, Hollands played guitar on some demos that Peter Watkinson recorded in his home studio before going on to work with Hayes, Middlesex group, The Magic Roundabout during 1968.
Thanks to Keith Kendall and Ian Hollands for providing background information on the band.
Copyright © Nick Warburton, 2013. All Rights Reserved. No part of this article may be reproduced or transmitted in any from or by any means, without prior permission from the author.
I have tried to ensure the accuracy of this article but I appreciate that there are likely to be errors and omissions. I would appreciate any feedback from anyone who can provide any additions or corrections. Email: Warchive@aol.com