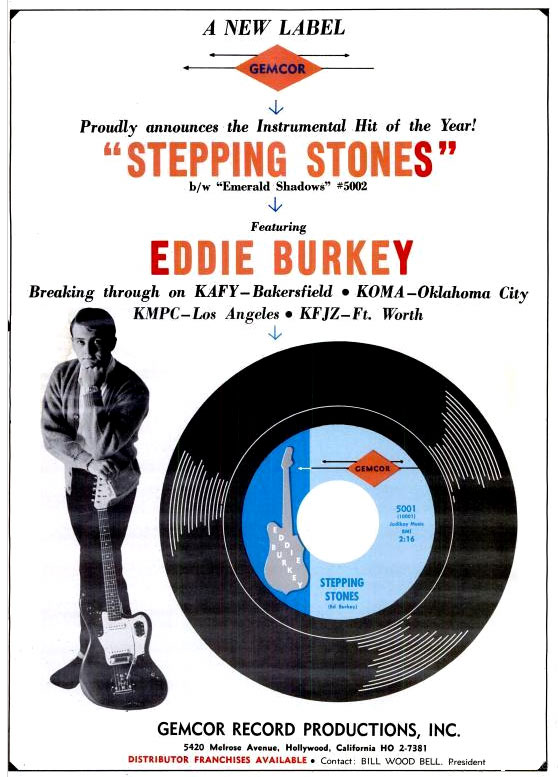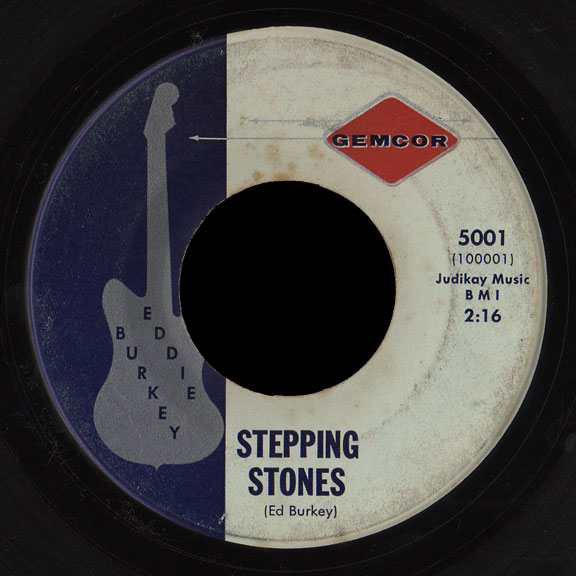 Gemcor was a short-lived label based out of Bill Bell's studio on Melrose in Los Angeles. It had one of the coolest label designs of the 60's. There were only three releases on Gemcor, and two are very well known to fans of garage rock.
One of these is the Rumors 45, "Hold Me Now" / "Without Her", among my very favorite 45s of the '60s. (I still don't have a copy of it. Anyone have a spare?) Another is the common and excellent Beckett Quintet 45, "No Correspondence".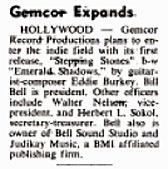 The very first 45 on the label is almost unknown, however, with Eddie Burkey performing two of his original instrumentals. "Stepping Stones" is a melange of surf, brass and strings, but Eddie cuts loose some ripping guitar lines here and there. The flip is the lighter "Emerald Shadows".
It turns out Ed Burkey is credited with arranging the Rumor's "Hold Me Now", and actually played lead and rhythm guitar on both sides, including the wild reverbed solo on "Hold Me Now". That solo alone ensures his musical immortality in my book!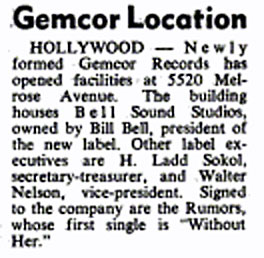 I've read that Ed Burkey played with the Ventures but can't find any confirmation of that. He did cut three instrumentals for the Downey label that went unreleased at the time, now compiled on the Ace CD "Intoxica! Strange and Sleazy Instrumentals From the SoCal Suburbs". Two of these are loaded with overdubs and experimental sounds. Interestingly, the third is labeled "Dreams of Downey" but seems to be identical to "Stepping Stones".
Eddie's early groups included drummer Jim Lewallen, related to the Tucson, Arizona Lewallen Brothers who recorded for Splitsound Records.
Gemcor discography:
5001 Eddie Burkey – Stepping Stones / Emerald Shadows
5002 Rumors – Hold Me Now (Ben Turner) / Without Her (written by Norman Prinsky, credited to "Richards")
5003 Beckett Quintet – No Correspondence (Tim Taylor) / It's All Over Now Baby Blue
Sources include: Norman Prinsky's article on the Rumors. Billboard mentions Herbert L. Sokol and Walter Nelson as other executives with Gemcor.
Since writing the above summary, I heard from Eddie's longtime collaborator, Les Roberts, who kindly gave a fuller picture of their music and shared his personal photos: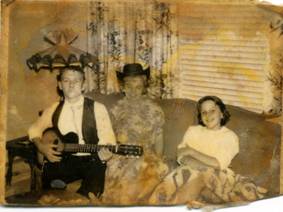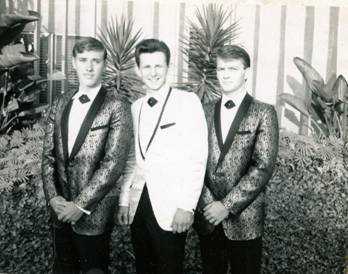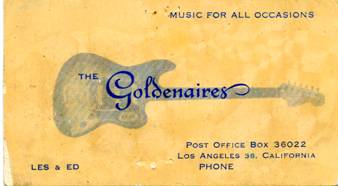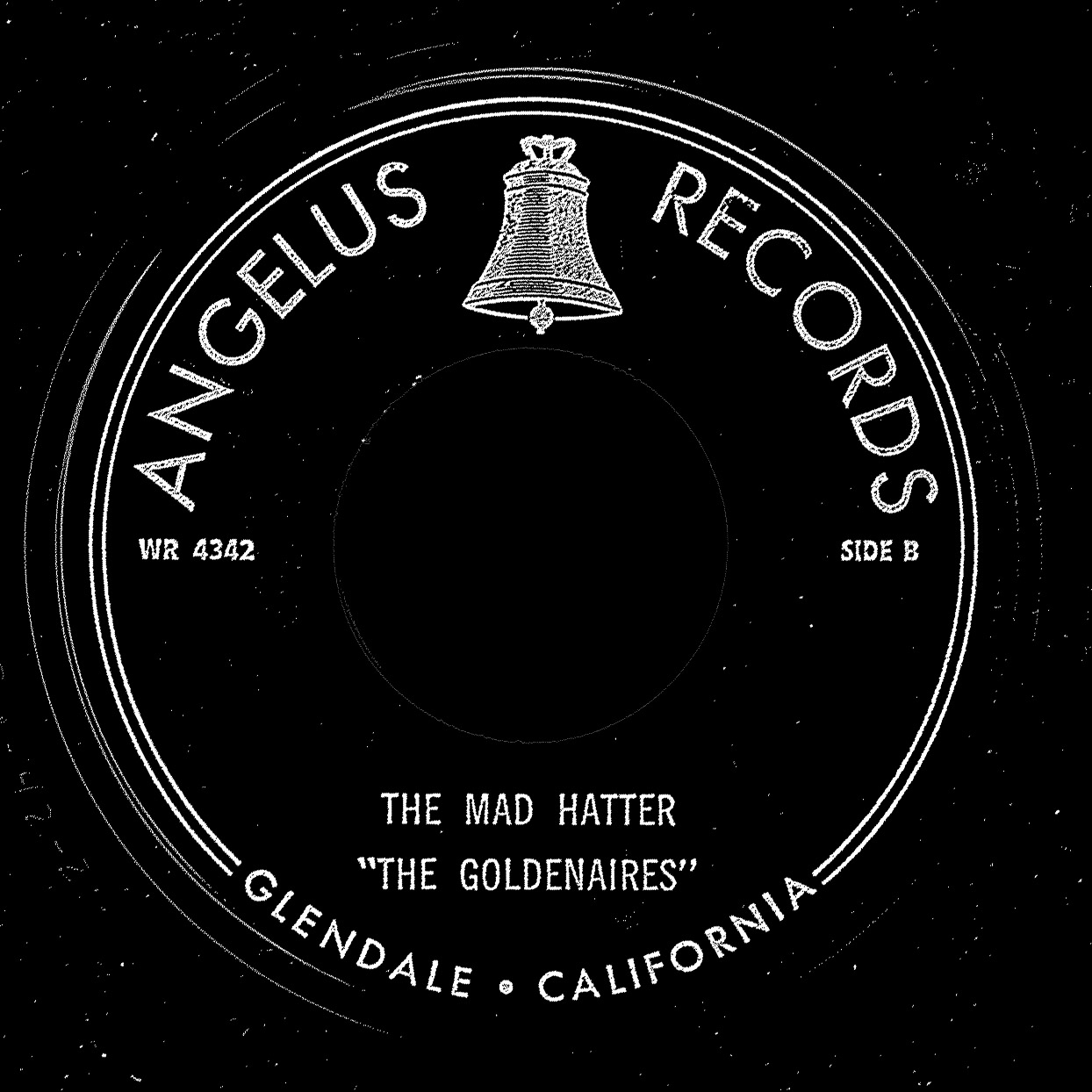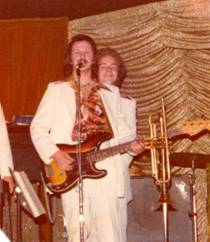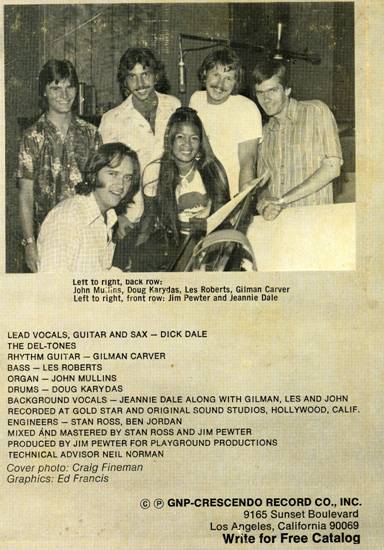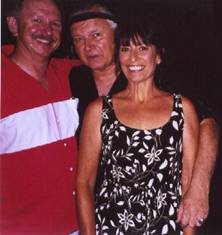 Hmmm, don't know where to start, except from the beginning!

Eddie was born 1945 in Akron, OH. I was born 1947 in Middletown, OH (between Cincinnati and Dayton). We are not brothers, but might as well have been.

We moved to Downey, CA in 1960. I had been learning guitar for a while and Eddie finally became interested when I learned to played "Bulldog" & "Torque" by the Fireballs. We only had the one guitar and to the surprise and wonderment of family and friends, we were both playing songs, simultaneously on the one guitar. We would switch off on lead and rhythm. It was pretty cool.

December of that year I bought a Gibson Melody Maker solid body ($89.00). Now we had two guitars!

We began playing for friends, BBQ's and finally a "sock-hop". Eddie and I were the GoldenAires. By 1964 we had incorporated a drummer (Jim Lewallen) and bass player (Tony Taylor), both from Twenty Nine Palms, CA. They had some connections in 29 Palm and we started getting Friday and Saturday night gigs in the area. Up to and including Disneyland. Most of our music was Ventures, Duane Eddy, Dick Dale, and lots of surf music. He became "Eddie Ladd" and I "Les Roberts". It was fun, no big deal and we were getting paid to do what was easy! By this time each of us had bought custom made Fender Jaguars and Fender Dual Showman amps. His was Candy Apple Red and mine was Metal Flake Blue.

I had started a carpet cleaning business which was making a lot of money and spent a lot of time involved with that. I knew the Chanteys band members and the Rumblers because of some business I had done with Downey Records, which was run by an interesting individual Bill Wenzel. Bill had a record store, Wenzel Music Town, and in a backroom he had set up a small 6' x 10' sound room to record in. He had an Ampex recorder and the local groups would come in for $30/hr to record their music. Eddie had bought an Echo machine (tape loop-like that used by Jordan Ingman – "Apache") and was doing some great licks. The Rumbler's even used him in some of their recordings.

at Whitney Recording: (l-r) Tony Taylor, Les Roberts, Eddie Burkey and Jim Lewallen

The studio photo was taken at Whitney Recording Studio in Glendale, CA. around December 1964. Tony Taylor was the bassist. Eddie and I traded lead/rhythm. The studio was a gas! The main studio was almost 50' x 50'. Great acoustics! At the time our manager, Herb Sokol, was financing the group: recording cost(s), uniforms, musical necessities etc. He had sold Scott Seely (Accent Records) on a recording contract. At the time we had finished recording "Madhatter", "What He Said", "Watermelon Man" and "Soundin' Loud".

The Goldenaires' Angelus Records 45, recorded at Whitney Recording courtesy Jim Lewallen

Eddie and I were not yet of legal age to sign contracts, so the matter went to the parents and Herb Sokol. Being the fact Herb fronted the money for almost everything, the contract showed the greater percentage of "artist" royalties would go to him until he had recouped his investment (I thought this was reasonable). The parents did not agree. As a result, even though Scott Seely had already signed the contract, to our dismay, it later ended up being trashed.

Not a big issue with Scott Seely, as he had just signed Buddy Merrill. Man, what talent that kid had! He was recording pretty much in the same manner that Eddie and I was doing (Les Paul-type sound-on-sound recording).

Eddie and I were recording some various songs for "future" work. On a couple visits when I could not make it to the studio, Eddie would start laying down the tracks for "Emerald Shadows" and "Thunderhead". "Thunderhead" was the song that Eddie later edited and called: "Stepping Stones". (Years later he renamed it; "Memories of Downey"). I loved "Emerald Shadows" as I was a big Martin Denny and Arthur Lyman fan and thought we could edge our music more toward a "tropical" sound.

A few months later Eddie briefly teamed up with Gemcor Records and released the songs around 1965 (Stepping Stone & Emerald Shadows). Another piece of info: Eddie designed the GEMCOR label. If he was involved in any other aspect with Gemcor, I was not aware of the arrangement.

To my knowledge Eddie never worked for or played with the Ventures. They opened an office in L.A. next door to the Mosrite Guitar business office, where we met Semie Moseley, the owner and shortly thereafter Don Wilson and Jerry McGee (who did keyboard and backup guitar work for the group).

Eddy was drafted in 1965 and I enlisted in 1966. Eddie married his high school sweetheart Karen in 1966, while on leave and before going to Vietnam. He settled down in Monterey, CA after the Army and I, after my discharge, in the L.A. area. Eddie was doing some graphic arts design, I was unsure of what I wanted to do, but not too long after Karen gave birth to Brandon, Eddie and Karen moved down to the L.A. area where Eddie and I started Town & Country Apartment Care – something to finance our waning music business.

One Wednesday night we heard of a night club that had a talent contest and opted to go. The house band (which was country) asked if we would like to go to an after-hours jam. Sure! we said. There we met up with Dewayne [Quirico] (drummer for the Bobby Fuller Four), plus some other well know country entertainers who we ended up jamming with for the rest of the night and many times thereafter. It was as if we were an overnight success! We backed a young lady named Trudy Martin and another gent named Ralph Raymonds.

Within a few weeks we were Trudy and Ralph's back-up band, along with Paul Crum on flat-top guitar and Bobby Fierro on drums. We became: "Rockin' Country" and was hired as the house band for a nightclub in Azusa CA. We did this gig with great success, for about two years. Ralph and Trudy went in one direction, Eddie and I in another. We tried some gigs as a Trio but things had changed and the "sound" just wasn't there. I was offered and accepted a job to go on the road with Dick Dale; Eddie took a job playing lead for Barbara Stanton.

Dick Dale's producer/manager was a cool gent named Jim Pewter, who was also the producer for Jan & Dean, so needless to say we did appearances together. Dick Dale was under contract to perform in Las Vegas, Reno and Lake Tahoe, which is what I did up until I realized I was going nowhere. Making great money, but going nowhere! I had moved to Lake Tahoe because it was a reasonable commute between Reno and Las Vegas but had lost track of Eddie. Finally, in 1977 I decided (at 30), I was getting too old for this, and with the approval of my wife, stopped the music business (cold turkey) and went back to college, under the GI bill, finished my degree and took my life into a different direction.

I seldom play music, as I have left that to my two sons, both of whom are heavily involved with the trade. I now live in Madera County, just a few miles from Yosemite Nat'l Park (south entrance), and work as a Safety Consultant for Pacific Gas & Electric Company.

I ran into Eddie in 1983 (in L.A.), he had teamed up with a very talented young lady (Leslie) who played piano, wrote music and they clicked (so to speak). They had a lounge act that lasted for a spell and then, for whatever reason, dissolved. Eddie remarried and to my knowledge still lives in the L.A. area.

Eddie Burkey was one hell of a guitar player, with an imagination to go with it. I have hundreds of hours of recordings, we made between 1963-1974, which I sometime load on the old TEAC and listen. I had pictured him going far, but that was our teenaged dreams.

As I look back, it all seemed to have started with that one song: "Bulldog".

Les Roberts, June 2009