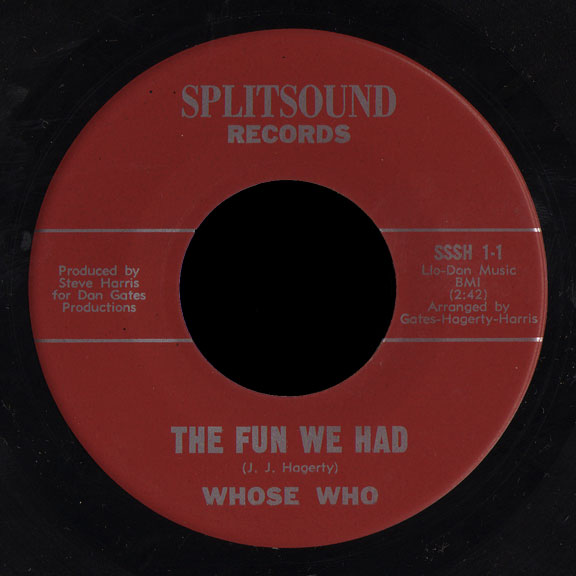 Splitsound was a Tucson, Arizona label owned by Dan Gates, DJ/Program Director at KTKT and Dan Peters. Splitsound is best known for the Dearly Beloved's great "Flight Thirteen", but it also had fine 45s by the Lewallen Brothers, the Buckett City Distortion Rackett and the Grodes.
The Whose Who were actually a vocal group from Dayton, Ohio Des Moines, Iowa. Dan Gates recorded their tracks at Audio Recorders in Phoenix in return for doing background vocals for another artist produced by Gates, Rena Cook.
James Hagerty of the Whose Who wrote to me, "The group was from Des Moines, IA and included James Hagerty, Kathy Mazzola, Darrell Chrystle, and Al Jinx. We came to Tucson to record at the request of a former member of the group, Steve Harris who had recently moved to Tucson. I don't know how he met Dan Gates."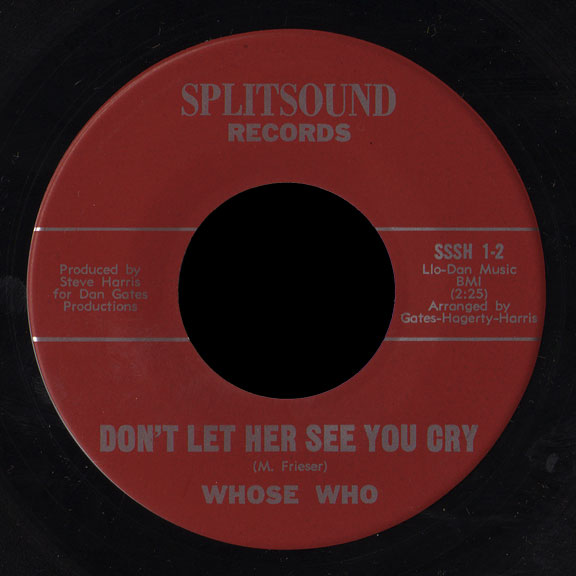 Fans of moody pop should dig "Don't Let Her See You Cry", written by Grodes vocalist Manny Freiser. The breezy flip, "The Fun We Had" was written by J.J. Hagerty.
Usually Splitsound releases have a catalog prefix "SSDG" with the DG standing for David Gates. The Whose Who was produced by Steve Harris, so it has the prefix "SSSH", unique among Splitsound 45s as far as I can tell.
any help with this discography would be appreciated!
Splitsound discography:
SSDG 1-1/1-2: Lewallen Brothers – I Think I'm Glad (Cal Lewallen) / It Must Be Love
SSDG 2-2/2-2: Rena Cook (with The Grodes Orch. & Chorus) – Once in a Lifetime Love (Manny Freiser) / The Lovelost (featuring Reggie Arvizu) – Lost Love
SSDG 3-1/3-2: Buckett City Distortion Rackett – I Can See It's Coming / I Lied (Steve Lewis)
SSDG 4-1/4-2: Grodes – Give Me Some Time / Background of Give Me Some Time (both by Manny Freiser and Rich Cota Robles) (December, 1967)
SSDG 5-1/5-2: Dearly Beloved – Merry Go Round (Larry Cox) / Flight Thirteen (Terry Lee)
SSDG 6-1/6-2: Lewallen Brothers – Only A Dream / Somethin' On My Mind (March, 1968)
SSDG 7-1/7-2: Butterscotch – Your Own Love / Three-O-Nine (Fred Porter)
SSDG 8-1/8-2: Spring Fever (The Grodes) – Sand / Give Me Some Time (June 1968)
SSDG 9-1/9-2: Greylock Mansion – Over My Shoulder / Dedication (1970)
SSSH 1-1/1-2: Whose Who – The Fun We Had (J.J. Hagerty) / Don't Let Her See You Cry (Manny Frieser).
Max Waller writes about Greylock Mansion that it "was released in 1970 but had been recorded in December 1969 at the same time as the 'Catafalque' / 'Amazon' pairing that was released first in Jan 1970 on Dynamic Records."
Shep Cooke? – or is that a mix up with the Rena Cook 45?
Sources include: 60sgaragebands.com interview with Dan Gates.
Thank you to Max Waller for his help with this discography.