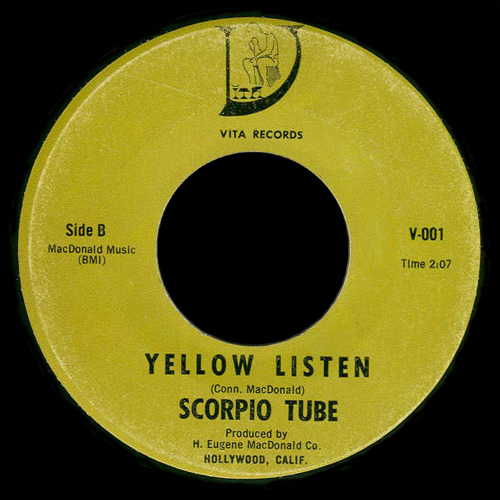 Dan Nielsén, who had conducted the interview with John Ford of the Index published here back in February, asked me to dig into the story of the Scorpio Tube, the group behind the incredible B-side "Yellow Listen".
The lead guitar track dominates the sound with a piercing distortion and echo that breaks up with stroboscopic effect. You can hardly hear the piano in the background, though it provides much of the droning sound at the intro and becomes apparent towards the end as the lead guitar is mixed down.
I just recently heard the A-side, "White Birches" and it's more polished than "Yellow Listen", with a progressive sound that would have done fine on radio at the time. The instrumental break is excellent too.
As far as info goes, I know what the label tells me, that both songs were written by Conn. MacDonald.
H. Eugene MacDonald produced the record for Vita Records from Hollywood, CA, which is probably not the same Vita owned by Laurence Mead that released a good number of records in the 1950's with a Pasadena address.
As for dating this, it may have been recorded as late as 1970.
Transfer of "Yellow Listen" taken from the expanded CDR version of Psychedelic Disaster Whirl. Thanks also to bosshoss for the scan of "White Birches". Transfer of "White Birches" sent to me by Max Waller.