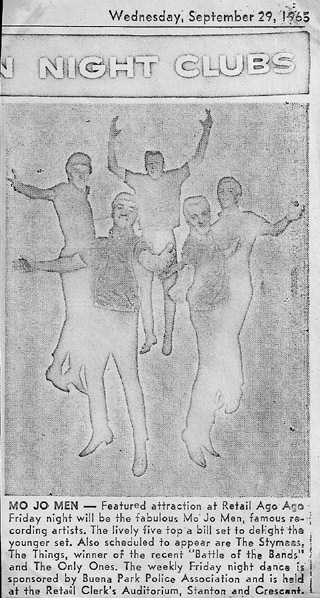 Gary Myers sent in this great poster of his band the Mojo Men playing the Retail Clerks Auditorium in a "Retail a Go Go" with the Things, the Stymees and the Little Rascals on October 1, 1965. A news clipping from Gary dated September 29 lists the Only Ones instead of the Little Rascals, and names the Things as winners of a recent Battle of the Bands.
These Mojo Men were not the San Francisco band that hit with "Dance With Me" and "She's My Baby" on Autumn Records.
Gary and his group had some lineup changes, signed with Mike Curb in 1967 and became the Portraits. I don't believe any of the other bands mentioned recorded – has anyone ever heard of these groups?
The Retail Clerks Auditorium in Buena Park, Los Angeles had been a famous venue for surf bands in the early '60s. By 1965 this had changed, and beat groups such as the Heathens did shows there.
If anyone has more info or clippings about the Retail Clerks Auditorium, it would be appreciated!
Thanks again to Gary E. Myers for his help. For more on Gary's career see his website www.music-gem.com.