Here's a record I don't own myself, but I was struck by the incredible similarity of the opening of the Changing Tyme's "You Make It Hard" to the Quiet Jungle song "Everything". I would suspect the Quiet Jungle release came first, but I don't know for sure.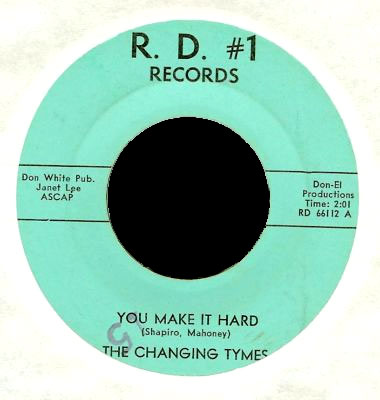 I'd certainly be interested to know how a group from Pennsylvania came to adapt a song by a Toronto, Canada group. On the other hand, it's entirely possible that each band came up with that riff themselves."You Make It Hard" and it's equally good flip, "Try a Whole Lot Harder" were written by Shapiro and Mahoney, and released on the R.D. #1 label. I've seen the band listed as a Philadelphia group but don't have any certain evidence of that.
Also, this isn't the same Changing Tymes as the Gate City, Virginia group who recorded cool songs like "Go Your Way" and "The Only Girl I Love" for the Moss label.
Anyone have a photo of the group?
Transfers from Gyro1966's 'Empty Heart' with thanks.