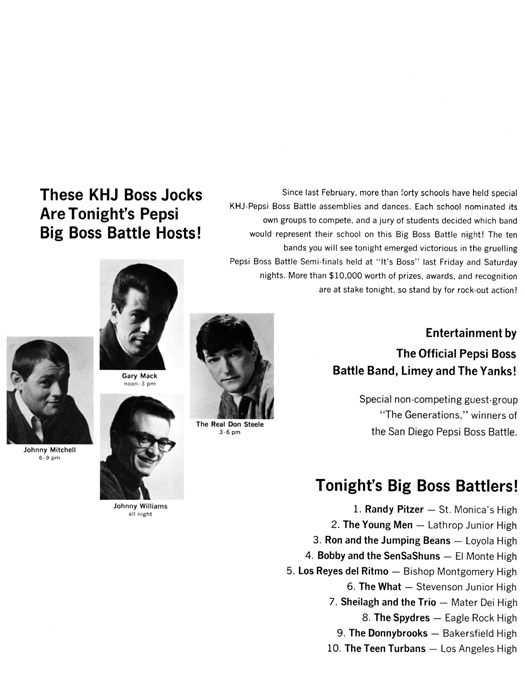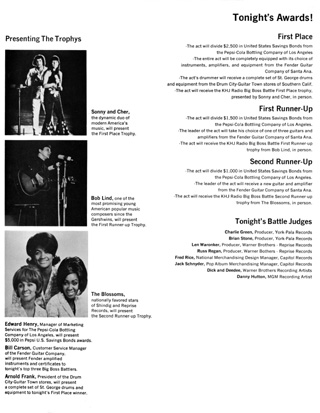 Starting in February, 1966, KHJ radio (930 AM) in Los Angeles hosted a battle-of-the-bands called the Big Boss Battle, sponsored by Pepsi. According to their program, over 100 bands competed, with semi-finals at the club It's Boss, and the finals at the Hollywood Palladium on May 10. After I saw the front cover to the program on Ray Randolph's excellent blog 93/KHJ Boss Radio: a Look Back, Ray sent me the inside of the program at my request.
Judges included Charlie Green and Brian Stone of York-Pala just before the started managing the Buffalo Springfield, Len Waronker and Russ Regan from Warner-Reprise, Fred Rice and Jack Schnyder from Capitol, along with Danny Hutton and Dick and Dee Dee. The DJs included Gary Mack, Johnny Mitchell, the Real Don Steele and Johnny Williams.
Prizes were substantial and included money plus Fender guitars and amps and St. George drums, not to mention being presented the trophy by either Sonny & Cher, Bob Lind or the Blossoms. Unfortunately, recording time was not included, so I'm not sure how many of these groups cut records.
Are any of these bands familiar?
The competing bands were:
Randy Pitzer – St. Monica's High
The Young Men – Lathrop Junior High
Ron and and the Jumping Beans – Loyola High
Bobby and the SenSaShuns – El Monte High
Los Reyes del Ritmo – Bishop Montgomery High
The What – Stevenson Junior High
Sheilagh and the Trio – Mater Dei High
The Spydres – Eagle Rock High
The Donnybrooks – Bakersfield High
The Teen Turbans – Los Angeles High
plus the Generations, who won the San Diego Pepsi Boss Battle.
Check out this page on Ray's site to see the front cover of the program and a ticket to the show. Does anyone have flyers or posters for the semi-finals at It's Boss, or photos from any of the shows?
Update January 2015: check out photos of the Teen Turbans performing at the contest.
Since Limey & the Yanks were the featured act, I'll include below two photos of the group from a 1966 yearbook sent to me by Barry Kazmer.