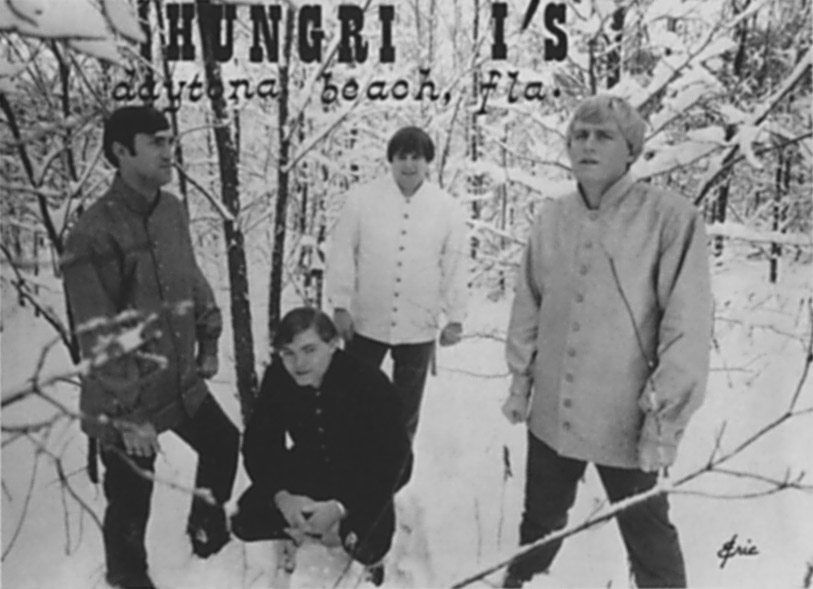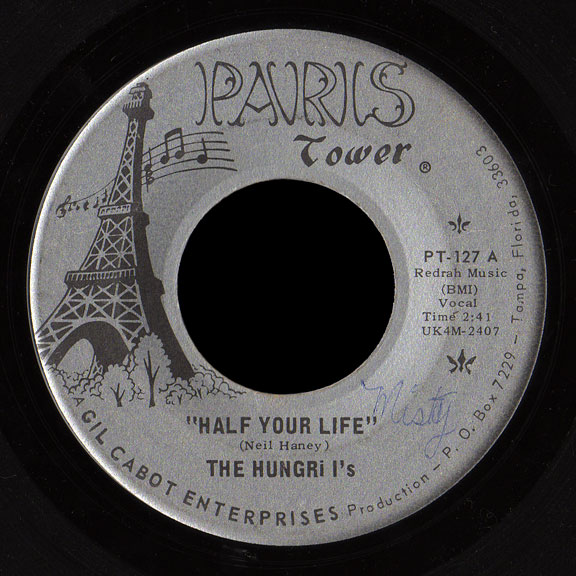 From Daytona Beach and named after the San Francisco nightclub, of course. The Hungri I's were regulars at the Beachcomber Nightclub and the Surf Bar, as well as the Vanguard Club in Titusville. The lineup was Neil Haney lead vocals and organ, Danny Rowdon lead guitar, Chris Drake guitar, Allen Martin bass and Lou Shawd drums.
They cut some tracks at the Bee Jay studio run by Eric Schabacker, and "Hold On" was released on Bee Jay Demo vol. 2, on Tener. It's a good organ-led version of the Sam and Dave hit (thanks for sending me that Ad Z.)
At Bob Quimby's studio in Ormond Beach they recorded a fine original by Neil Haney, "Half Your Life". Danny Rowdon's lead guitar really gives the song some momentum. The flip is a relaxed cruise through How Come My Dog Don't Bark, retitled "Comin' Round" and credited to Danny Rowdon.
The band paid Gil Cabot to release the two songs on his Paris Tower label, supposedly because he offered to make them famous. Paris Tower was known as a vanity label, however, and never did any promotion for its releases. Years later you could say Cabot's words have come true, as this 45 is very well known amongst fans of 60's 45s.
It was up to the band to distribute the 500 copies pressed in November of '67, so for some reason they took to the road and toured Wisconsin, Minnesota and Indiana.
Fuzz, Acid and Flowers lists Ralph Citrullo and Allen Dresser as later members, but I believe it was Neil Haney and Chris Drake who left the I's and joined the Third Condition, previously known as The 2/3rds, which already included Citrullo and Dresser.