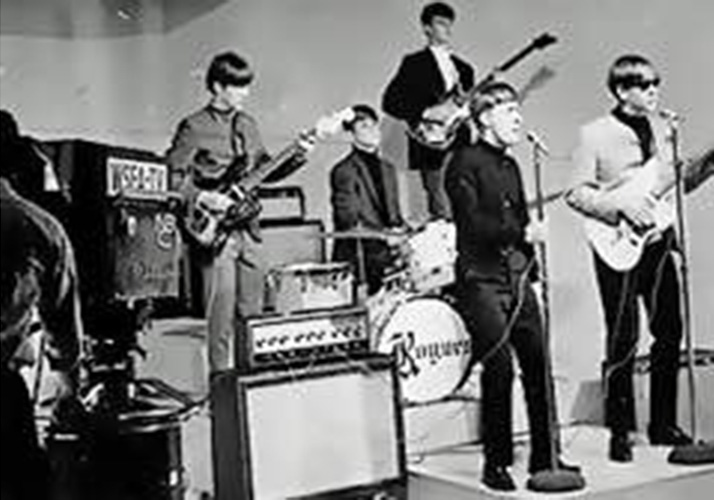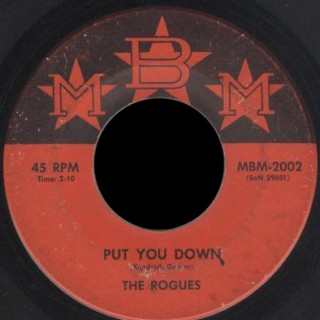 The Rogues of Montgomery, AL cut one great rock single, "Put You Down" b/w a version of "Stormy Monday Blues".
"Put You Down" was written by lead guitarist Max Kendrick and vocalist Rich Gainer. The Rogues recorded the 45 in February of 1966, for MBM Records, a Birmingham, Alabama label that goes back to the early '60s.
For years this group was assumed to be the same as the Rogues and the Dry Grins of Lafayette, Louisiana, but I've heard from Rich Gainer through his daughter, Dorian, who sent in the photo above, showing the group playing live on WSFA TV in Montgomery.
Rich Gainer provides this history of the band:
The Rogues were founded in mid-1965 as a result of my being stationed at Maxwell USAF Base in Montgomery, Alabama, and meeting Bill Myers (rhythm guitar and vocals), Larry Taylor (Hofner bass), and Casey Bolt (drums), officers' kids whose Dads had recently been reassigned there from Germany. These teens had been playing music in a band in Germany at the time the Beatles were popular and playing there, and had picked up on the style of British Invasion groups. From the time we first met and practiced together a little bit, we were getting bookings at area military and off-base clubs, and were playing gigs several times a week.

Early-on, we were introduced to Max Kendrick who would become our excellent lead guitar player, sporting his Fender Jazzmaster and Rickenbacker 12 string. Max's Dad was the Colonel in charge of AU TV on base, and we were among the first groups to pioneer videos. Keyboards came later in the form of Max's cousin Frank, for whom we purchased a Vox Continental organ. Through the time the Rogues were together 1965-1969, we also had the services of Joe Tucker at lead guitar and Dan Fucci who very quickly learned to play the drums in order to become our drummer.

Max and I wrote the song "Put You Down", which we recorded for the MBM label in a Muscle Shoals, Alabama studio in 1966. Colonel Taylor, our bass player's Dad, made the recording deal with the studio in Muscle Shoals (think it was FAME) which included the label deal with MBM. The song actually topped the charts on WBAM in Montgomery, AL for a few weeks which gave us introductions to the British Invasion groups coming through Montgomery for the Big BAM shows held at the Coliseum for many years, like The Who, The Hollies, The Blues Magoos, The Kinks, and many more including American groups like The Beach Boys, The Beau Brummels, The Turtles, and so on. Best bands we met and heard in person – The Byrds – magical and electric, and The Beach Boys – amazing sound.

We were scheduled to open for Paul Revere and the Raiders at the first WHHY Show at The Coliseum, but they wheeled out their Vox Super Beatle Amps and bulldozed our equipment off the stage some 10-12 foot drop.

We started playing teen clubs in rural Alabama, Georgia, and North Florida, and hired R. L. and Granny Davis, owners of The Opp Teen Club as booking agents for a couple of years. We were in that scene at the same time as The Rockin' Gibraltars, The K-Otics, The James Gang, and The Candymen to name a few.

In 1968, when my Air Force time was up, the group split up. Larry and Dan became B52 pilots like their Dads, and Bill took over his Dad's real estate business in Montgomery. Lost track of Casey and Max and the others, but would like to reconnect if it were possible. I went on to write more songs and record in Nashville for a few years with limited success through the 1990's. Hank Tubb was my alias when I did comedy along with music. See https://www.reverbnation/hicksintrucks

Q. How many records pressed up? It's very rare nowadays.

Probably a 1000 copies pressed. I used to have a few dozen but don't know what happened to them over the years.

Q. Did the band play "Put You Down" at live shows?

Yes, played "Put You Down" everywhere, especially when it was on WBAM charts.

Q. Did the Rogues make any unreleased recordings?

We made lots of video recordings at AU TV, but on proprietary equipment and no longer available. No other audio recordings.

– Rich Gainer