The Werps recorded one 45 for the WGW label of Somerville, New Jersey in 1967. People who think horns have no place in garage songs dislike "Love's a Fire", but I think the horns help the sense of mayhem, and I dig the soloing over the drum rolls. There's really no other record from any era quite like this one.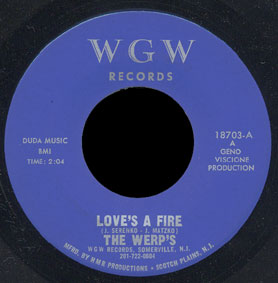 Tim Warren made a huge effort to get a version without the horns for Back from the Grave vol. 6, but wound up with a slower take without the shouting and intensity of the 45 that dissatisfied most everyone.
"Shades of Blue" burns at a slow pace compared to the urgency of "Love's a Fire", but it's excellent too. Both songs were written by James Serenko and John Matzko, and the record was produced by Geno Viscione.
I don't know the full names of all the members or what instruments they played. According to comments below, there was a guitarist named Clark (surname?)  and a drummer Paul (surname?).
Tage Weie sent me the scans and transfers of an acetate from Studio 76. The version of "Love's a Fire" on this acetate is the same as the one on Back from the Grave, except it's about 20 seconds shorter, with a fade out instead of coming to a stop. The flip of the acetate is another cool original, "Voodoo Doll", subdued but also intense, and possibly inspired by Arthur Lee's "Signed, D.C."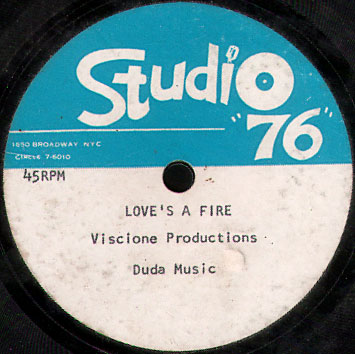 Studio 76 was located at 1650 Broadway, around the block from the Brill Building. The studio was owned by Ed Chalpin, who is best known for having Jimi Hendrix under contract "for $1 and 1% royalty" before Jimi met Chas Chandler – a contract that has since earned Chalpin millions through lawsuits, as well as U.S. rights to the "Band of Gypsys" LP. I highly recommend Mike Rashkow's article about working at Studio 76 with Chalpin and his father Sam.
Anyone have a photo of the group?
Thanks to Tage Weie for sharing his one-of-a-kind acetate with us.