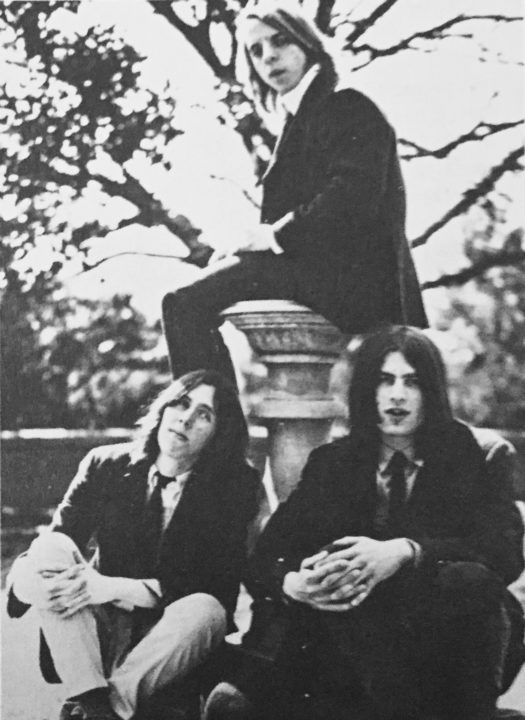 The Waters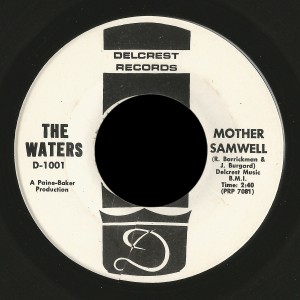 was a Louisville, Kentucky group with John Burgard guitar and vocals, Ray Barrickman bass guitar and vocals, and John Mackey on drums.
Their first 45 on the Soul Blvd. label was "Lady in the Field" (Barrickman and Burgard) / "American Cheese" (Barrickman, Burgard and Mackay) – I haven't heard it yet.
Their second 45 features two excellent originals by Burgard and Barrickman, the upbeat pop song "Day In and Out" and the stupendous freakbeat of "Mother Samwell".
Released on the one-off Delcrest label in January of '69, all copies I've seen have white labels with black print. Promo copies exist on the Hip label, a Stax subsidiary from March of '69, but that issue seems to be much rarer. Production was by Paine-Baker. Paine was Stuart Paine, who owned the Soul Blvd label.
John Burgard had an earlier group called Jonah and the Wailers with Chris and Courtney Johns that opened for the Rolling Stones at Memorial Auditorium. Burgard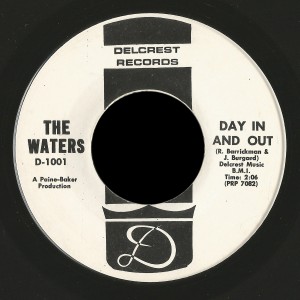 visited San Francisco in '67 then returned to Louisville to form the Waters.
The Waters broke up in 1972 and Burgard went on to form CoCo Morgan and other groups.
Ray Barrickman previously played bass and sang in the Oxfords. He later played bass in Hank Williams Jr.'s band for a couple decades, and more recently was in a reformed version of another legendary Louisville group, Soul, Inc..
Thank you to Brian Talley for sending in the photo of the band – if anyone has other photos of the group please contact me.
Background on John Burgard from "I've Got A Mind To Ramble" by Keith S. Clements.