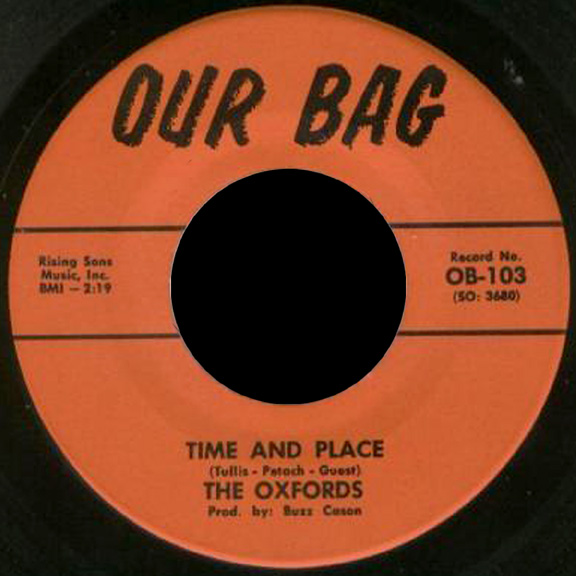 The Oxfords came out of Louisville, Kentucky in 1964, led by drummer Jim Guest. At some point they were calling themselves the Rugbys, as a photo has turned up that features the early Oxfords lineup with Guest, but all in rugby shirts. That band continued as the Rugbys, but without Guest.
Eventually Guest formed a whole new Oxfords band with members of the Spectres: Jay Petach on guitar and keyboards, Bill Tullis and Danny Marshall on guitars and Bill Turner on bass, and continued as the Oxfords.
Marshall and Turner left before this 45, to be replaced by Ronnie Brooks and Ray Barrickman on guitar and bass respectively. This lineup recorded the excellent song "Time and Place", written by Tullis, Petach and Guest. The a-side was a cover of the Bacharach/David song "There's Always Something There to Remind Me".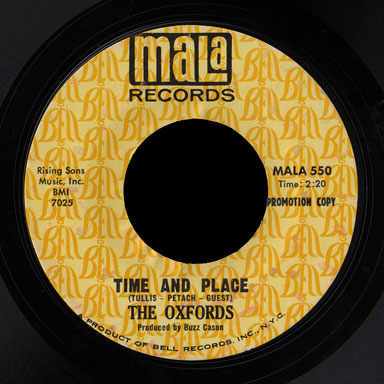 Buzz Cason produced the record – he also produced the Us Four and ran the Rising Sons label.
It was originally released on the Our Bag label in December, 1966, and soon picked up for national release by Mala. Their next 45 showed the band going in a totally different direction, making light pop influenced by psychedelia. "Sun Flower Sun" features flute and sitar while "Chicago Woman" is slightly bluesy, but the concessions to trends of the day didn't result in any chart action.
Jim Guest left while the band continued in the pop vein, releasing an lp Flying Up Through the Sky with Jill DeMarco on vocals in 1970, and a novelty song Come On Back to Beer on the Paula label before breaking up in 1972.
Jerry Lister sent this history of the band written by Jay Petach:
In 1964 I was a sophomore in high school, and like everyone else, was in awe of the Beatles. I had been playing guitar for a year or so and was having the usual problems keeping a band together for more than a week. I somehow managed to steal the best players from several groups that I had been practicing with.

I finally had a band that was good enough to actually play gigs. The group was called "The Spectres". I played lead guitar, my high school classmates Bill Tullis and Bill Turner were lead singer and bass guitar respectively. Danny Marshall, a friend from another school, played rhythm, and Glenn Howerton played drums. That same year, a band known as "The Oxfords" was getting a lot of attention in Louisville.

In 1965 a rift between the Oxfords' leader and drummer Jim Guest and the other four members caused that group to split up. Because we had all seen each other's bands, Jim asked us if we'd like to play with him and become the Oxfords. This worked well, since the other guys in Jim's group liked our drummer better. The two bands swapped drummers and we became the Oxfords. The other guys with Glenn became the Rugbys. They chose this name because they wore rugby shirts when they played.

In 1966 the Oxfords entered a recording studio for the first time. Bill Turner had been replaced by bassist Ray Barrickman, and Danny Marshall had been replaced by guitarist Ronnie Brooks. The first thing we recorded was the Burt Bacharach/Hal David song "(There's) Always Something There To Remind Me". Gene Synder, our booking agent sent a rough mix to Nashville producer Buzz Cason. Buzz liked it, came to Louisville to help us finish it, and most importantly, got us a record deal with Bell Records.

Ray Barrickman sang the lead vocal on this song, but in the fall of 1966 he left the band to attend college out of town. Ronnie Brooks then switched to playing bass, and Bill Tullis started playing rhythm guitar. So when the song was finally released, we had to try to cover the record on gigs with Bill Tullis singing the lead vocal. This worked (more or less), since PA systems weren't all that good in those days. However, shortly after the record's release, the song was quickly recorded by another group and our air play all but stopped.

We recorded our second record "Sun Flower Sun", which was also released on Bell records in 1967. This record made an appearance on Dick Clark's American Bandstand in the "Rate the Record" segment. With a score of only 65, the single was effectively doomed.

Later in 1967 Ronnie left the band and was replaced by bassist Garry Johnson. Garry then left after several months to play bass in the newly-formed Louisville group Elysian Field, with guitarist Frank Bugby and drummer Marvin Maxwell.

A few years ago Ronnie Brooks wrote several songs for Hank Williams, Jr. Ronnie was invited to the recording session, and as he was talking with Hank he heard someone call out his name. It was Ray Barrickman, who was playing bass in Hank Williams, Jr.'s band. Ronnie is now a music producer in Nashville and was the voice of the middle Budweiser Frog in the TV commercials.

Ronnie's older brother Randy, was a high school classmate and good friend of mine. A few years ago Randy wrote the timeless Christmas classic "Grandma Got Run Over By A Reindeer".

Meanwhile back in the 60's, there was an all-girl band in Louisville known as The Hearby. Jim Guest and I liked their sound and helped them make their first and only record. I was particularly interested in their lead singer Jill DeMarco.

In 1968 our group evolved again. This time, drummer Jim Guest was replaced by Donnie Hale, Dill Asher became the bass player, and most significantly, I asked Jill to join the group.

This was the group that recorded the bulk of the LP material. Donnie's friend Keith Spring was a brilliant musician and orchestrator. Keith agreed to do the orchestrations for the album cuts and played on the recording sessions. Keith, also played in the group for a short time in 1968. However, the musical direction we were going with Keith was far too esoteric for the gigs we were playing (we actually played regularly at Fort Knox during the Viet Nam War). Keith later went on to work with actor/musician Martin Mull and legendary rock group NRBQ. That year we got to open for Frank Zappa and the Mothers at a Louisville rock club and for The Grateful Dead at Bellarmine College.

In 1969, Dill Asher was replaced by bassist Larry Holt, and Donnie Hale was replaced by drummer Paul Hoerni (brother of the Rugby's bass player Mike Hoerni). We recorded several more album cuts and the group's last single "Come On Back To Beer", which was inspired by our contact with Frank Zappa. This single was released on Paula Records and made it to number one on rock radio in Louisville.

In 1970 the album was finally finished. Although we had offers from two record labels, we were uncomfortable with both deals. The labels wanted total control, along with buy-outs of all materials and rights. We decided to release and promote the record ourselves.

In 1971, out of the frustration of not being able to play enough original songs on our gigs, I got heavily involved with a theatrical production that I had written. My show was a rock musical called "Grease". It happed simultaneously with another more-famous production by the same name that was just starting in Chicago. The Oxfords got all greased up and became the pit band for the show. It ran for several weeks on the University of Louisville campus and was also performed in Atlanta and at the University of Kansas.

At that same time, I had gotten a notice from Selective Service to report for a draft physical. I fasted for two weeks and weighed only 117 pounds (10 pounds underweight for my 5′-11″ height) at the time of the physical. Because of this, however, I didn't have enough strength to support the weight of my guitar and also sing. I decided I'd switch to playing flute and we added keyboardest Jerry Lister to the group. We recorded "The City" with this group, but it was never released on vinyl.

Finally in 1972, Paul, Larry, and Jerry all left the band. Quentin Sharpenstein, became the bass player. Quentin had played tuba on the orchestra overdub session for our album four years earlier. Guitarist Tony Williamson, a good friend of Larry, and jazz drummer Bobbie Jones also joined the group. Jill played both guitar and clavinet at various times, and I played a Hammond organ and Rhodes piano.

That same year, Danny King, a friend of mine, opened a recording studio. I volunteered the band's services in trade for stud io time, and soon became the studio's engineer. I wasn't paid, but I used this opportunity to record most of the later cuts on the CD.

By this time, it was becoming obvious (even to me) that the Oxfords were not on the road to rock stardom. Jill was especially tired of the situation, the other musicians had opportunities to play with other groups, and I had discovered that my passion was working in a recording studio.

The group disbanded for good in the summer of '72. But hey, that's the cool thing about recording…the music lives on!

Jay Petach