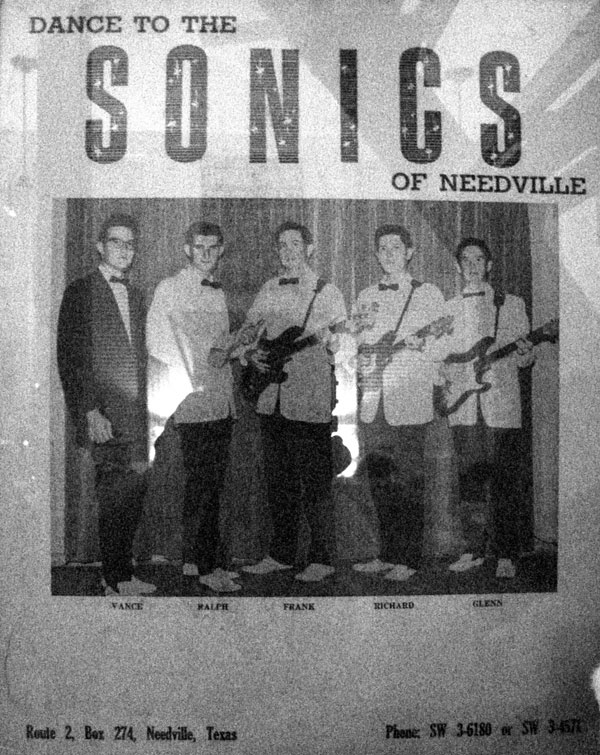 I took a snapshot of this poster of the Sonics of Needville off the wall at the apartment of Norton Records co-honcho Billy Miller, it really looks much better in person. Billy said he has another Sonics poster from the same time.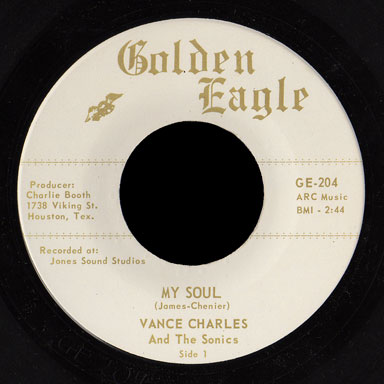 Needville is a small town southwest of Houston. This band is known on record as Vance Charles and the Sonics. The other members in the photo are Ralph, Frank, Richard and Glenn.
I don't know Richard's and Glenn's last names. As for Ralph and Frank, a reader wrote in that these are likely the same Vance Charles, Frank Sebesta and Ralph McCauley who played in the Barons who were active around Houston in the early 1970s. The Barons had two LPs on Solar label, as well as two 45s, "Mellow Moonlight" / "Strung Out On You" and "Wounds Of Love" / "Put Me In Jail", but I've heard none of these. Other Barons members and associates include Luke "CC" Davis, Morris A. Bosak and Billy Wade McKnight. Can anyone confirm this connection?
The band cut a great fuzz stomper, "My Soul" backed by an average version of "We Gotta Get Out of This Place", and released in June of '66 on the Golden Eagle label of Houston.
Although it sounds like an original song, the top side is actually an adaption of Clifton Chenier's "My Soul", a very fine, pre-zydeco r&b song with accordion and even Little Richard "wooh"s, released on the Checker label in the late '50s: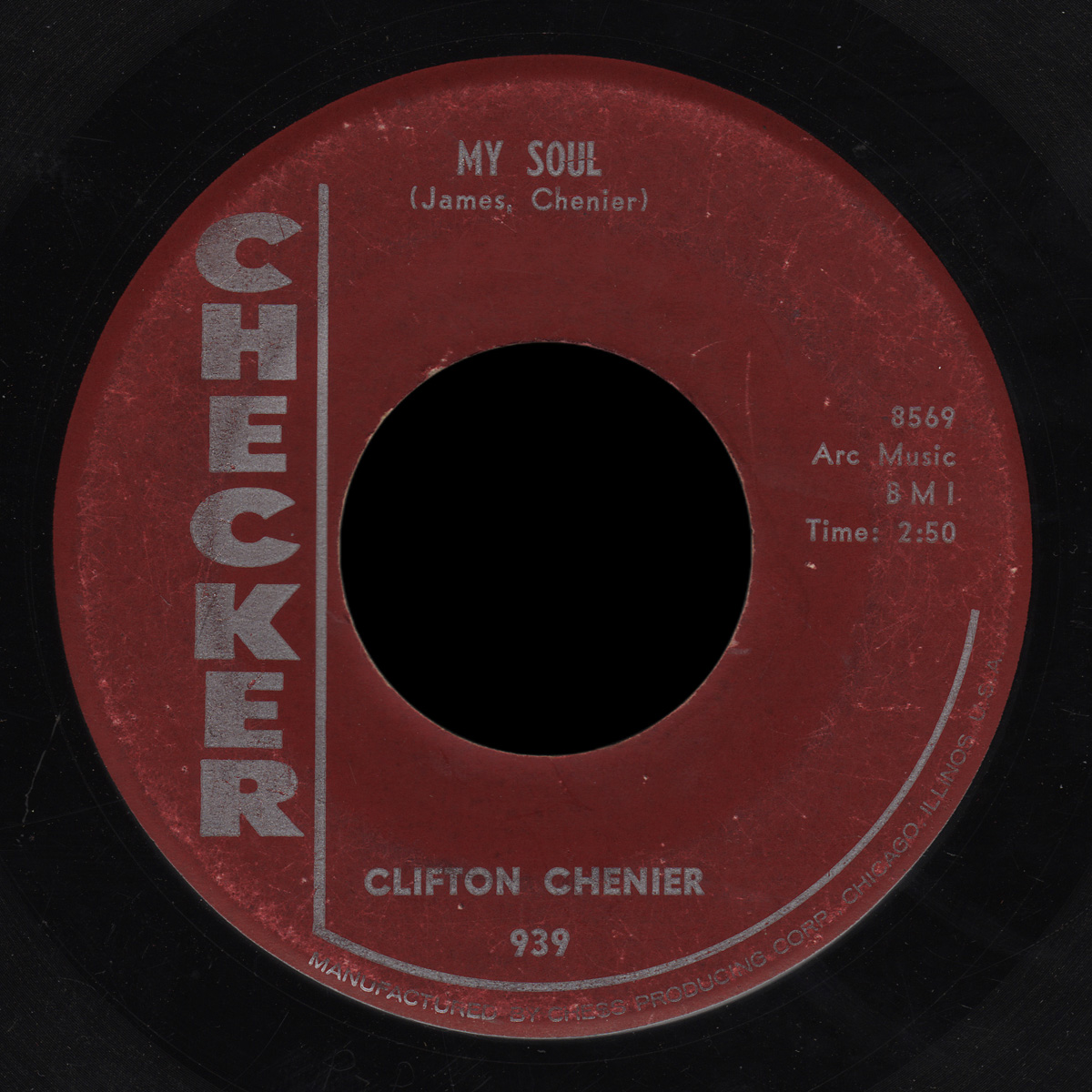 Why do I, sit and cry, without a reason?
I don't know why, it's my soul …
If I, should jump up and holler, without a reason,
smack in the collar (?), it's my soul …
Golden Eagle is a label more known for its blues releases, but a pop-garage 45 by Reed Williams "There's A Girl" / "I'm Free" preceded this Vance Charles disc and the label did release an album of mostly cover songs by the El Campo Jades titled "The 13th Song".
Vance Charles released an earlier 45 also on Golden Eagle that I haven't heard yet: "Put the Shades on Willie" (an Earl Hooker song) and "All for the Love of a Girl".
Before these is a release on Spinner Records, a good if unexciting blues with horn section, "Mr. Train". The flip of this is an absurd version of "Suzy Q" sung in a duck voice and listed under the ridiculous pseudonym Yakkity Quack and the Sonics.
The Spinner 45 was recorded at Gold Star Studios with Doyle Jones engineering. Doyle worked at Gold Star from December 1964 to January 1966, recording the Sir Douglas Quintet, Roy Head and Gaylan Ladd. He left Gold Star to start Jones Sound Studios with Mickey Gilley as part-owner, at 1523 Blair St. in the Heights neighborhood of Houston. This is the studio where the Golden Eagle discs were recorded.
Other garage bands who recorded at Jones Sound include Chaz & the Classics ("Girl of the 13th Hour") and the Glass Kans ("Stick With Her"), and, of course, the Outcasts' "1523 Blair". Even better known are Neal Ford and the Fanatics great "Shame on You", and the Moving Sidewalks LP Flashback, also cut at Jones. Doyle Jones kept the studio going until 1973, then converted it to a duplication house, until he passed away in 2006.
Another Vance Charles 45 I haven't heard yet is on the Lori label, "Let's Fall in Love" (R. Whitefield, C. Snattiger) b/w "Closer To Me" (C. Booth, R. Gean) on Lori 9553, both songs produced by Charles Booth and published by Kaboo Music BMI. Charlie Booth's production address is listed at 7626 Carothers or 1738 Viking in Houston.
All of Vance Charles' records were produced by Charlie Booth, so he is possibly one and the same person. Booth also produced a 45 by the Weavils from El Campo, Texas on the Lori label, "Here I Am in Love Again" / "We're the Weavils".
Doyle Jones info from the SugarHill Studios site and Bluesworld.com.
Thank you to Jack Swenson for information on the Barons.