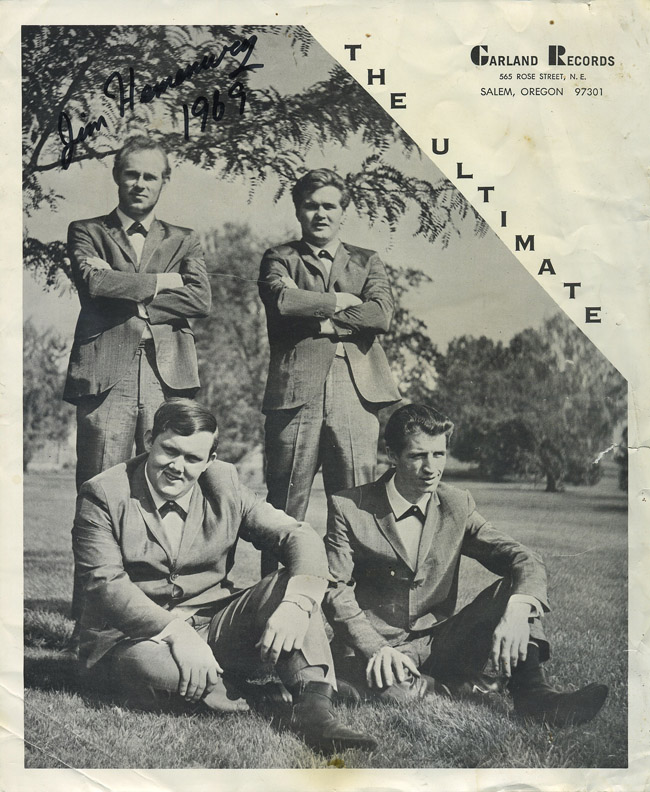 Bill Walker – organ, vocals
Jim Hemenway – guitar and vocals
Dwight Fenski – bass
Ken Mitchell – drums and vocals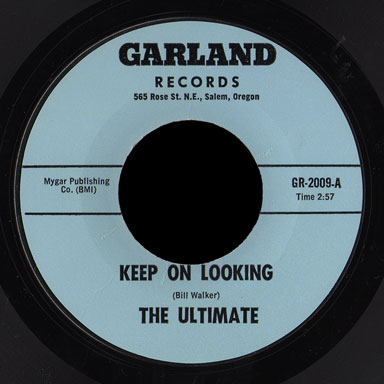 The strong vocals and organ playing distinguish "Keep on Looking", written and sung by Bill Walker. It's backed with a cover of Los Bravos' "Black Is Black".
It was released on the Garland label of Salem, which also released fine 45s by the Zero End and the Morning Reign.
There was some confusion as to whether or not the Ultimate (singular) were related to an earlier group The Ultimates (plural) until Bill Walker and Jim Hemenway contacted me and left the comments below. Since there was a connection between the two, let's go back and first talk about the Ultimates.
After touring as part of the Champs of "Tequila" fame, drummer Gary Nieland and lead guitarist Leon Sanders formed the Ultimates in 1963 in Boise, Idaho with bassist Allen Crawford and keyboardist Gary Sullivan. They eventually relocated to Salem, Oregon, where they recorded a 45 on Lavender, "My Babe" / "Little Girl", then changed their name to Prince Charles and the Crusaders.
Bill Walker picks up the story from here:
Gary Neiland was owner of Garland Records. He was also a talent booking agency. When Gary left Prince Charles and the Crusaders his wife and he started a group called Fatt Twice Together.

He still booked them [the Crusaders], they changed their name to the Dart. Our group was called The Last Resort. A club owner in Salem, Oregon liked our group, but not the name. So Gary suggested we change it to The Ultimate.

"Keep on Looking" was recorded January of 1969 in Salem, Oregon. The record made number one in the top forty in Great Falls, Montana. We could never get our record played in the Portland, Oregon radio market. It's all about marketing and we were just working musicians.

After we left Gary's booking agency, we added a horn player. Jim and I also played horns and changed our name to Five Straight Up. The members were all lead vocalists. The band became a rock show band, it was a great group. Jim Hemenway and I have worked together off and on for the past forty years.

Bill Walker

Scappoose, Oregon
Thanks to Bill and Jim for the information and the photo of the group. As an aside, Dart recorded a great 45 on Garland, "Genevieve", written by Earl Chipley.