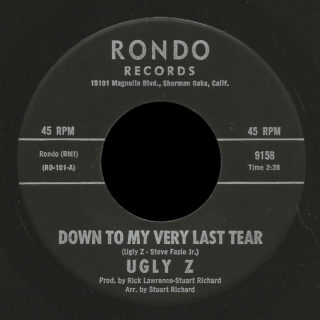 The Ugly Z are a mystery band to me. There are plenty of names on the labels, but it may be that none of them belong to the band's members.
"Down to My Very Last Tear" has a cool twelve-string guitar opening and a good band performance full of harmony singing. It was credited to the Ugly Z and Steve Fazio Jr.
Chris Crocket wrote "Kathy's Back" which is similar to the flip in sound and almost as catchy.
Rick Lawrence, Stuart Richard produced the record, with Richard also arranging both sides.
It was released on Rondo 9158 in June, 1965, as shown from the Alco delta numbers: ∆57098 / ∆57098-X. Rondo had its address at 15101 Magnolia Blvd in Sherman Oaks, CA, and also published the songs through Rondo BMI.
Steve Fazio would show up about a year later as a talent scout for Valiant Records and producer Al Kavelin. Steve Fazio, Jr. also wrote "All Because Of You" recorded by Guiseppi Apollo with the Revels & the Mapes Sisters on Impact 12-IMX, published by Anthony Music.
Info on Steve Fazio's connection with the West Coast Branch from the West Coast Fog site.