The Toby Jug in Tolworth, Surrey, not far from Kingston Upon Thames in southwest London, was a really important rock music venue in the late 1960s and played host to pretty much all of the top draws of the day, including Fleetwood Mac, Jethro Tull, Ten Years After, Joe Cocker & The Grease Band, Traffic and Led Zeppelin.
The venue opened in early March 1968. However, music researcher Alan Clayson's book on The Yardbirds (a group from the local area), lists two gigs from 1964:
20 January 1964 – The Yardbirds
27 January 1964 – The Yardbirds
It looks like from the advert below that the venue was changed due to popular demand.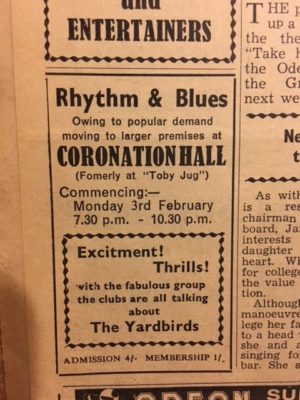 The following gigs are sourced from listings in the Kingston & Malden Borough News.  Mick Capewell's Marmalade Skies was also a great resource.
I would welcome any additions in the comments below and also any memories of artists that played there.
13 March 1968 – Fleetwood Mac
20 March 1968 – Aynsley Dunbar's Retaliation
27 March 1968 – John Mayall's Bluesbreakers
10 April 1968 – Champion Jack Dupree and Black Cat Bones
17 April 1968 – Fleetwood Mac and Chicken Shack
8 May 1968 – Aynsley Dunbar's Retaliation
15 May 1968 – Captain Beefheart & His Magic Band
22 May 1968 – John Mayall's Bluesbreakers
5 June 1968 – Savoy Brown
12 June 1968 – Jethro Tull
19 June 1968 – Chicken Shack
26 June 1968 – Keef Hartley (or was this 24 June?)
3 July 1968 – Taste
10 July 1968 – Family
17 July 1968 – Jethro Tull
24 July 1968 – Chicken Shack
31 July 1968 – John Dummer Blues Band
7 August 1968 – Ten Years After
14 August 1968 – Taste
21 August 1968 – Jethro Tull
28 August 1968 – Savoy Brown
4 September 1968 – Traffic
11 September 1968 – Fleetwood Mac
18 September 1968 – Ten Years After (or was this Taste?)
3 October 1968 – The Nice
9 October 1968 – Jethro Tull
16 October 1968 – Jethro Tull
23 October 1968 – Colosseum
10 November 1968 – Timebox
13 November 1968 – Fleetwood Mac
17 November 1968 – Joe Cocker & The Grease Band
20 November 1968 – Blossom Toes
4 December 1968 – Taste
11 December 1968 – Bobby Parker and Chicken Shack
15 December 1968 – Bandwagon
18 December 1968 – John Mayall's Bluesbreakers
22 December 1968 – The Drifters