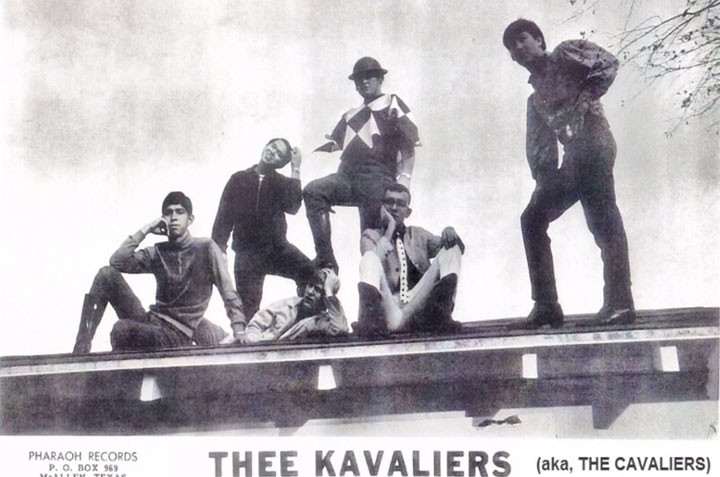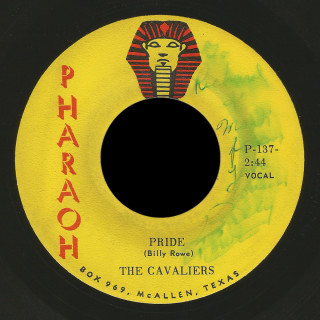 Thee Kavaliers had four singles on the Pharaoh label, the most releases of any artist on that label.
Their first was under the plainer moniker The Cavaliers and features a good garage vocal composed by Billy Rowe backed with the surf instrumental "Sea Weed", composed by Frank Barrera. My copy has an inscription by Billy Rowe on the A-side that unfortunately got smeared to near-illegibility before I came to own it.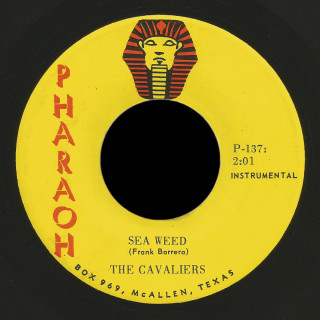 I'm not sure who played what instrument or exactly who was in the band. Billy Rowe must have been in the group, at least early on, and Javier Rios became their leader and wrote or co-wrote most of their original songs on their records as Thee Kavaliers. A clipping (see below) includes Mike Dunn, Gary Vandiver, Jeanne Hatfield, Richard Mancilla and an unidentified person as the Cavaliers. Frank Barrera's name isn't included but shows up on at least two of their songs as composer. The photo at top shows six members, and doesn't include Jeanne Hatfield.
I don't think Thee Kavaliers backed Jeanne Hatfield on her single on Pharaoh, which features a keyboard prominently.
In any case, they were a strong group with a wide repertoire. "Congregation for Anti-Flirts, Inc" is considered their best work, but all of it is strong. "Symbols of Sin" is a take on "Land of 1,000 Dances" but really gets moving once the guitar break starts.
Pharaoh 137 – The Cavaliers – "Pride" (Billy Rowe) / "Sea Weed" (Frank Barrera) (Oct. '65)
Pharaoh 146 – Thee Kavaliers – "That Hurts" / "Symbols of Sin" (both by Javier Rios, July '66)
Pharaoh 150 – Thee Kavaliers – "The Last Four Words" / "Ballad Of Thee Kavaliers" (Sept. '66)
Pharaoh 154 – Thee Kavaliers – "Congregation for Anti-Flirts, Inc" / "Back to You" (Jan. '67)
Their entire output of eight songs, along with songs by other bands from Pharaoh, can be found on the Cicadelic CD Congregation for Anti-Flirts: The McAllen, Texas Teen Scene 1965-67.
David Lott of the Souls sent in the clipping below, featuring the Souls with the Marauders and the Cavaliers: