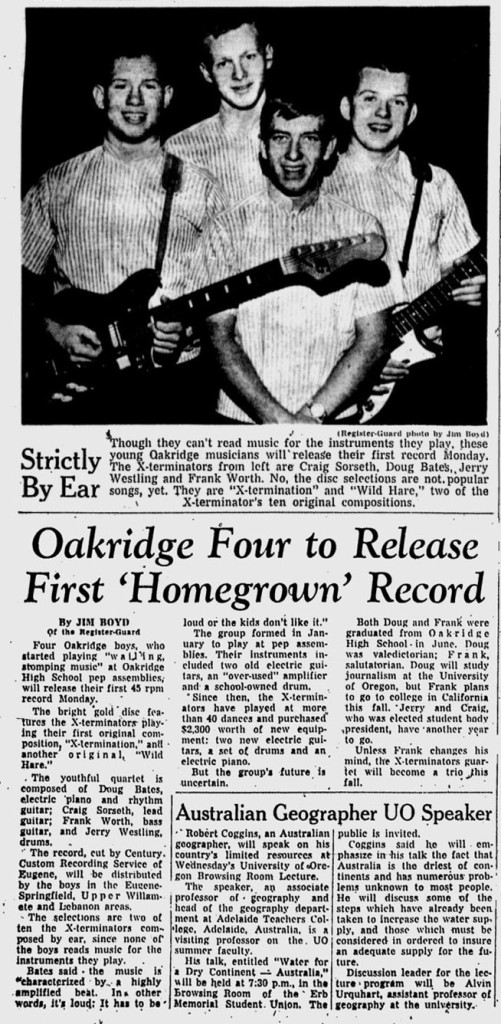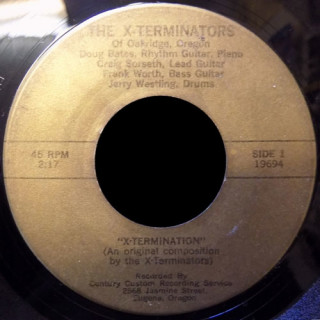 The X-Terminators came from Oakridge, Oregon, a small town about 40 miles southeast of Eugene, OR. I don't have this 45 yet (if anyone has a copy please write to me) but came across this article and thought I'd write about the band.
Members were:
Craig Sorseth – lead guitar
Doug Bates – rhythm guitar, electric piano
Frank Worth – bass guitar
Jerry Westling – drums
The group formed in high school in January 1964. About six months later they went to Century Custom Recording Service in Eugene and cut two great original instrumentals, "X-Termination" and "Wild Hare" You can find both on Youtube, but for some reason slowed down by roughly 10%.
An article in the Register-Guard from July 1964 says "the selections are two of ten [original songs] the X-terminators composed by ear, since none of the boys read music for the instruments they play."
With two of the members going to college in the fall, it's unlikely the band stayed together much longer.