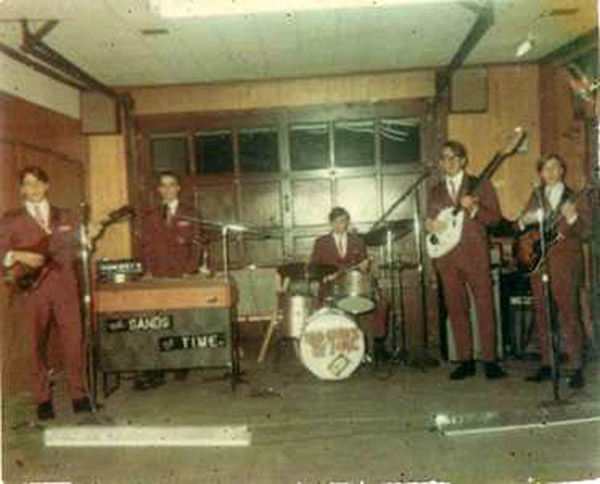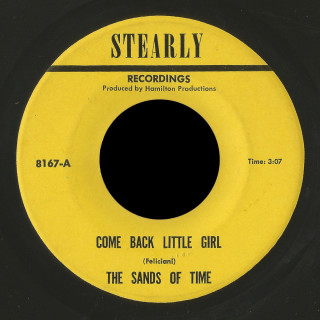 The Sands of Time came from Philadelphia, Pennsylvania, and recorded one single on Stearly Records 8167 in August, 1967.
"Come Back Little Girl", written by Feliciani, has a catchy intro with a distorted treble guitar sound.
The singer breathlessly calls out the lyrics to the flip "When She Crys For Me", written by Ellis, with more cool buzzing guitar between verses. Bill Hamilton of Hamilton Productions produced the single.
I didn't know the members' names or anything much about the band until I heard from Mike Marr:
"Here is the earliest picture of the band, Bill Ellis (top right) and Joe Feliciani (bottom right). The accordionist did not stay very long with the band."

At the time of this recording I was the bass player in the Sands of Time; the band members were:Joe Feliciani – lead guitar and vocals
Bill Ellis – rhythm guitar and vocals
John Furterer – drums and vocals
Art Bernie – organ
Mike Marr – bass

The original band members were all neighborhood friends. Back in the mid to late 60's everybody wanted to play guitar. We would play in someone's basement or living room. I guess you could say the band was officially organized by an older man named John Mullins who knew Joe Feliciani's father.

Sands Of Time at Scanlon Recreation Center, Philadelphia, May or June, 1967

This was a picture [above] of our first playing job. It was at Scanlon Recreation Center in Philadelphia. I think this was taken May or June of 1967.

Art Bernie joined the band a few weeks after this picture was taken and he was from that neighborhood (Kensington) in Philadelphia.

The Sands of Time, circa 1967-8

We were ages fourteen to sixteen at the time of the recording. It was done at a studio in Camden New Jersey that was in a motel on Admiral Wilson Blvd. It was the Oasis Motel and the studio may have been named Palmer Studios.The name Stearly Recordings was chosen because it was the street where our crowd of friends lived and hung out. I don't remember [producer] Bill Hamilton. It is possible that he knew and dealt with John Mullins who acted as our manager at the time.

That is a Vox bass. Later I bought a White Gibson EB3 (very rare color). I also had a fretless Dan Armstrong (clear body). The band evolved with other members as time went on but no other recordings were ever made.

The Sands of Time, circa 1967-8

These pictures [at right] show Art Bernie the organist but Joe Feliciani was no longer in the band and was replaced by Rick Sutcliff, and Bill Ellis remained for another year.This would have been Fall of 1967 and Winter of 1968. There was more evolution but this was the band at the time of the record recording and soon after.

Mike Marr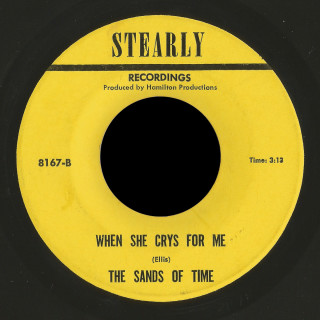 This band has no connection to the Sands of Time who recorded Red Light on Sterling Award records out of New York.