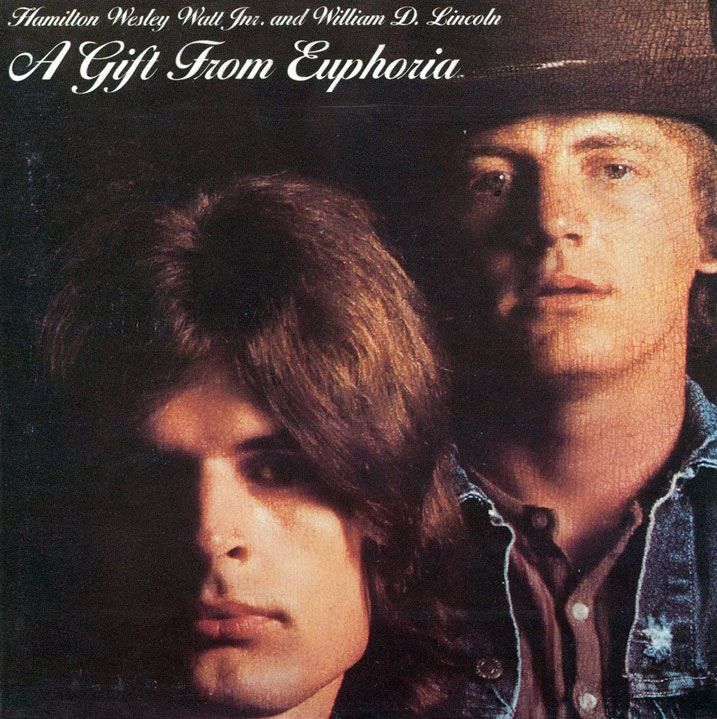 Much has been written about Euphoria's legendary album A Gift from Euphoria. This article focuses instead on the various releases the band members did prior to the LP and the connections to other bands I've covered on this site.
Euphoria had its start as a Cleveland band with David Potter and Wesley Watt called the Bushmen. Although it was thought that the Bushmen was a separate group from Wesley Watt's projects prior to Euphoria, David Potter's bio states:
After playing drums at the club [the Clinton Bar in Cleveland, OH] for three months, Wesley Watt, a guitar player came in looking for a drummer for a group he wanted to put together, The Bushman [sic]. When he heard David he knew he was the one. David turned sixteen in January and in May, David, Wesley, Paul Armstrong, and Carl Johnson left for Los Angeles to make their mark. On arriving in L.A. they immediately became the house band for the club, Guys and Dolls.

After only eight weeks they signed a contract with Colpix records, also signing with Buck Ram, the manager of the Platters. Their first single was "Baby" with "What I Have I'll Give to You" on the flip side.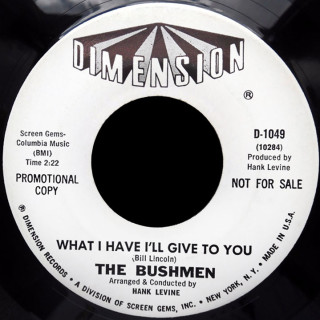 The Bushmen had one release "Baby" / "What I Have I'll Give to You" on Dimension 1049 in June of '65. Dimension Records was part of the Columbia Pictures / Colpix company at this time.
Bill Lincoln had relocated from Seattle to Los Angeles. He must have been in the group at this point as he is the composer of "What I Have I'll Give to You".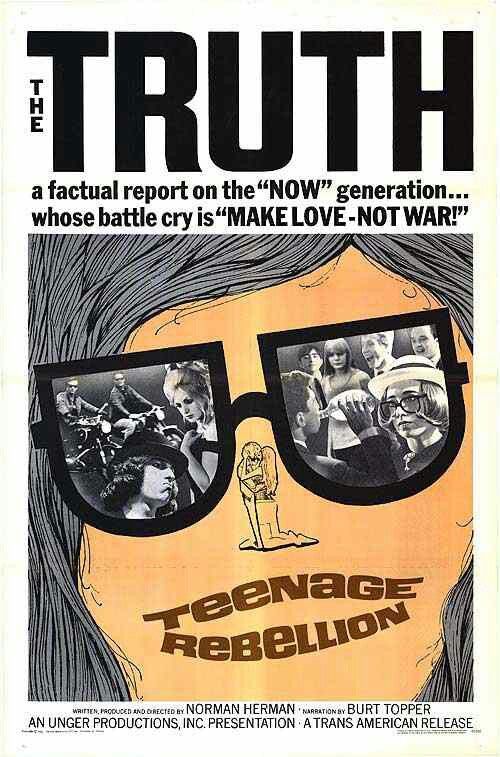 Potter's bio continues:
The Bushman [sic] were getting a lot of notoriety and attention from all over, including film producer David L. Wolper. He was looking for bands for a documentary about to start filming, Teenage Revolution. They approached Buck Ram about The Bushman being the premiere band for the documentary. Wolper wanted to show what bands went through while traveling around the country from gig to gig. (Along with The Bushman being were about four other bands, one being The Lovin' Spoonful.) About a month later Buck set up a live gig in Lancaster CA where they filmed their part of Teenage Revolution.
A portion of Mondo Teeno aka The Teenage Revolution is online. I hear music that may be the Bushmen, but haven't seen any footage of the band.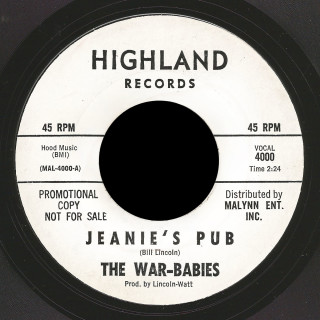 In addition to the Bushmen single, Watt and Lincoln recorded their original songs as the War-Babies "Jeanie's Pub" / "Love Is Love" (Highland 4000, August 1965).
The War-Babies recorded another two songs, "Now It's Over" / "So Little Time" but these came out under the name The Word on Brent 704.
Although I've read that the Bushmen came after the War-Babies and Word singles, release dates suggest the Bushmen single came first.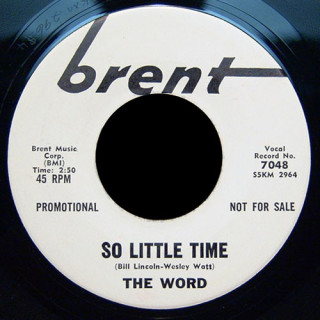 Potter's bio continues:
After filming the documentary, David, Wesley, and Bill Lincoln wanted to do their own thing. Now seasoned professionals and highly respected musicians they wanted to play and record their own music. With the chance so did their name, to Euphoria. The newly named group spent all their time playing, touring, and recording material that would lead to two of the groups albums. During a successful tour in Texas, their single. "Baby", released when they were The Bushman [sic], went to #7 on the charts, staying there for seven weeks.
The newly-named Euphoria added Pat Connolly of the Surfaris on bass by the time they toured Texas in 1966. Bill Lincoln left the group when he married and moved to England, though he would rejoin Wesley Watt within a year or two for Euphoria's 1969 album on Capitol. Connolly also left so Watts brought in James Harrell on guitar and Peter Black on bass, both of the legendary Houston group the Misfits. I believe David Potter was still playing drums with the group at this point, but it may have been Steve Webb of the Misfits.
This group recorded some tracks at Andrus Productions in Houston, including "Pick It Up", "In Time", "Walking The Dog" and "Oh Dear, You Look Like a Dog", none of which surfaced until Texas Archive Recordings released the LP Houston Hallucinations in 1982. The band had other unreleased Texas recordings which await reissue, including "People You and Me" which has some similarity to Da Capo era Love.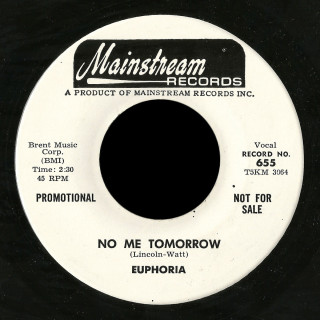 Back in L.A., Bob Shad of Brent & Mainstream Records brought the group into United Studios in Hollywood to record four songs in one session. Shad issued two of these (with vocals re-recorded at additional sessions), "Hungry Women" and "No Me Tomorrow" on Mainstream 655, but two originals by James Harrell, "I Realize" and "It Could Do Us No Wrong" were left unreleased and eventually lost. The single would reappear on the Mainstream compilation LP With Love – A Pot of Flowers in 1967.
Despite a good push from Bob Shad, the single didn't make much of an impact and the group broke up. James Harrell and Pete Black went back to Texas and rejoined the Misfits, changing the name to the Lost and Found.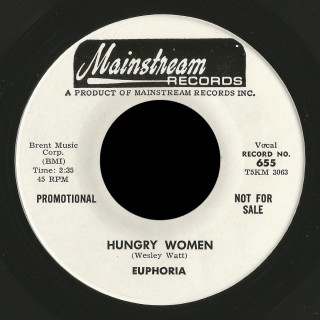 Potter and Watt joined Lee Michaels band where they played on Michaels' album Carnival of Life with Gary Davis and John Keski.
Potter joined the East Side Kids in time to play on their album The Tiger and the Lamb, which featured one of his original songs as well as two by Wesley Watt, "Heavy Love" and "Can't Feel Love".
Bill Lincoln had returned by this time. He and Watt worked for almost two years on what would become their album A Gift from Euphoria on Capitol in 1969, produced by Nick Venet. According to his bio, Potter also played on the album. Guitarist Doug Delain is also listed in credits for the LP.
After recording the East Side Kids The Tiger and the Lamb album, Potter moved to Houston and joined with Endle St. Cloud (Alan Mellinger) for his album on International Artists, which also included Pete Black and James Harrell of the Lost & Found. They moved back to LA to for the Potter St. Cloud LP on Mediarts in 1971.
David Potter passed away in 2011, but there was a detailed biography about him at his website, davidpottermusician.com (now defunct but viewable on the Internet Archive).
Watt and Lincoln co-produced and played on Bernie Schwartz's solo album The Wheel, released on MGM in late 1969, which features a version of their song "Sunshine Woman" that had been on Euphoria's Capitol LP.
Potter, Watt and Lincoln all continued in music into the early '70s. For example, Potter and Watt played on Daniel Moore's 1971 ABC album, and Watt played guitar on Dory Previn's 1971 Mediarts album Mythical Kings and Iguanas.
Hamilton Wesley Watt, Jr. passed away on February 20, 2015 in Sheboygan, Wisconsin.
Bill Lincoln recorded an album with his wife Lynda and friends as Addie Pray. Late for the Dance went unreleased for years but is now available on www.cdbaby.com/cd/addiepray.
Sources include Alec Palao's liner notes to the Big Beat CD release of With Love – A Pot of Flowers.