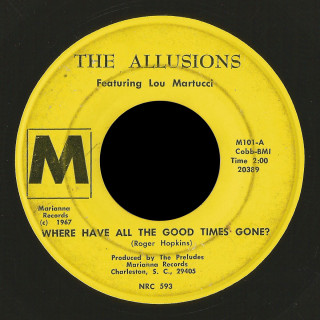 Here's a very good and obscure single by the Allusions featuring Lou Martucci. "Where Have All the Good Times Gone" is an original song with fuzz guitar, not the Kinks tune, the flip is "Burnin' For Your Lovin'". Roger Hopkins wrote both songs, released on the Marianna label in October, 1967.
The Allusions label reads "Produced by the Preludes". The year before, in August 1966, the Preludes featuring Lou Martucci released a single on Hopkins' Little Nashville label, based out of 1610 Poinsettia Rd. in Charleston, South Carolina. The songs are another original by Hopkins, "On My Lovin" b/w an original by Martucci, "Would You Believe".
Lou Martucci wrote to the That's All Rite site with a lot of info about the group. Members were:
Lou Martucci – lead vocals
Joe Opatsky – lead guitar
Al Knox – rhythm guitar
Butch Chevalier – bass
Al Moreno – drums
I assume the Preludes and the Allusions were more or less the same group. The Preludes is a Rite pressing, while the Allusions 45 deadwax reads "NRC 1914 Marianna 593A 20389".
As Lou Martucci noted on That's All Rite, drummer Al Moreno passed away in Vietnam, Roger Hopkins in a car accident in the '60s.
Hopkins was the Preludes' manager, his associate Boyd Cobb published the songs for both singles with Cobb BMI. Hopkins had his own single with the Chevelles on Little Country LN-0779, "Ronda Road Runner" (Tommy Nation) / "I Made Her That Way", musical backing by the Centuries. He also had a country single on the related Evergreen label, "Crawling Back to You" / "Ask the Man Who Owns One".