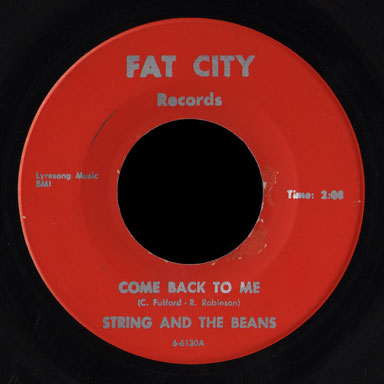 String & the Beans have this one fine record from 1966. The reverb-laden ballad "Come Back To Me" reaches its peak with the guitar solo that takes the song out. On the flip is the upbeat "When I Get That Feeling".
Both songs were written by Craig Fulford and Robert Robinson (a mistake – it should have been Robert Robertson) according to the label credits.
For some time there was confusion as to whether the band was from Alabama, or Georgia (the base for Lyresong publishing) or even Minnesota, as this 45 was pressed at Minneapolis' Kaybank studios (indicated by the number 6-6130, a type of indexing which was used on other 45s recorded there, notably records released on Kaybank's Studio City label).
Since writing this post, I heard from the band's drummer, Louis Gigis. Louis wrote this history of the group:
I was the drummer for String and the Beans aka The Showmen from Birmingham.

In 1962 there were seven members of The Showmen Band. Louis Gigis drummer, Craig Fulford lead guitar, Sam McDavid rhythm guitar, Chuck Butterworth bass, Kent Donovan keyboards, Bill Burns lead vocals and Robby Robertson back up vocals. I went to Woodlawn High School in Birmingham and everybody else went to Shades Valley except Bill Burns, he went to Ramsey. We all had other groups that we were playing in and would go around town to hear other bands play when we weren't playing. That is how we got to know each other and pieced together the band and called it The Showmen because we each each put on pretty good shows in our other bands.

We were an instant hit among the high schools in Alabama. In 1962 we were making $100 each for a night of playing, that was like $1,000 now. We were so popular that when we played at Sidney Lanier High School in Montgomery, Alabama we couln't get off the stage withour being mobbed. We must haved played Louie Louie by the Kingsmen twenty times. We also played at high schools, sock hops and the college circuit, where the kids said we looked like a new band from England called The Beatles. Well, we had the same hair cuts before we even knew who the Beatles were.

After a while we had a few changes in the band, Bill Burns left for the Navy and Robby Robertson took over as lead singer and Craig and Sam did harmony. There was a time when we called ourselves The Showmen + 6, we had six singers out front doing shows like James Brown, The Temps and Tops and others but we were really getting the cost up, so we went back to Robby alone.

We all wrote songs and decided on two songs that we liked the most to try and record. Those were "Come Back to Me" and "When I Get That Feeling" on the flip side. We had heard of a recording studio in Atlanta named Master Sound Recording which later was changed to Lowery Studios owned by Bill Lowery (now departed). We could record our music there for $35 per hour with Bill Lowery being the producer. When we got in the studio to record the songs our keyboard man Kent didn't show, he was sick. Instead of cancelling the session Bill Lowery called a piano player, she was about as old as our grandmothers but she could play a hell of a piano. She didn't have to rehearse the songs but once. and we recorded the songs in about three takes including some dubbing.

Our name came about when we recorded the record and there was already a band called the Showmen. In the studio that day was Billy Joe Royal and Joe South, they came up with the name because Robby Robertson was really tall and skinny. We came up with the name Fat City Records from when we played in Fat City which the real name is Metarie, outside of New Orleans.

Our record came out at the same time "Double Shot" by the Swinging Medallions came out and outsold them in Alabama by 2 to 1, but we didn't get picked up by a major label because we had beat up on local DJ Dave Roddy after we didn't get paid for a gig that we played in that included the Medallions, Chambrays and Markees [Marquees]. That was a mistake, he was a pretty big man on the radio circuit.

Bill Lowery liked our band so much that he wanted to sign us to a contract and give us free studio time. Bill had already made hits of The Tams, Joe South, Billy Joe Royal and a few others. So we went back to Atlanta and recorded some more original stuff. All the songs were sent back to us in Birmingham on reel to reel and had horns, strings and back up singers dubbed in, man what a sound, we were on our way.

One day I was laying out by the pool at some apartments and heard one of our songs on the radio but it wasn't us playing it. I called Craig and told him about it and he called Lowery. Bill said that he let a new singer named Ronnie Prophet record it since he was under a previous contract. Lowery said he owned our music and could do that.

We didn't like that too much so we cancelled our contract and signed with Hit Attractions from Charlotte N.C. Most of our jobs were being the back up band for The Tams. We did that for a year and got bored with each other and decided to go our separate ways. We still lliked each other and still do, but we were growing up and had wives and kids; I was 21.

I kept playing for about six more years and played with acts like Steve Alaimo in Tampa, Billy Joe Royal, Steve Purdy, The Premiers.

Louis Gigis
Robbie Robertson added:
I was co author of "Come Back to Me" with Craig Fulford. The misspelled record label was not redone and corrected because typically teenage thinking was to hurry up and get this out! The label name of Fat City was chosen because we were booking through Ted Hall at Hit Attractions out of Charlotte, NC. Charlotte was called the Fat City at the time.

I have the original master tape and have actually thought about recutting the lead vocal to change a few lyrics. I was lead singer of the group and find that an interesting idea.

I sang lead on our later cut, "Talk Don't Bother Me" which Craig and I also wrote.

Robbie Robertson