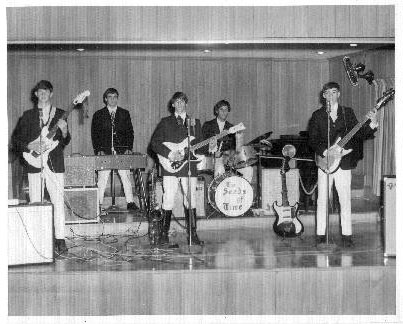 Mike Lewis and Craig Weidenheimer had been playing with a largely instrumental group at their high school in Monroeville, Alabama, a town about halfway between Mobile and Montgomery. Mike was lead guitarist and Craig played bass and sang. When the older members graduated, Mike and Craig brought in friends Lee Howington (keyboards), Jim Harper (rhythm guitar and sax), and Mike McMillon (drums) and started playing Beatles-influenced rock, first as Robin and His hoods and then as the Seeds of Time.
At shows they played alongside the Rubber Band, the K-Otics, the Phaetons and the Rockin' Gibralters. Although they gigged regularly, without a manager or and ties to promoters, the band never had a footing in radio or large club bookings. In an interview with Mike Dugo, Craig Weidenheimer spoke about live shows: "We played fraternity parties, bars (even though we were under age), and school dances but mostly we went from town to town with our record and paid the local DJ's to play our record. To get them to do it sometimes we would go in and play live to help promote the record. It was something to get on the radio and then everyone wanted to hear live bands. So we would rent an Armory or VFW hall and put up posters that we were coming to town (like the circus) and sometimes we could get large crowds. There was not much else to do. We were referred to as The Seeds by most people, so when the band called The Seeds came out with 'Pushin' Too Hard' there was some confusion. We actually played the song, so as not to disappoint."
In 1966 they went into a studio in Montgomery usually used for recording jingles. The band cut two original songs by Mike Lewis, recording live with two vocal mics and doing about three takes for each song. The sound is primitive but each instrument can be heard, if distantly and with some distortion on the vocals. "She's Been Travelin' 'Round the World" is the standout due to Mike McMillon's quick drum beats, thumping bass playing from Craig, Mike Lewis frantically bending the guitar strings into odd note combinations, and a queasy organ sound. Shouting the lyrics in unison, the vocals drive the needles into the red and make it hard to decipher the lyrics.
The flip, "Gina" has a melancholy quality from the organ and the distant vocals that has grown on me. The next year the band recorded a second 45 at a studio in New Orleans that I haven't heard: "Twelfth's Night Indication" / "Shadow In My Mind", two more originals by Mike Lewis. Other demos cut at Fame Studios in Muscle Shoals have been lost. By this time they had added Mike Tatum on trumpet.
With members going to college the Seeds of Time broke up. Craig Weidenheimer and Mike McMillon had a college band called Mfinger with Jere Ellis of the Rubber Band. Mike Lewis stayed in the music business for good. After college he moved to Atlanta and formed Brick Wall, with one 45 on Capitol, "Poor Mary Has Drowned," then joined the Devil's Brigade (one 45 on Mainstream) and moved to LA. Dick Dodd asked him to form a band to tour as the Standells opening for the Grassroots. When that ended, the band, without Dodd evolved into Joshua (an LP on AVI). He started subbing for Nicky Hopkins in Quicksilver Messenger Service, joining the band full time in 1972. Later on he produced successful disco records and soundtracks.
Sources include: Photos and info from Mike Dugo's interview with Craig Weidenheimer, and John Barthel's interview with Michael Lewis.