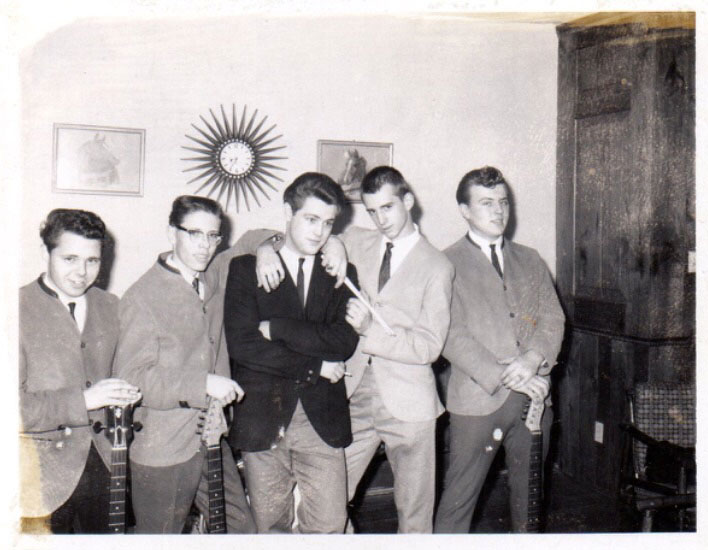 Ronnie Hellard – vocals
Ronnie Mobley – rhythm guitar (Fender Jazzmaster)
Ricky Hackworth – drums
Ronnie Wilson – bass guitar (Gibson EBO)
Ronnie Moore – lead guitar (Fender Telecaster)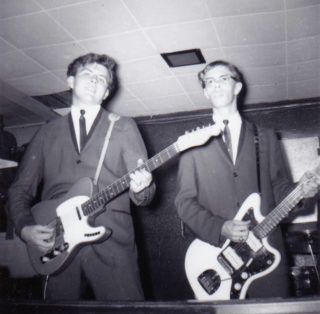 Ronnie & the Sinsashuns were a teenbeat/surf/rockin' combo formed in '62 around Versailles, Kentucky just outside of the small college town of Lexington, Ky.
Vocalist Ronnie Hellard was born and raised in Versailles, Ky. Ronnie Mobley was born and raised in Lexington and moved to Woodford County in 1962; he played a Fender Jazzmaster he bought from local rock n' roll singer Jimmy Lee Ballard, who recorded for REM.
Drummer Ricky Hackworth and Ronnie Wilson were both from Lexington, and lead guitarist Ronnie Moore came from Woodford County.
Ron Mobley recounts his memory of how the band started in his own words:
"I was 15, all the others were 16 except Hellard, who was 18 when the group formed.  I met Moore at Woodford County High School in 1962.  He knew of a singer and contacted Hellard.  Moore had met Larry Wilson, a good Lexington guitarist and brother of Ronnie Wilson, so we got him on bass and he knew of a drummer, Ricky Hackworth."
"Our initial rehearsals were at Ricky Hackworth's parents' home. We all lived with our parents in 1962.  Moore and Hellard had cars and drivers licenses, so they transported the rest of us and our gear."
"The first time the band received recognition was when we competed in a "Battle of the Bands" in Lexington and won. There,  Bill Stakelin, a student at Georgetown College and part-time disc jockey at a daylight to dark AM radio station WAXU in Georgetown heard us play. He had been booking The Castaways, a group that attended his college.  He approached us and asked to represent us and we agreed; a move that was not popular with The Castaways.  He kept us busy with frat parties and events during the school year and in the bars during the summer months.  We were all under age but the bar owners didn't care because we attracted customers."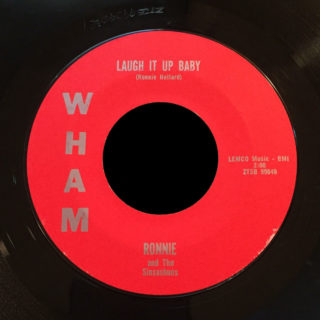 They recorded and released one 45 in the summer of '64, both original sides penned by Ronnie Hellard and the band. Recorded in Lexington at Lemco Studio, it has a heavy reverb'd production quality and was released on the band's own custom moniker through Lemco, on the WHAM label – named after neighboring Ohio rocker Lonnie Mack's song on Fraternity. It is noted that the 45 is the first 2-sided vocal release to come out on a Lemco label – all previous releases having an instrumental b-side.
"Laugh It Up Baby" is the rockin' side- it has a cool country drawl on the playful lyrics, back-up vocal group chatter, reverb'd guitar and production, handclaps, along with a raucous scream by guitarist Ronnie Moore right before his blistering guitar break.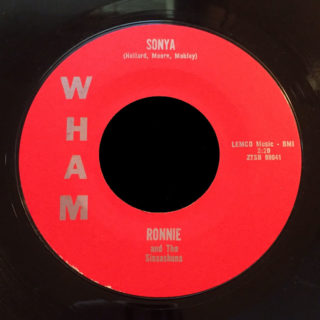 "Sonya" is the ballad side penned by Hellard, Moore and Mobley- it has a nice laid-back rhumba-beat, with a sparse guitar break, exotic drums and pleading vocals.  The song is said to have been written about the prettiest girl in Woodford County who just happened to also be the daughter of a local deputy state trooper.
The group had previously recorded an Audiodisc 5-song 12″ acetate at WVLK, a local radio station situated in the top of the Lafayette Hotel on Main Street in Lexington.  This record contains 3 vocal tracks- "True Fine Mama" – "Pretty Girls Everywhere" and "Peepin' and Hidin'" along with two tasty surf instrumentals called "Caliente" and "San Jose". This demo was recorded on January 20th 1964,  shortly before they recorded their original sides at Lemco.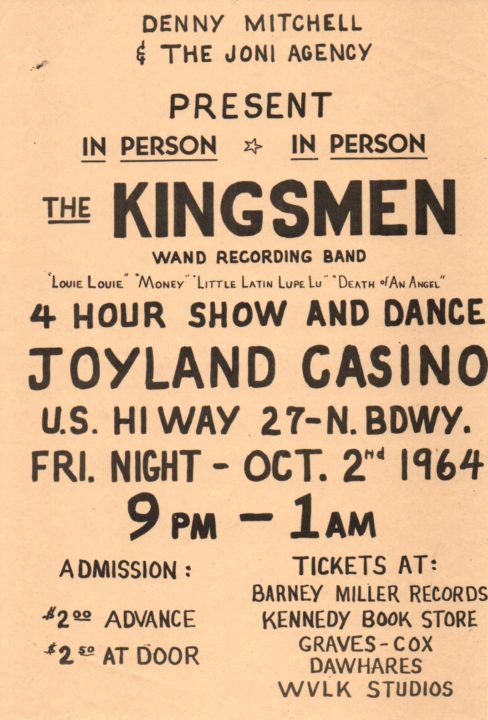 Ronnie & the Sinsashuns had a regular presence around Lexington performing at Danceland, The Palms and on The Nick Clooney Show to name a few. They also did a brief tour up through Ohio and Indiana to promote the record. They competed in and and won local Battle of the Bands competitions and were well plugged and promoted  by WVLK.
They were the featured opening band for shows with the Kingsmen and Bo Diddley on the stage at Joyland, a popular amusement park on the north end of Lexington,  circa 1964. In recent interview, Mobley jokingly commented that the Kingsmen only knew about four songs and the Sinsashuns had to play longer to fill out the concert's bill. He also noted that Bo Diddley was a super nice guy and even sent him a Christmas card that following year.  Joyland Park closed down soon after the Kingsmen show and was destroyed by fire in June, 1965.
Ronnie Mobley (rhythm guitarist for the Sinsashuns), who was very in-demand around town, once was called-in as a last minute player for a rockin' Conway Twitty, circa '64, at a rough joint called The Palms – another memorable moment and highlight of the band's short career.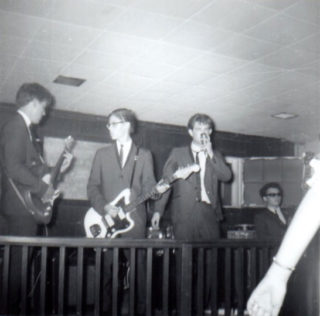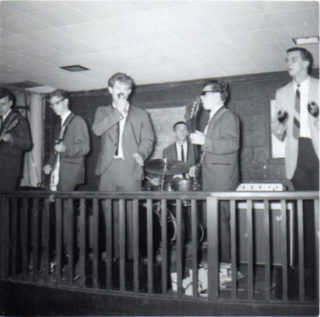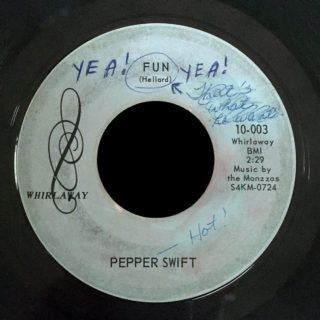 Ronnie Hellard made another similar sounding record, "My Yo-Yo" / "Fun" on the Whirlaway label in Lexington, Ky in 1965 as alter ego "Pepper Swift" with a backing band called the Monzzas, having no known relationship to the Sinsashuns. He later moved to Nashville and became a famous songwriter, penning tunes like "I'm No Stranger to the Rain" and many others.
Ronnie Mobley continued to play music and became an accomplished mandolin player in a professional bluegrass group called Kentucky Blue, who toured all over the US, Europe and Japan- and released 5 albums during their career.
Ricky Hackworth continued playing drums and toured professionally with the Charlie Daniels Band, David Allen Coe, Johnny Paycheck and others. He died in 2004.
Ronnie Moore became a barber and co-owned his own shop, was a US Navy Vietnam veteran and died in 2015 at the age of 69.
Ronnie Wilson is deceased; it is unknown at this time what he went on to do after playing bass with the Sinsashuns.