I can only find half a dozen releases to list for the Rally label. In the notes from the Bacchus Archives CD Let's Talk About Girls! Music from Tucson Manny Freiser of the Grodes recalls John Fisher as a disc promotion man who owned the Rally and Current record labels. Current was likely Fisher's, as his name is all over those labels as producer, but I can't find Fisher's name on any of Rally's labels, instead there are other producers: Bob Todd, George Motola, Joe Saraceno, Tony Butala and Dan Gates.
Billy Quarles' "Bringing Up What I've Done Wrong" was picked up by Columbia (as "Quit Bringing Up What I've Done Wrong". The flip is listed as by Billy & the Ar-Kets and is an excellent r&b popcorn number.
Beverly Noble's "Better Off Without You" is a Gold Star studio production, with string arrangements and Spector-like effects.
Hillary Hokum's 45 is very pop and not my cup of tea. I believe this is Suzi Jane Hokum, it does sound like her.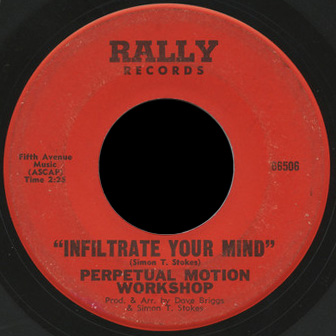 The Agents were an obscure band from somewhere in the Los Angeles area. I don't know who was in the group. I had a post on them up for years that received no comments, so maybe the name is a front for another band or studio group. "Gotta Help Me" is a stomping couple minutes of garage pop. The flip is a ballad, "Calling An Angel".
Each side has its own set of producers and are very different in sound, I could doubt it's the same group of musicians. "Gotta Help Me" was written by Richards, Todd, Markey and Shay, and produced by Markey and Todd. "Calling An Angel" was written by Johnny MacRae and Bob Todd, and produced by Todd and Tony Butala.
The Grodes' "Love Is A Sad Song" / "I've Lost My Way" comes about mid-way in their discography. The flip is one of my favorite slower-tempo garage songs.
The Perpetual Motion Workshop single comes over a year after the previous Rally release, and possibly represents a different label altogether. In any case, it's a great single.
Rally Records 45 discography
possibly incomplete – any help would be appreciated
Rally 501- Billy Quarles "Bringing Up What I've Done Wrong" (Lanny and Robert Duncan, Wrist Music BMI) / Billy & the Ar-Kets "Little Archie" (prod. by Joe Saraceno, arr. by Rene Hall)
Rally 502 – Beverly Noble "Better Off Without You" (George Motola – Ricky Page, Wrist-Rickland Music BMI)) / "Love of My Life" (G. Motola) – produced by Motola & Saraceno, arranged by Don Ralke
Rally 503 – Hillary Hokom (aka Suzi Jane Hokum) "Can't Let You Go" / "Tears of Joy" (Lanny Duncan, R. Duncan, Tonto Music, BMI) Prod. by Tony Butala and Bob Todd
Rally 504 – The Agents "Gotta Help Me" / "Calling An Angel" (Oct. '65)
Rally 505 – Grodes "Love Is a Sad Song" (M. Freiser, Lightswitch BMI) / "I've Lost My Way" (M. Freiser, Ramhorn Music BMI) (prod. by Dan Gates, May, 1966)
Rally 507 – The Senate – "Slippin' And Slidin'" / "Merry-Go-Round" (prod. Bob Todd & Bob Duncan) (need confirmation of this one)
Rally 66506/7 – Perpetual Motion Workshop "Infiltrate Your Mind" (Simon Stokes, Fifth Avenue Music BMI) / "Won't Come Down" (Dave Briggs, Cannon Music ASCAP) Prod. & arr. by Dave Briggs and Simon T. Stokes, Sept. '67)
Likely an unrelated label:
Rally R-1601 – Rico & the Ravens – "Don't You Know" (J. Foust, R. Martin) / "In My Heart"
Thank you to Max Waller for his contributions to this discography.