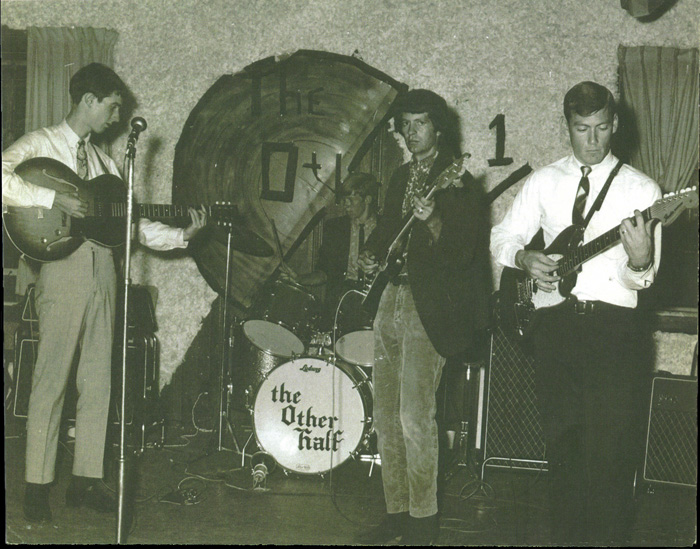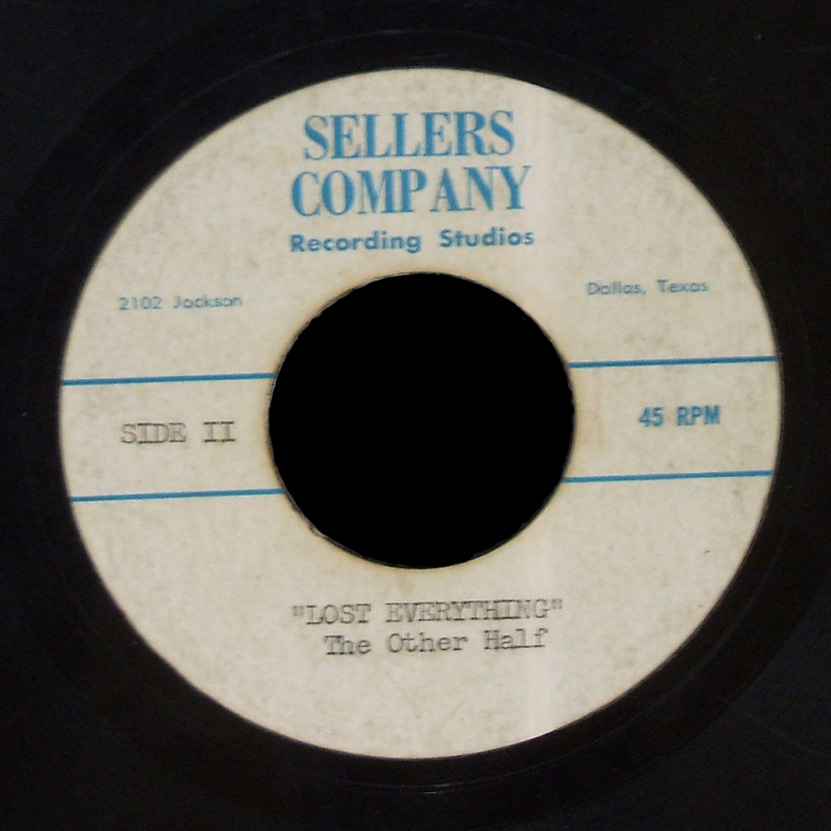 It's not often I hear unreleased songs that catch my attention as these two by the Other Half, a quintet from Greenville, Texas, about fifty miles NE of Dallas. "Severance Call" has excellent harmonies over a solid rhythm, fast bass runs, and a good guitar break without effects. "Lost Everything" is even better, as Phil Sudderth sings in as rough and gravely a voice as I've ever heard over staccato guitar chords.
Bassist and vocalist T A Tredway sent in the photos, music and story of the band:
We started The Other Half in Greenville, TX in 1965. T A Tredway (bass guitar, vocals), David Heath (lead guitar, vocals), Carroll Grant (rhythm guitar, vocals), Phil Sudderth (lead vocals, tambourine) and Alex Bauknight on drums.

I had been to a band practice and really didn't know anyone in the band (don't think they ever played a gig). Started talking to some people in the band and was asked to come back to listen to the next practice session so I agreed. I was not a musician, just fooled around with a six string with a little folk music. Come to find out at the next practice the band decided to break up. I started talking with David and Phil and said why don't we just start our own band, half kidding … but we started thinking seriously about it. I was 24 at the time.

David (age 17) was the drummer and Phil (age 18) sang but there was a young kid, Alex (age 14), who wanted to play drums so David decided he would play guitar and we would look for a lead guitar player. After a short time not being able to find a lead suited to what we wanted to do, David decided to play lead and we decided on Carroll (age 21) who had been to a couple of practices would fit right in.

David is the tall lanky kid playing the Gibson hollow body and Carroll is playing the Fender to the right in the pics. I was playing a metalic blue Mossrite Ventures bass all the time in the band. David and Carroll changed to a sunburst Gibson 335 and a Gibson cherry red 330E, respectfully, with Super Beatles and I had a Vox Bassman amp with two speaker cabinets. We had four Vox line speakers run through a 50 watt Bogen amp for our speaker system.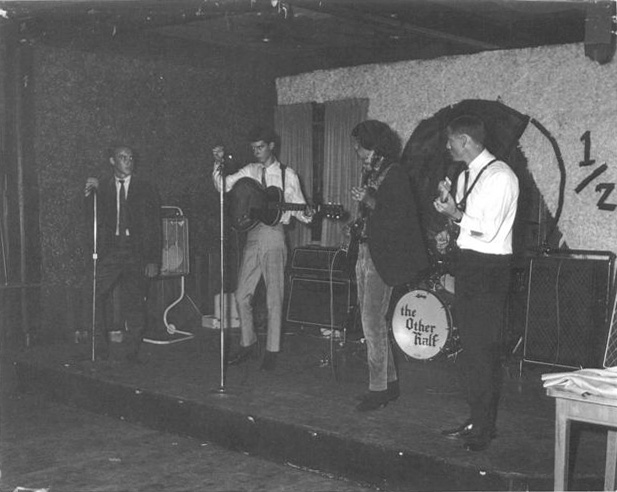 We were really in to The Rolling Stones because Phil sounded just like Jagger. We all loved and performed almost every song on their first 3 albums, "Round and Round," "Little Red Rooster," "You Can't Catch Me," "Route 66" etc.

We started getting jobs playing sorority and fraternity parties from ETSU in Commerce, renting our own halls in Greenville, and playing any benefits when we could. Through word of mouth, sororities at SMU heard about us and we started getting offers to play for them.

I think while playing one of those parties some one recommended we check on this club at Lovers and Greenville called Louann's. So we went there, auditioned and got to play there shortly after. Louann's had been a big band venue and decided to change to rock and roll. Then she asked us if we would consider being the house band during the summer of '66 and later asked if we would continue to be the house band in '67 which we also agreed to do. It was a great experience. We played Buffalo Springfield, Yardbirds, Beatles, The Who, Mamas and Papas, The Byrds, Sam and Dave, just about anything during those years but the Stones music was our mainstay. More than one person told us that we sounded better in person than The Stones sounded in person.

In '66 I think it was we recorded two sides at Robin Hood Brian's in Tyler, TX. I wrote the songs along with Phil and David. They always got great response when we played them live. We had some acetates done at Seller's studio in Dallas and I still have one of the 45s. They got a lot of play on KGVl in Greenvile and quite a bit of play by Ron Chapman at KLIF in Dallas.

In '67 Phil joined the army under suspicious circumstances and we were left without a lead singer. We found another guy from Greenville, Matt Tapp who sang with us for a while but it never was the same. We broke up late in '67 and I haven't seen or heard from anyone since then until a few weeks ago I got an email from Carroll who now lives in Sandy, Utah. It sure has been great talking about the fun we had in the 60's with The Other Half.

T A Tredway
Update, December 2010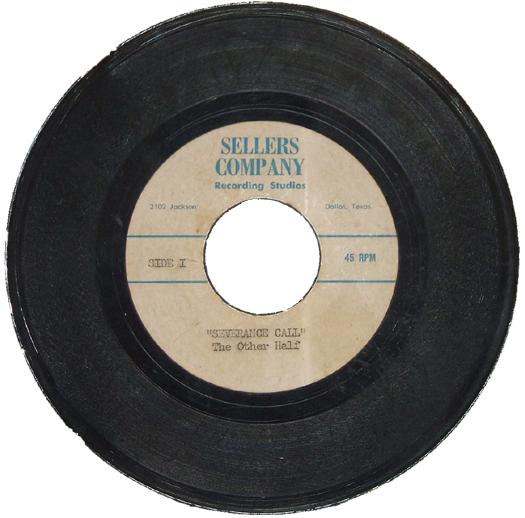 T A sent in a live set by the Other Half, recorded on reel to reel during a dance at the Greenville Country Club during the mid-60s. The set leans heavily on the Rolling Stones: four originals plus "Around and Around" and "Cry to Me", and the rest are by the Beatles, Kinks, Animals and Them, along with some US hits like "Little Latin Lupe Lu" and "Mustang Sally". I'm including a few here:
The Other Half – My Little Red Book
The Other Half – Satisfaction
The Other Half – If I Needed Someone
Sadly, T A reports that Phil Sudderth and Alex Bauknight have passed away.