The Originals recorded at least five 45s on the Van Recording label out of Angleton, Texas. Members were Gary King on lead guitar, Tommy King on bass, Ronnie Ellis rhythm guitar and George Shelton on drums.
Anyone have a photo of the group?
The Originals first 45 is "Scatter-Shot", a good instrumental written by lead guitarist Gary King, with a cover of Little Richard's "Lucille" on the flip. It was released in 1964.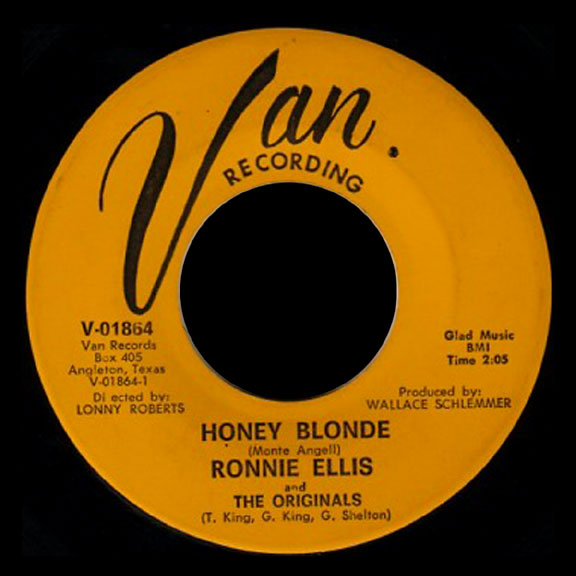 Their second (that I know of) is "Honey Blonde", released in December of 1964 with the artist listed as Ronnie Ellis and the Originals. The b-side is a ballad, "One Little Raindrop". Both songs were written by Monte Angell and produced by Wallace Schlemmer.
The third 45 features two rockin' instrumentals. "Stick Shift" '65 was written by Terry Simpson and Jessie Castor, lead guitarist and bassist, respectively, for the Raiders, who had scored a big local hit on Van with "Stick Shift" back in 1962. Gary King's original "Blast-Off!" is just as good as the top side.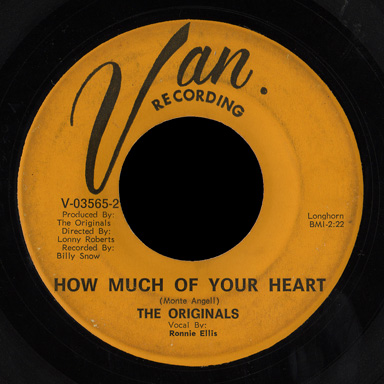 Their next had two more great instrumentals, "Night Flight" and "Comanche!":
Another ballad "Searching for Your Love" is the A-side of their last 45 that I'm aware of, written by Wayne Gust with vocals by Ronnie Ellis and George Shelton.
I prefer the flip, another Monte Angell composition, "How Much of Your Heart". Ronnie Ellis sings in a rough style while the guitars use heavy tremolo instead of the sharp sound on their earlier 45s. This one was recorded by Billy Snow and also recorded in 1965.
The Originals releases:
Scatter-Shot / Lucille (Van V-01464)
Honey Blonde / One Little Raindrop (Van V-01864), as "Ronnie Ellis and the Originals"
Stick Shift '65 / Blast-Off! (Van V-02165)
Night Flight / Comanche! (Van V-03065)
Searching for Love / How Much of Your Heart (Van V-03565)
Goodnight Little Sweetheart / The Right Way of Doing Things Wrong (Van V-02865) credited to simply "Ronnie Ellis"
Hop, Skip and Jump / No Love For Me (Van V-04066)
I Can't Forget / Old Enough to Break a Heart (D. McBride) (Van V-04166)
Each Night At Nine / Only Want a Buddy (Not a Sweetheart) (Van V-04266) as "Lonny Roberts & the Originals"
"Old Enough to Break a Heart" features vocals by Larry Weathers and Ronnie Ellis.
Gulf Coast Records compiled five of these songs on the LP Texas Guitars back in the '80s. Distortion during the first seconds of "Scatter Shot" seems to be present on original 45s and that LP.
For more on the Van label see the article I've posted here.