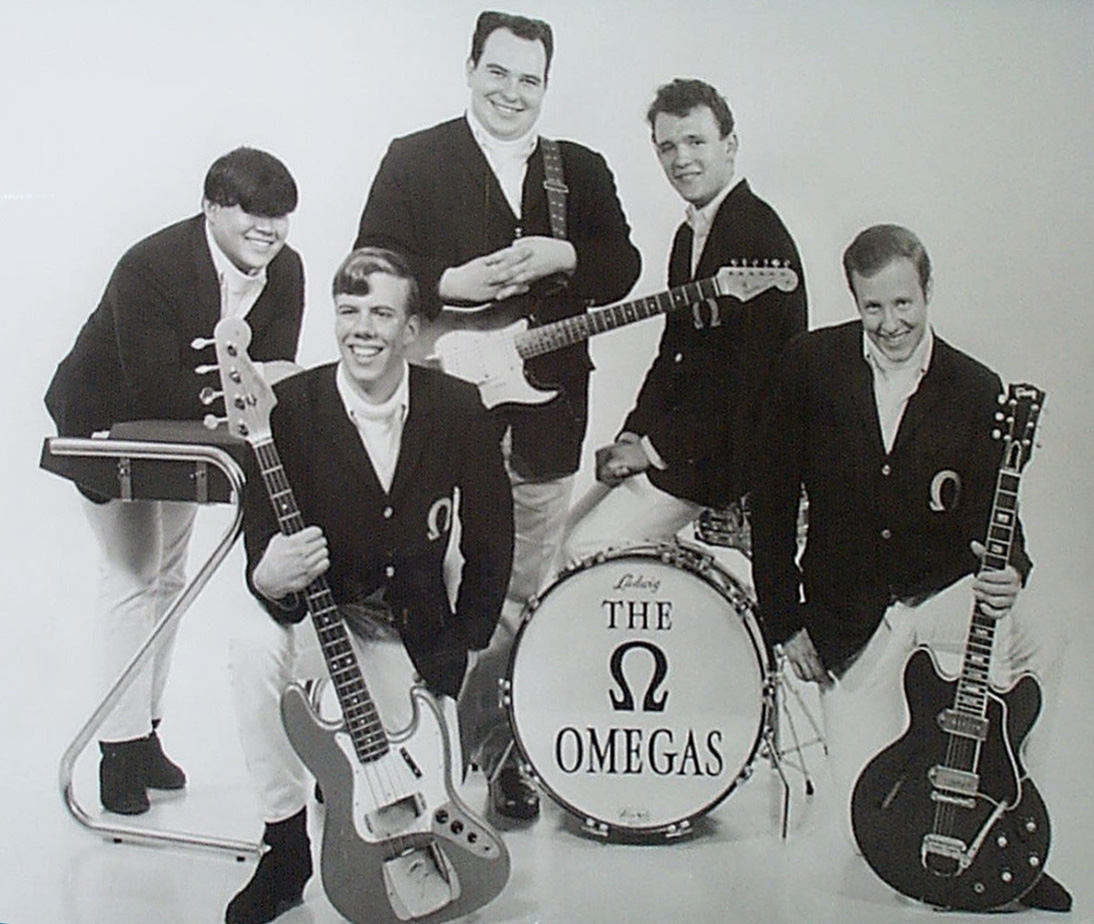 The Omegas, spring 1966, from left: Mike Sarigumba, Art Brueggeman, A.T. Ryder, Mike McKeller and Steve Callahan
The Omegas were a Montgomery County group who had gone through considerable personnel changes by the time they recorded their record on United Artists.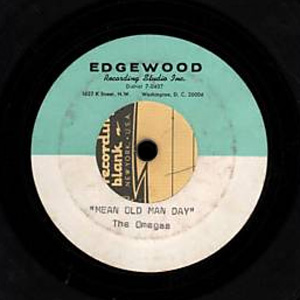 The original group cut two songs at Edgewood Recording Studios, a good slow number with dirge-like organ called "Mean Old Man Day", and "Mud" (aka "Mississippi Mud"), a catchy pop number with acoustic guitar, harmonies and underwater sound effects. These never saw release and I've only heard clips from a 2008 auction, which I didn't win.
Art Brueggeman wrote to me about the group in 2012:
I was the original bass player and joint founding member along with Mike McKeller (drummer) and Steve Callahan (rhythm guitarist). We were high school buddies. We quickly brought in a lead guitarist and a keyboard player.

Here's a band picture taken in the spring of 1966. That's me with the Jazz Bass, Steve with the Gibson ES335, and Mike on drums. The other two are A.T. Ryder on Strat and Mike "Pineapple" Sarigumba on keyboard.

We were playing fraternity parties, debutante events, and dances. In early summer we ended up going to Ocean City and landing a gig at The Paddock on 17th street. It was really the only bonafide night club in OC at the time. We played 6 nights a week, and a jam session Saturday afternoon. As I recall, we were there until mid-August or so.

It was a time of the Vietnam war and the draft. Mike and Steve left the band in the Spring of 1967 to join the Air Force Reserves. I ended up joining after the end of the summer. We had a replacement drummer and rhythm guitarist for that summer. Then we returned in the summer of 1967 with the two replacements. I ended up getting married in April 1968 when I got back from active duty, and never returned to the band.

Mike returned to the band and the personnel changed. Don't remember what Steve did exactly, but he was married by that time as well. It was the original five Omegas though who recorded the three cuts at Edgewood. As I recall, that was done in the fall of 1966, but I may be off there.

Mike and I sang "Mean Old Man Day", and Steve and Pineapple sang "Mississippi Mud". We did not write those songs. We did no original writing. I really do not remember who wrote them. I just remember it was two guys who we were put in touch with.
Steve Callahan wrote:
I have the original master from Edgewood studio's which I found just recently….metal center coated with acetate. I also have the original United Artists release of the other 2 songs.
The UA record is largely the work of Tom Guernsey of the Reekers and the Hangmen. Tom wrote and arranged both sides of the record, played guitar and piano, and co-produced it with Larry Sealfon.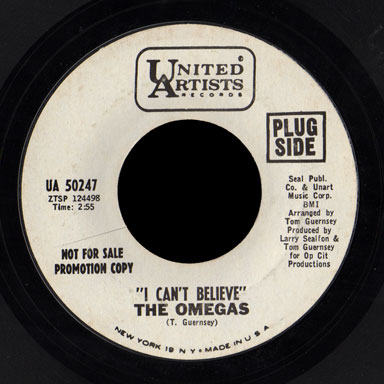 The vocalist on "I Can't Believe" is Joe Triplett, who was in the Reekers with Tom and was also the vocalist on the first Hangmen 45, "What a Girl Can't Do". Leroy Otis played drums on the track and backing vocals were by the Jewels.
A catchy and danceable record, it was released in early 1968 and had some local chart success. With its crossover appeal I'm surprised it's not better known these days. The flip was a ballad by Tom Guernsey, "Mr. Yates". He told me it was one of the songs he was proudest of writing.