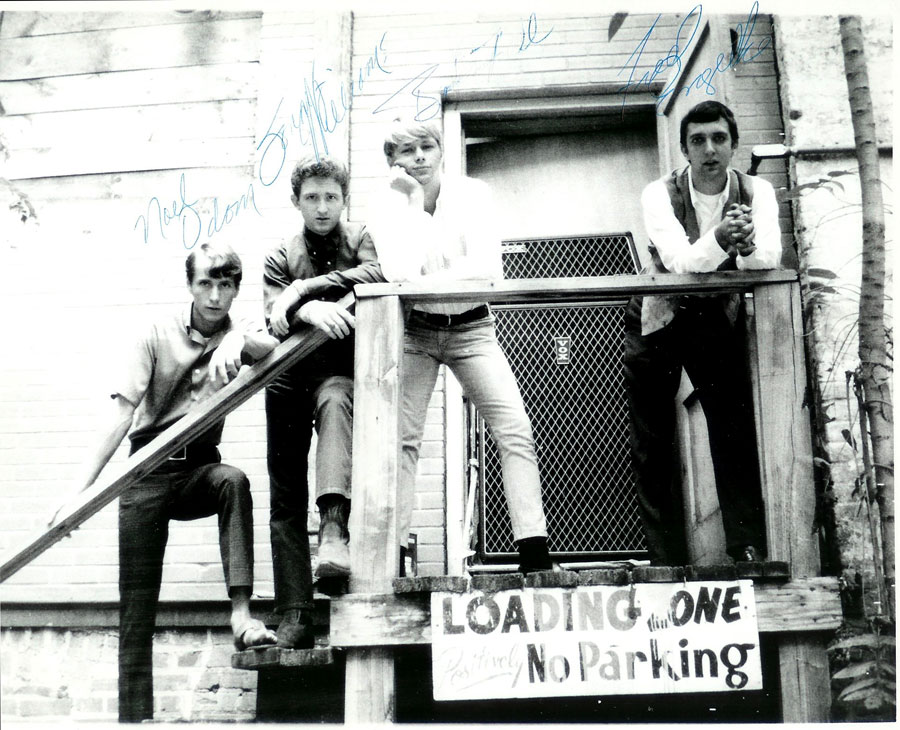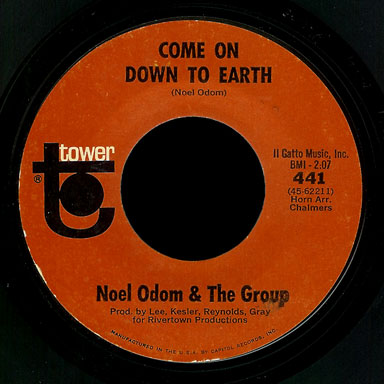 I don't own any of Noel Odom and the Group's three 45s – not for lack of trying, but they're in high demand since "Come on Down to Earth" became a staple of 60's music nights around the world.
You might assume an artist on Tower and its subsidiary Uptown would be based in California, but the Group was actually from Louisiana. Their songs were licensed by Tower, but without any push from the label or band presence on the L.A. scene, the 45s undeservedly dropped out of sight. Noel recently took the time to answer some of my questions of his time in music:
I played in "The Group" 1964-1969 – later "Noel Odom and the Group." Bob Fell and I started the band, and as a unit also Fred Engelke- drums and Sonny Williams- bass. Later added Ron DiIulio on keys- great player – still is!!

We played live in Shreveport and Bossier at high school dances at Airline High and Bossier High. Several teen clubs like Southland Park and the Teenclub at Barksdale AFB. Also at that time "the Strip" in Bossier city was famous with numerous clubs along Highway 80 East. The most famous being "Saks Whisky-a-Go-Go" with the "Boom Boom Room." Also "The Shindig" where we played all through a full quarter of college. All four of us went to Louisiana Tech together. We usually played somewhere every weekend.

We backed Dickie Lee at a show in Shreveport and he took us to Memphis to record in 1968. We recorded five songs in Memphis at Sam Phillips Recording studio with Stan Kessler as engineer: 1: "Pardon My Complete Objection," 2: "I Can't See Nobody," 3: "Midnight Hour," 4: instrumental that Ron DiIulio wrote, "Love Too" I think, and finally as an afterthought "Come on Down to Earth." Picked up and signed by Tower Records, division of Capitol. Naturally the company came back and liked Come on Down, so horns were added and it was released – never went anywhere.

The record was on American Bandstand's "Rate a Record" and we beat the other song "Leavin on a Jet Plane" and I believe it was John Denver's version before Peter, Paul & Mary recorded it and made #1. Dickie Lee was our producer and Allen Reynolds was our A&R man.

Our other sessions were done in Sun Recording studios, which was just redone. The J. Reid was John Reid and he wrote a concept album about "Flower Children" and it included a lot of narrative. "Hey Yesterday Where's My Mind" and "Come on Rain" came from that work. It was a cool idea and we had some forward thinking effects like feedback guitar on one track. It was never released in full, but there was some good work on that album.

Thanks for asking the questions- it really taxes my memory, but those were good days in my memory.

I am still playing in the Shreveport area in "The Convertibles" together for 21 years, playing old r&r.
Drummer Fred Engelke filled in some details on the band:
During high school Ron DiIulio and I formed a band called "The Class Cutters" and we competed with Noel and Bob's group "The Group". Ron went to college at North Texas State University and I went a year at Texas A & M. After my freshman year, I came back to Louisiana to go to school and joined up with Noel and Bob. We then recruited Sonny Williams for bass and formed the new version of "The Group". Later, after Ron came back from NTSU, we got him in the band and created the final version of "The Group".

The producers said there was already a band called "The Group" so we renamed ourselves "Noel Odom and the Group" because of Noel's unusual first name. When we released the last record they decided that the name "Noel" would distinctive and we used it.

As Noel said, "Come on Down to Earth" was really a throwaway song to be used as a "B" side to one for the other recordings. It turned out well and we recorded "Love Too" as sort of a "C" side. It was made up on the spot by Ron DiIulio. Ron (not pictured in the photo you have) was a member if the group during all sessions.

By the way, when you hear Noel say 'Come in Ron!' he was referring to the solo that Ron did on organ. However, they decided later to use a guitar solo by Bob instead. Also, there were no drumsticks in the studio and I forgot to bring any and there were no music stores nearby that were open, so I played the entire session using the stick part of timpani mallets.

The last record, "Hey Yesterday Where's My Mind," under the group name "Noel" was released shortly before Noel enlisted in the Navy. He did this because he didn't want to stay in college and, because it was during the height of the Vietnam War, he knew he would get drafted. He figured if he enlisted he could choose what he would do and he figured the Navy would be less likely to send him to Nam.

Was Ron the same person who played with the Chessmen in Dallas?

Yep, that's the same person. He was not originally from Dallas but he formed the Chessmen while attending North Texas State University. We stole him from the Chessmen to be in the group. He's back in the Dallas/Fort Worth area, playing with his current group "Crawfish". He would love to bring Noel with his voice into the group he now has. Noel's voice has matured and Ron has assembled a super group of musicians. The last time I saw Noel sing with Ron's band, I was totally blown away! I haven't seen either for two or three years now.
On a side note, Susan Christie recorded a nine-minute version titled "Yesterday, Where's My Mind" after meeting Blackwood Music songwriter John Reid in Memphis. Hear it on B-Music's CD – Susan Christie – Paint a Lady.
The Group continued after Noel's departure, eventually becoming the second of two versions of the Bad Habits who recorded for the Paula label.
Thank you to Noel Odom for his comments and the photo of the Group, and to Fred Engelke for his comments and 45 scans.
Noel Odom & the Group 45 releases:
Noel Odom & the Group – Come on Down to Earth / Love Too (Tower 441, 1968)
The Noel Odom Group – I Can't See Nobody / Pardon My Complete Objection (Uptown 763, 1969)
Noel – Hey Yesterday Where's My Mind / Come on Rain (Tower 505, 1969)